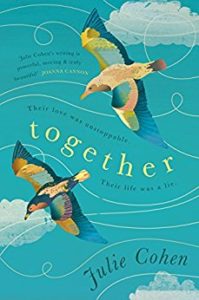 #bookreview – Together by Julie Cohen @julie_cohen @orionbooks @newbooksmag #GetTogether
I'm a real fan of Julie Cohen's writing and so I'm over the moon to be posting a review of her new book, Together. First of all, here's what it's about:

Is this a great love story? Or a story about great love? You decide. On a morning that seems just like any other, Robbie wakes in his bed, his wife Emily asleep beside him, as always. He rises and dresses, makes his coffee, feeds his dogs, just as he usually would. But then he leaves Emily a letter and does something that will break her heart. As the years go back all the way to 1962, Robbie's actions become clearer as we discover the story of a couple with a terrible secret – one they will do absolutely anything to protect.
Having read and enjoyed two of Julie Cohen's previous novels I was so looking forward to reading Together. I freely admit that when I started reading it wasn't quite what I was expecting and I found it confusing but believe me when I say that those feelings soon vanished and I found this the most wonderful, heartbreakingly beautiful story.
The reason I found it confusing is because this story is told backwards. We meet Robbie and Emily in 2016 in Maine and we go right back to 1962 in Cambridge and so events that are referred to in the first, yet later, sections had a greater clarity once I read on. I found myself flipping back looking for those important bits throughout the first third or so until the book got into its stride. And when I got to the end I flipped back through the whole thing just to remind myself of certain parts.
I realise this plot device may not appeal to everybody but it works so well. We know from the blurb that this couple have a secret but the point is that this is a not a book about a secret but a book about the most amazing love between a man and a woman.
I don't want to say any more about the plot but what I can say is that from the first page I had a feeling it was going to be a heartbreaker of a story and I was right. The writing is beautiful and understated, yet full of emotion and passion (just what I would expect from Julie Cohen).
I had no idea what the secret would be and only worked it out just before I read it on the page. It's a cleverly designed plot which suddenly all made sense. And I loved Emily and Robbie – this is very much their story, with all the other characters being only supporting ones.
This is such a gorgeous story and I heartily recommend reading Together this summer.
With thanks to the publishers and New Books magazine for the review copy. Together is published in ebook and hardback on 13th July 2017.
---

Julie Cohen grew up in the western mountains of Maine. Her house was just up the hill from the library and she spent many hours walking back and forth, her nose in a book. She studied English Literature at Brown University and Cambridge University and is a popular speaker and teacher of creative writing, including classes for the Guardian and Literature Wales. Her books have been translated into fifteen languages and have sold nearly a million copies; DEAR THING was a Richard and Judy Book Club pick. Julie lives in Berkshire with her husband, son and a terrier of dubious origin.