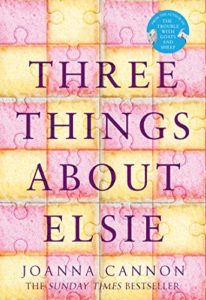 #bookreview – Three Things About Elsie by Joanna Cannon @JoannaCannon @BoroughPress #ThreeThings
Three Things About Elsie is one of those books that everybody seems to be looking forward to in 2018. All I can say is that I'm extremely glad I haven't done my top reads of the year post yet because I wouldn't have wanted to leave off this wonderful book.
Thank you to the publishers, The Borough Press, and Amazon Vine for the review copy. Here's what Three Things About Elsie is about:
There are three things you should know about Elsie.
The first thing is that she's my best friend.
The second is that she always knows what to say to make me feel better.
And the third thing… might take a little bit more explaining.

84-year-old Florence has fallen in her flat at Cherry Tree Home for the Elderly. As she waits to be rescued, Florence wonders if a terrible secret from her past is about to come to light; and, if the charming new resident is who he claims to be, why does he look exactly a man who died sixty years ago?

From the author of THE TROUBLE WITH GOATS AND SHEEP, this book will teach you many things, but here are three of them:
1) The fine threads of humanity will connect us all forever.
2) There is so very much more to anyone than the worst thing they have ever done.
3) Even the smallest life can leave the loudest echo.
It will be published on 11th January 2018 in ebook and hardback.
---

WARNING: this is going to be one of my gushy reviews!
Oh! This is the most wonderful book. I liked The Trouble With Goats and Sheep but Three Things About Elsie is on another level.
Miss Florence Claybourne is a fabulous character. She's 84 and says exactly what she wants, but she's on probation at Cherry Tree, her sheltered accommodation, because Miss Ambrose, one of the people who helps to run it, thinks that maybe she should be moved to Greenbank where people go when they start to forget and get confused. This is one facet of the story but the other is that Ronnie Butler has turned up at Cherry Tree and he drowned in 1953. Didn't he? Florence decides to try and piece together the mystery of what might have really happened to Ronnie.
One of the most compelling things about this book is not knowing if Florence is an unreliable narrator or not. She has her best friend, Elsie, to keep her on the straight and narrow and new friend, General Jack, but as Florence tells her own story we have to just go through it with her and see where it takes us. What left me in awe at the end of the book was all the little clues that were dotted throughout. This is definitely not a book to be rushed because if you do you are in danger of missing the nuances, the tiny little facts and signs that are there. They don't seem important at the time but they are a huge part of the jigsaw. I had to flick back through when I got to the end because I needed to remind myself how a certain bit fitted in. So clever and so incredibly well-plotted.
As well as Florence's story there are also sections in the third person from Handy Simon, who works as a handyman at Cherry Tree, and Miss Ambrose, which help to fill in any blanks in Florence's narrative. These two characters are very interesting in their own right though and are definitely not just there as fillers.
The characterisations are perfect. Florence and Elsie are just wonderfully imagined – I could see them scurrying around Cherry Tree, sitting in the day room with Jack, plotting, with Elsie calming down the rather more volatile Florence. The descriptions are perfect too, enabling me to exactly imagine in my own mind how it all panned out. And whilst I guessed the main twist in the tale, there are many other twists that left me marvelling at how ingenious they were.
This is a story about the complexities of the human mind and about ageing. Joanna Cannon's writing is sublime, perfectly judged and utterly charming. She captures the care of the elderly so well and how it feels to be that older person, no longer listened to or taken seriously.
I can't quite believe the sheer beauty of this book. I don't think I have the words to do it justice. There are so many components, all of which work together to make this a superb tale of growing old, of loss and love, of being frightened, of friendship. Just stunning.
---

Joanna Cannon graduated from Leicester Medical School and worked as a hospital doctor, before specialising in psychiatry. Her first novel The Trouble With Goats and Sheep was a top ten bestseller in both hardback and paperback and was a Richard and Judy pick. She lives in the Peak District with her family and her dog.