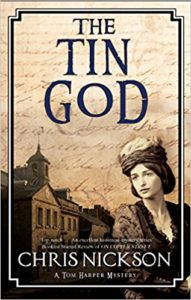 #bookreview – The Tin God by Chris Nickson @ChrisNickson2 @severnhouse #blogtour
Welcome to my stop on the blog tour for The Tin God by Chris Nickson. Thank you to Abby Slater for asking me to take part. I'm reviewing the book today but first, shall we see what the book is all about?
When Superintendent Tom Harper's wife is threatened during an election campaign, the hunt for the attacker turns personal.

Leeds, England. October, 1897. Superintendent Harper is proud of his wife Annabelle. She's one of seven women selected to stand for election as a Poor Law Guardian. But even as the campaign begins, Annabelle and the other female candidates start to receive anonymous letters from someone who believes a woman's place lies firmly in the home.

The threats escalate into outright violence when an explosion rips through the church hall where Annabelle is due to hold a meeting – with fatal consequences. The only piece of evidence Harper has is a scrap of paper left at the scene containing a fragment from an old folk song. But what is its significance?

As polling day approaches and the attacks increase in menace and intensity, Harper knows he's in a race against time to uncover the culprit before more deaths follow. With the lives of his wife and daughter at risk, the political becomes cruelly personal …
---

I believe The Tin God is the latest in a series featuring Superintendent Tom Harper. However, I read it as a standalone and didn't feel I had missed out by not having read any earlier books.
In this book, Tom's wife, Annabelle, is running for election as a Poor Law Guardian and it was this social history that initially drew me to the book. We're in Leeds in 1887 and I liked the fact that there were many strong women in the story, running businesses and being feisty about their views.
But somebody has taken against the idea of women being elected and starts a campaign of violence and terror to stop it happening. Bombs, threats, violence all play a part but I have to say that despite that there's nothing too horrible to read about. There's also a subplot about smuggling in Whitby which I could have managed without as the Leeds plot was far more interesting to me but it did introduce a character to me that I suspect may have been important in the previous books.
I liked Tom, Annabelle and their daughter, Mary very much. I can see why the author chose to write them into a series. But there are also other well-drawn characters, including Mr Kidson and his niece, who Tom consults to help with the case, and the other policemen are interesting characters as well.
I think this is a good old-fashioned historical police procedural. It's well-written and engaging with an appealing story.
---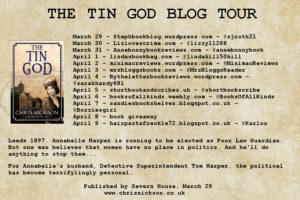 ---

I'm the author of the Richard Nottingham books, historical mysteries set in Leeds in the 1730s and featuring Richard Nottingham, the Constable of the city, and his deputy, John Sedgwick. The books are about more than murder. They're about the people of Leeds and the way life was – which mean full of grinding poverty for all but the wealthy. They're also about families, Nottingham and his and Sedgwick, and the way relationships grow and change, as well as the politics, when there was one law for the rich, and another, much more brutal, for everyone else.
Leeds in the 1890s is the settling for the Tom Harper series. The books are mysteries, but relationships are paramount, as well as politics – strike, racism against Jewish immigrats, the slow build of socialism and more.
I've also written about Leeds in the 1920s and '40s (Lottie Armstrong) and the '50s (Dan Markham). Different ideas, the same evolving place at the heart.
Then there's Leeds, The Biography: A History of Leeds in Short Stories. Built on small historical incidents, folk tales, gossip, lore, it's exactly what the title says.
Why Leeds? It's where I was born and raised, and that puts a place in your bones. You know it the way you can never quite know anywhere else…but that said, I spent a little while living near Chesterfield, which gave rise to a medieval series set there..
The there Leeds, The Biography: A History of Leeds in Short Stories. Built on small historical incidents, folk tales, gossip, lore, it's exactly what the title says.
In addition to this I'm also a music journalist, reviewing for magazines and online outlets, something I've been doing since the mid 1990s, specializing these days in world and roots music. Much of that was in Seattle, a city I do love, and inspired Emerald City and the follow-up, West Seattle Blues.