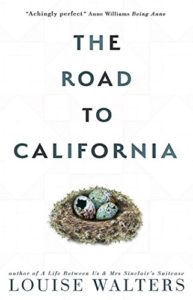 #bookreview – The Road to California by Louise Walters @LouiseWalters12
I'm thrilled to be sharing my review today for The Road to California by Louise Walters. I was very lucky to be asked to be an early reviewer by Louise and am over the moon to find myself quoted on the back cover! Huge thanks to Louise for asking me to read her lovely book.
Here's what it's all about:

Proud single parent Joanna is accustomed to school phoning to tell her that her fourteen year old son Ryan is in trouble. But when Ryan hits a girl and is excluded from school, Joanna knows she must take drastic action to help him.

Ryan's dad Lex left home when Ryan was two years old. Ryan doesn't remember him – but more than anything he wants a dad in his life. Isolated, a loner, and angry, Ryan finds solace in books and wildlife.

Joanna, against all her instincts, invites Lex to return and help their son. But Lex is a drifter who runs from commitment, and both Joanna and Ryan find their mutual trust and love is put to the test when Lex returns, and vows to be part of the family again.
The ebook is available from 1st January 2018 and the paperback from 1st March.
---
I think Louise Walters has just broken my heart. The Road to California is a beautiful story of love, loss, friendship and family.
We meet Joanna, single mum coping on her own with her sometimes tricky teenage son, Ryan, and running a small sewing business. Joanna is sometimes tricky herself, being a bit proud and sometimes a bit too principled but ultimately she's doing her best and I admired her for it.
But even she accepts that she needs help with Ryan and contacts Lex, Ryan's dad. I loved Lex for the difference he made when he came back into Ryan and Joanna's lives. As he had left them once before I was on a knife edge. I cared about what happened to Ryan and Joanna and I didn't want Lex to hurt them again. I wanted a happy ending for these flawed yet likable people.
Louise Walters is such a lovely writer. Here she's writing about subjects she understands and puts them across in such a way that I empathised completely with all of the characters. And when something happened that I thought could have one of two outcomes, neither of which was exactly favourable, I knew that either way it would be earth shattering for the main characters and I was saying "no, no, no" to myself as I realised the turn the story was about to take.
The Road to California is a perceptive novel, looking at inner feelings and how they can affect everything you do. It's such a moving story and I do freely admit that near the end my eyes leaked. The final section was a little surprise and I thought it was a fine way to end such a entrancing book. Altogether a fabulous read.
---

Author of Mrs Sinclair's Suitcase (Hodder 2014), now published in 15 languages, and A Life Between Us (Matador/Louise Walters Books 2017). My third novel The Road to California will be published in 2018 under my imprint, Louise Walters Books.