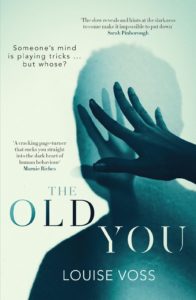 #bookreview – The Old You by Louise Voss @LouiseVoss1 @OrendaBooks #RandomThingsTours #BlogTour
I'm delighted to be reviewing The Old You by Louise Voss today. Some years ago I read a lovely book by this author called Are You My Mother. I don't remember a great deal about it but I do know it was a wonderful book and I still remember it very fondly. Since then, Louise Voss has changed direction and now writes crime fiction and psychological thrillers, and it's one of the latter that I'm reviewing today.
I'd like to thank Orenda Books for the review copy and Anne Cater from Random Things Tours for the place on the blog tour.
Nail-bitingly modern domestic noir
A tense, Hitchcockian psychological thriller
Louise Voss returns with her darkest, most chilling, novel yet…

Lynn Naismith gave up the job she loved when she married Ed, the love of her life, but it was worth it for the happy years they enjoyed together. Now, ten years on, Ed has been diagnosed with early-onset dementia, and things start to happen; things more sinister than missing keys and lost words. As some memories are forgotten, others, long buried, begin to surface … and Lynn's perfect world begins to crumble.
But is it Ed's mind playing tricks, or hers…?
Available now in ebook and paperback.
---

The Old You is absolutely compulsive reading. From start to finish it's full of jaw-dropping twists and turns and I never knew who to believe, what to think. It's quite the mindbender of a book!
Lynn Naismith is happily married to Ed. Things are good, they love each other, they live in a nice house and Lynn has just got a new job. But then Ed is diagnosed with dementia and everything changes. More than anything, it's his manner that changes, he becomes aggressive and unpleasant. And erm…this is really hard to review without giving anything away!
What I can say is that this is one great read. It's claustrophobic, intense and electrifying. I didn't find any of the characters likeable but I sympathised with each one until, that is, the story turned on its head and sent me in a different direction which happened quite a lot. Lynn went on a similar journey throughout the story, one of discovery. Lots of secrets are revealed and each time I just gaped at the book and tried to digest it.
The real skill behind the writing here is that I didn't know who to trust and doubt was constantly in my mind. It's described as Hitchcockian and yes, I think that's accurate. It's cleverly plotted and to be honest, I'm not sure how the author managed to come up with such a dark and unusual plot and keep it so realistic but she definitely did manage it. It's a tale of manipulation, deception, secrets and lies and it's a total triumph.
---

---

Louise Voss has been writing for the past eighteen years, with many twists and turns in her career. She started her publishing life with four novels for Transworld/Black Swan, the first of which, To Be Someone, was published in 2001 with its own CD soundtrack. This was followed by three more contemporary women's fiction novels, Are You My Mother? Lifesaver, and Games People Play, until she switched to publishing thrillers with Mark Edwards.
She and Mark were the first British indie authors to reach No.1 on the Amazon charts with Catch Your Death, where they stayed for the month of June 2011, with their novel Killing Cupid also at No. 2. This led to a four-book deal with Harper Collins; then two books in the DI Lennon series, From the Cradle and The Blissfully Dead (Thomas & Mercer).
Her first solo thriller was The Venus Trap in 2015 and her second, a twisty tale of domestic noir, is out in May 2018: The Old You, published by @OrendaBooks.
Louise lives in southwest London and can be reached on Twitter or on Facebook.