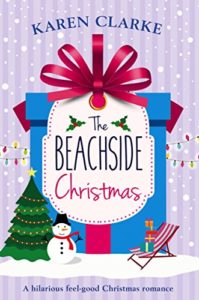 #bookreview – The Beachside Christmas by Karen Clarke @karenclarke123 @bookouture
I fully intended spending the best part of December reading Christmas books. Instead I seem to be cramming them in right up to the last minute. But I really did want to fit in The Beachside Christmas by Karen Clarke. I'm a big fan of this series of books and I certainly wasn't disappointed by this one. In fact I spent most of the book doing this:
Thank you Bookouture and Netgalley for the review copy. Before we move onto my review, let's see what the book is about:

Snow is falling and there's romance in the air. Curl up for a cosy Christmas by the fire at Seaview Cottage…

When thirty-year-old Lily Ambrose's latest relationship ends in disaster, she remembers happy childhood holidays in the seaside town of Shipley and decides it's the perfect place for a fresh start.

But when Lily arrives, the town's spirits are as low as her own: the local celebrity due to turn on the Christmas lights has gone on a cruise instead. Keen to prove herself, she calls in a favour and secures gorgeous reality star Ollie.

Lily's neighbours are initially thrilled, but Ollie is as uncontrollable as he is good-looking. He can't remember the town's name, calls the Christmas decorations tacky, and manages to offend everyone. And whilst handsome but stubborn cameraman Craig tries to help, even he can't stop Ollie's madcap plans to stage a romance with Lily…

Will Lily be able to keep Ollie under control and bring the Christmas cheer back to Shipley – and find herself a real kiss under the mistletoe?

An addictive, heart-warming and uplifting read about friendship, romance, and Christmas spirit. Perfect for fans of Phillipa Ashley, Cathy Bramley and Debbie Johnson.
If you fancy a last minute Christmas read then I would heartily recommend this one. It's available in ebook and paperback.
---
I loved the first two in The Beachside series and so knew I would love this one too. It was great to return to the wonderful Shipley, the seaside town where we've previously met the owner of the sweet shop and the woman helping out at the flower stall.
This time we meet Lily Ambrose, a former primary school teacher in a level of disgrace who has moved to Shipley because of the fond memories she has of her childhood holidays there. She's no sooner moved in than she's involved in the Christmas Lights Society on her street and promising to find a 'celebrity' to switch them on and judge the best lights on the houses of Lily's neighbours. Enter Ollie, former reality show star, and his cameraman, Craig.
I thought Lily was such a lovely person, down to earth, sweet-natured, fun and kind. Her first meeting with Ollie had me in hysterics and the rest of the book kept me smiling. Karen Clarke has real comic timing and she creates such fantastic characters, with some quite eclectic ways.
The whole storyline is very entertaining. Ollie is a bit unpredictable, causing all sorts of trouble in Shipley and roping Lily in as well. Craig is the one who is Ollie's much needed calming influence. The three of them together make for a madcap, yet utterly heartwarming, beachside Christmas. This is a fabulous festive read and a fitting conclusion to this fabulous series of books.
Karen Clarke has become one of those highly anticipated authors for me. When I hear she has a new book coming out I do a little squeal of excitement. I'm sorry that this is the last trip to Shipley but I'm looking forward to her next book and to meeting a whole new set of characters.
---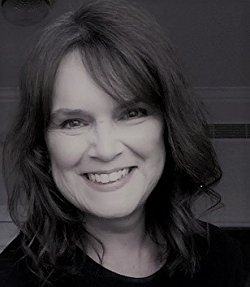 Karen Clarke writes romantic comedy novels. Her BEACHSIDE series is set in the fictional seaside town of Shipley and features recurring characters, but each book can be read as a standalone. She is currently working on a new, three-book series set in Devon.
Karen has also written three romcoms with a paranormal twist, all available to download
When she's not working on her novels, Karen writes short stories for women's magazines and has had over three hundred published globally. Some of them can be read in her short story collection 'BEHIND CLOSED DOORS…and other Tales with a Twist'
Karen lives in Buckinghamshire with her husband and three grown-up children.