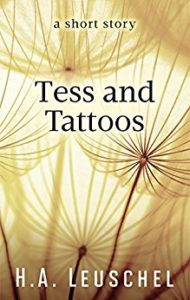 #bookreview – Tess and Tattoos by H.A. Leuschel @HALeuschel @rararesources #blogblitz #giveaway
I'm so pleased to be posting today as part of the blog blitz for Tess and Tattoos, a short story by H.A. Leuschel. I'm sharing my review and also have details of a giveaway, but first, shall we find out what Tess and Tattoos is about?

A suspenseful and emotional novella exploring whether we can ever be free from our past mistakes.

In this story, the reader is taken on a compelling journey into the human mind where genuine friendship offers the key to inner peace.

Meet Tess, an elderly lady living in a care home apartment in the outskirts of Edinburgh, whose past is haunted by a wrong decision. She meets Nurse Sandra, a warm and bubbly single mother of three, who is instantly intrigued by Tess's personality and the mystery that surrounds her.

'Tess and Tattoos' is one of five gripping stories in HA Leuschel's story collection Manipulated Lives centred around psychological manipulation.
---
This is a short story of around 61 pages, but it actually had quite a lot going on in it. Tess is an elderly lady and Sandra is a carer in the care home where Tess lives. Tess is quite proud and keeps herself to herself until one day something happens that puts Tess a bit more into the minds of the people at the home.
I thought Tess was a brave and strong lady and I liked Sandra very much. She'd been through a lot and had found a kindred spirit in Tess, despite the large age gap. I had a bit of a dawning realisation of what might have happened to Tess and I turned out to be right. It's quite a shocking storyline and also quite a moving one.
If I'm honest, short stories are not generally my thing as I feel they often lack the depth of characterisations and story that I need. But this was an accomplished and well rounded story and a good example of the genre. It's one of the stories in H.A. Leuschel's Manipulated Lives and there is a theme of manipulation in Tess and Tattoos.
This is a story with depth and interesting characters, and it's very well-written and poignant.
---

---

---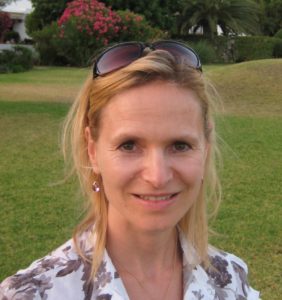 Helene Andrea Leuschel grew up in Belgium where she gained a Licentiate in Journalism & Communication, which led to a career in radio and television in Brussels, London and Edinburgh. She now lives with her husband and two children in Portugal and recently acquired a Master of Philosophy with the OU, deepening her passion for the study of the mind. When she is not writing, Helene works as a freelance journalist and teaches Yoga.