#bookreview – Summer in San Remo by Evonne Wareham @evonnewareham @BrookCottageBks #blogtour

Welcome to my stop on the tour for this lovely romance novel. Thank you to JB from Brook Cottage Tours for asking me to be a part of it and to the publishers for providing a review copy. My review is further down this post, but first's let's see what the book is all about.
Series:  The Riviera Rogues (Book 1)

Genre: romantic comedy

Release Date: 18 July 2017

Publisher: Choc-lit

 

Anything could happen when you spend summer in San Remo … 

Running her busy concierge service usually keeps Cassie Travers fully occupied. But when a new client offers her the strangest commission she's ever handled she suddenly finds herself on the cusp of an Italian adventure, with a man she thought she would never see again.
Jake McQuire has returned from the States to his family-run detective agency. When old flame Cassie appears in need of help with her mysterious client, who better than Jake to step in?
Events take the pair across Europe to a luxurious villa on the Italian Riviera. There, Cassie finds that the mystery she pursues pales into insignificance, when compared to another discovery made along the way …
BUY LINKS
Amazon UK https://goo.gl/E5fZnj
Amazon US https://goo.gl/kT4MEj
Apple  https://goo.gl/hScLv5
Google https://goo.gl/csasd2
---

Summer in San Remo had a setting that immediately appealed to me. The Italian Riviera! Who wouldn't want to go there, even if only vicariously? I also liked the fact that Cassie, the main character, runs a concierge service which is a bit different to other books I have read.
Cassie has had a bit of bad luck when a lucrative, but odd, assignment comes her way. But it means she needs the help of the man who broke her heart when she was 17, Jake McQuire. She swallows her pride and they head off on an adventure to Italy together. It all happens quite quickly and conveniently, but it's such a lovely, sweet and appealing story that I can forgive that.
I liked Cassie and Jake a lot. They have a great rapport, sparring against each other with lots of sexual and romantic tension. Cassie is very proud and doesn't want to give Jake an inch, and Jake is, quite frankly, Mr Perfect. He's good looking, a billionaire, generous, kind, fun. I was willing this couple to get together again. And where better to do it than in such a beautiful setting. The Italian area in which they stay is perfectly portrayed. I could imagine myself wafting around the villa, sightseeing and just generally enjoying myself. As I say, living it vicariously!
Summer in San Remo is a lovely, light, fun and very charming read. It's a romance novel that made me smile on many occasions. It's not taxing and was an absolute pleasure to read from start to finish. I shall look forward to the next in the Riviera Rogues novels.
---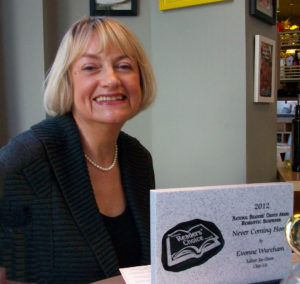 Evonne Wareham was born in Barry on the South Wales coast, but spent most of her working life in London. Now home again in Wales she is studying for a PhD in History and writing romance. She was a finalist in two reality writing contests in the United States and had a great time, even if she didn't win. When not studying or writing, she loves to travel, go to the theatre, walk on the beach and sleep. She has won and been nominated for awards for her romantic suspense novels on both sides of the Atlantic, but Summer in San Remo is  something different  – a romantic comedy with a light dusting of crime – which is a change of pace from writing the dark scary stuff. She is a member of both the Crime Writers' Association and the Romantic Novelists' Association, which means she gets to go to twice as many literary parties.