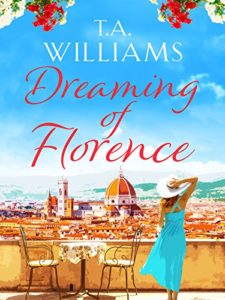 #bookreview – Dreaming of Florence by T.A. Williams @TAWilliamsBooks @canelo_co #blogtour
I'm so pleased to be on the blog tour for Dreaming of Florence by T.A. Williams today, not least because this author's books are ones I have been meaning to try for a while. Thank you to Ellie from Canelo for the review copy and the place on the tour. I'm reviewing it further down this post but first let's see what the book is all about:
Fresh pasta, red wine, fine art… and love? Find enchantment this year in the magical city of Florence

When Debbie Waterson's bicycle crashes into handsome doctor Pierluigi, she wonders if her luck has changed. Determinedly single after ending a long relationship, at last, a man worth bumping into!

Inspired to visit Florence, she soon runs headlong into that old foe: reality. But is Pierluigi the man of her dreams? Then there's her booze obsessed boss, his forbidding secretary and her noisy inconsiderate neighbours. But could her luck be about to change? Will she find love after all?
Dreaming of Florence is available now in ebook.
---

I've been meaning to read a book by T.A. Williams for a while now. With titles like Dreaming of Venice and To Provence, With Love, there was enough to tempt me just there. So when Dreaming of Florence appeared on my radar I thought it was time.
Debbie Waterson is the heroine of the story. She works at a language school in Cambridge but has dreamed of visiting Florence since she missed out on a school trip many years earlier. Colliding with a handsome Florentian man called Pierluigi puts the dream firmly at the forefront of her mind.
So Debbie goes to Florence. I'm obviously not to going to tell you what happens next but suffice it to say that she finds it an utterly enchanting place. One of the things I loved most about this book was the descriptions of such a beautiful and historic place and it was clear that it's somewhere the author is very fond of. I have never been to Florence but it sounds incredible and I was imagining myself there, eating in the little restaurants that Debbie visits and looking out over that incredible skyline.
The writing is quite undemanding, no great drama to it even when what's happening to Debbie must be quite dramatic for her. But this is what was nice about reading this book – it was easy and light and yet I still cared about Debbie and what happened to her.
A word about Dario, who you'll only find out about if you read the book. I'm going to say the word 'swoon' and leave it at that. He's one of many really lovely characters in the book and easily one of my favourites.
This is one of those books where you know things are going to work out in the end, everybody is mostly very polite and nice, and things are mostly agreeable, with the odd unpleasant episode providing contrast. It's a lovely romance story, a real pleasure to read and I raced through it. I'll definitely be reading more by T.A. Williams
---

---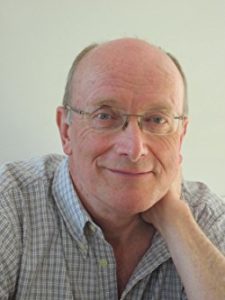 I write under the androgynous name T A Williams because 65% of books are read by women. In my first book, "Dirty Minds" one of the (female) characters suggests the imbalance is due to the fact that men spend too much time getting drunk and watching football. I couldn't possibly comment. Ask my wife…
I've written all sorts: thrillers, historical novels, short stories and now I'm enjoying myself hugely writing humour and romance. Romantic comedies are what we all need from time to time. Life isn't always very fair. It isn't always a lot of fun, but when it is, we need to embrace it. If my books can put a smile on your face and maybe give your heartstrings a tug, then I know I've done my job.
I've lived all over Europe, but now I live in a little village in sleepy Devon, tucked away in south west England. I love the place. That's why you'll find leafy lanes and thatched cottages in most of my books. Oh, yes, and a black Labrador.
I've been writing since I was 14 and that is half a century ago. However, underneath this bald, wrinkly exterior, there beats the heart of a youngster. My wife is convinced I will never grow up. I hope she's right.