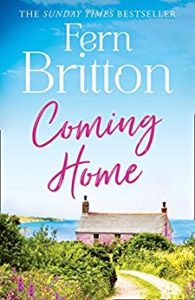 #bookreview – #ComingHome by Fern Britton @Fern_Britton @fictionpubteam #blogtour
I'm delighted to be posting my review of Coming Home by Fern Britton as part of the blog tour. Thank you to Emilie Chambeyron from Harper Collins for the review copy and the place on the tour.
Here's what the book is about:
When the only place you want to be is home…
When Ella's beloved grandmother dies, she comes back to the beautiful Cornish coast to heal her heart. There she finds her home again and discovers a new life, and new love … But she also opens a treasure trove of secrets.
Sennen left Cornwall a young single mum but unable to cope. She left her children, her family and part of her. She's spent the years hiding from her past, hiding from herself.
Now it's time to come back. To Cornwall. To face her mistakes. To pray for forgiveness. To hope for a future with her daughter.
Coming Home is available now in ebook and hardback.
---

When I read The Postcard last year, I commented on the fact that there were two characters whose stories seemed unresolved. Henry and his sister, Ella, seemed to have much more to tell us and so I was really pleased when I heard that Fern Britton was writing Coming Home, Henry and Ella's story.
It's also the story of Sennen, their mother, who abandoned them when they were very young. Unable to cope with two young children when she was only 17 herself, she took off and never saw them again…until now.
Coming Home is an emotional and moving story. It looks at loss in different ways and how it can affect a person.
For a 400+ page book, I read it quite quickly, within a couple of days. Britton has an easy and inviting writing style. She had me caring about the characters and hoping that all would work out well for them. I loved Ella, although Henry was a little harder to like at times. I liked Sennen a lot as well and found her to be flawed, yet hugely likeable.
It was lovely to return to Pendruggan and Trevay, the fictional villages where the author sets her books. I was a little sad that other characters from The Postcard, such as Penny and Simon didn't play a larger role but to be fair, it wasn't their story. I was pleased to see old favourite, Queenie, was in there though. I'd love Fern Britton to write her story next!
This book, like The Postcard before it, was a bit like a warm hug on a cold day. It's a sweet, easy read but one which still packs a punch.
---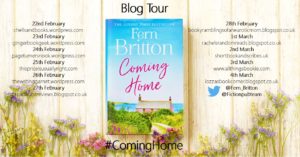 ---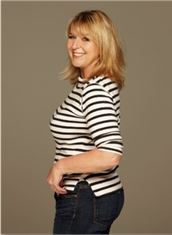 Fern Britton is the highly acclaimed author of six Sunday Times bestselling novels. Her books are cherished for their warmth, wit and wisdom, and have won her legions of loyal readers. Fern is a judge for the Costa Book Awards and this year has supported the Reading Agency by writing a short novel to encourage less confident adult readers.
A hugely popular household name through iconic shows such as This Morning and Ready Steady Cook, Fern is a much sought-after presenter most recently presenting, The Big Allotment Challenge (BBC2), For What It's Worth (BBC1), Culinary Genius with Gordon Ramsay (ITV) and her advent series Fern Britton Meets (BBC1). Fern has now also turned her talents to acting, with her new role in the stage musical Calendar Girls, which is directed by Gary Barlow.
Fern lives with her husband, Phil Vickery, and her four children in Buckinghamshire and Cornwall. To find out more, connect with her on Twitter and Facebook.
Author photo: Jonathan Swannell