#bookreview – Away for Christmas by Jan Ruth @JanRuthAuthor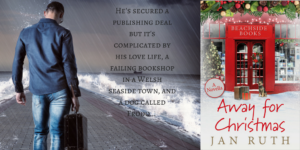 Just look at that cover! Just look at that cover! I'm very pleased to be reviewing Jan Ruth's new novella, Away for Christmas today. I think you might have guessed I rather like the cover but what did I think about what's inside? Well you'll have to read my review to find out but first here's what Away for Christmas is about:

Jonathan Jones has written a novel. Losing his job a few days before Christmas means the pressure is on for his book to become a bestseller, but when his partner drops her own bombshell, the festive holiday looks set to be a disaster.
When he's bequeathed a failing bookshop in their seaside town, it seems that some of his prayers have been answered, but his publishing company turn out to be not what they seem, and when his ex-wife suddenly declares her romantic intent, another Christmas looks set to be complicated.
Is everything lost, or can the true meaning of words, a dog called Frodo, and the sheer magic of Christmas be enough to save Jonathan's book, and his skin?
If you like the sound of it then Away for Christmas is available now – here's the buying link you need.
---
When I saw the beautiful cover and the premise of this book I couldn't not read it. Any book that has a bookshop in it is immediately appealing and the one on the cover is surely any bookaholic's dream. I love that Frodo the dog is on there too.
The shop in the book doesn't look quite like the one on the cover, at least not at first. Jonathan Jones is bequeathed it by his ex-girlfriend's grandfather (it's complicated!). This comes after Jonathan has managed to lose his well paid but extremely boring job as an accountant. But it's ok, he's got a three book deal with Tangerine Press to fall back on.
Of course nothing is that easy. Jan Ruth is clearly using her own experiences of traditional and self-publishing in this story. Jonathan has a terrible time with his publishers and I had to smile at his attitude to book bloggers, which hopefully the author doesn't completely share.
Away for Christmas takes place over three consecutive Christmases and we see Jonathan deal with his partner, daughter, ex-wife, friends and former colleagues. As I said, things are complicated and he doesn't always help matters.
It's the perfect antidote to the fluffy Christmas reads out there. I loved Jan Ruth's writing style. It's quite dry and very entertaining.
I've noticed some reviewers haven't particularly liked Jonathan but I did quite like him. He has a dream but like most people he ended up being pushed into a career that wasn't right for him. Good on him, I say, for trying to follow his dream.
For a novella it didn't seem rushed in any way. Each of the three Christmases is explored in plenty of detail and through each of them Jonathan learns a little more about the person he really wants to be, right up to the absolutely lovely conclusion. I wish I could visit Beachside Books but as I can't I contented myself with reading about it.
I thought Away for Christmas was a superb read for Christmas (or any time really). Although it's set over the Christmas period, the themes are not solely Christmas ones. It's just a really really good story and I highly recommend it.
---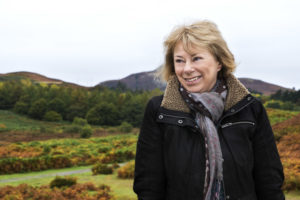 The real story began at school, with prizes for short stories and poetry. She failed all things mathematical and scientific, and to this day struggles to make sense of anything numerical.
Her first novel – written in 1986 – attracted the attention of an agent who was trying to set up her own company, Love Stories Ltd. It was a project aiming to champion those books of substance which contained a romantic element but were perhaps directed towards the more mature reader and consistently fell through the net in traditional publishing. Sadly, the project failed to get the right financial backing.
Many years later Jan's second novel, Wild Water, was taken on by Jane Judd, literary agent. Judd was a huge inspiration, but the book failed to find the right niche with a publisher. It didn't fall into a specific category and, narrated mostly from the male viewpoint, it was considered out of genre for most publishers and too much of a risk.
Amazon changed the face of the industry with the advent of self-publishing; opening up the market for readers to decide the fate of those previously spurned novels. Jan went on to successfully publish several works of fiction and short story collections and after a brief partnership with Accent Press in 2015, has returned to the freedom of independent publishing.
ABOUT MY BOOKS:
I write contemporary fiction about the darker side of the family dynamic with a generous helping of humour, horses and dogs. My books blend the serenities of rural life with the headaches of city business, exploring the endless complexities of relationships.