#bookreview – A Mother's Sacrifice by Gemma Metcalfe @gemmakmetcalfe @NeverlandBT #blogtour #giveaway

I'm delighted to be welcoming you to my spot on the tour for A Mother's Sacrifice by Gemma Metcalfe. I will be reviewing the book and I also have details of a giveaway for you. Thank you to Jenny Marston from Neverland Blog Tours for asking me to take part.
God ensured she crossed my path. And that is why I chose her.

The day Louisa and James bring their newborn son home from the hospital marks a new beginning for all of them. To hold their child in their arms, makes all the stress and trauma of fertility treatment worth it. Little Cory is theirs and theirs alone. Or so they think…

After her mother's suicide when she was a child, Louisa's life took an even darker turn. But meeting James changed everything. She can trust him to protect her, and to never leave her. Even if deep down, she worries that she has never told him the full truth about her past, or the truth about their baby.

But someone knows all her secrets – and that person is watching and waiting, with a twisted game that will try to take everything Louisa holds dear.
---

What lengths would you go to to have a child? That is the premise of this clever and taut psychological thriller.
The book starts with Louisa about to bring her son into the world. Straightaway we are thrown headlong into the action as we follow baby Cory's rather traumatic birth. Louisa and her husband, James, had tried for a long time to have a baby. They take him home and set about their lives together but fate has other plans in store.
Louisa is extremely damaged. Without giving too much away, her childhood was a mess and postnatal depression is almost expected.
The story is split into sections mainly consisting of Louisa Now and Louisa Then. The Then sections were heartbreaking to read, the Now sections thrilling and shocking. Is Louisa paranoid or is somebody really out to try and take her baby from her? As Louisa is the narrator of her own story we never know whether what she's experiencing is real or not and that's what makes it so freaky and so exciting.
A Mother's Sacrifice is quite the page turner. It's pacy and such an easy book to read that I raced through it. I sympathised with Louisa, but I did wonder if she was imagining all that was happening. You'll have to read it to see. The ending was a surprise and I'm not sure if I would have liked it to end differently or not, but I thought it was a fitting ending, tying in with the title very well.
It's a cleverly plotted book with an extremely unreliable narrator. It's filled with twists and turns and I never knew what was going to happen next. I also couldn't have predicted the main outcome which is great. All in all, a fab twisty read.
---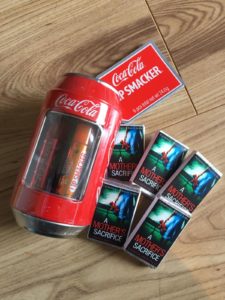 ---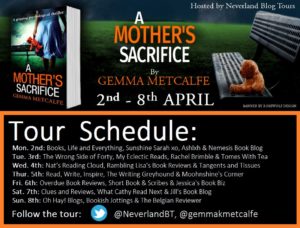 ---

Gemma Metcalfe is a Manchester born author who now lives in sunny Tenerife with her husband Danny and two crazy rescue dogs Dora and Diego. By day, Gemma can be found working as a Primary school teacher, but as the sun sets, she ditches the glitter and glue and becomes a writer of psychological thrillers. An established drama queen, she admits to having a rather warped imagination, and loves writing original plots with shocking twists. The plot for her debut novel ´Trust Me,´ is loosely based on her experiences as a call centre operative, where she was never quite sure who would answer the phone…