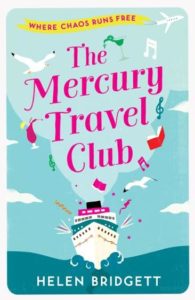 #blogtour – The Mercury Travel Club by Helen Bridgett @Helen_Bridgett @RedDoorBooks #bookreview
I'm thrilled to be on the blog tour today for this book, published by the lovely RedDoor Publishing. First of all, you probably want to know what it's all about:
Meet Angie Shepherd who, after 24 years and 11 months of marriage, finds herself divorced and driven by friends and family to move on. From hangover to makeover, Angie steps firmly away from the sensible knitwear, and launches into every adventure on offer – from baking classes and book groups, to speed dating, and even 'The Granny-Okes', a 1980s tribute act and YouTube sensation.

But Angie needs more than a bar of galaxy and a night in with Murder She Wrote… what she dreams of is entrepreneurial success. Channelling her inner Richard Branson, the light bulb moment happens: it's time to take the plunge and invest her divorce settlement into The Mercury Travel Club, an exciting new business venture. But as the Travel Club gets going, things never go according to plan, and in this digital age a little chaos brings the fame she's been looking for.

Set in present-day Manchester, this classic mid-life journey features the 1980s soundtrack from Angie's youth, and sees her travel the world whilst coping with life after the Ex.Angie's journey is the catalyst her friends need to examine their own lives; as theystart to find their true callings, will Angie find hers? Witty, entertaining and laugh-out-loud funny, this feel-good debut novel shows it's never too late for a second chance.
My Review
I'd been hearing lots of good things about The Mercury Travel Club but I'll be honest, when I started it I thought it might turn out to be a just ok sort of book. But as I read on and got involved in the characters' lives, it turned out to be a fabulous read.
Angie Shepherd is getting over her husband running off with another woman. Confined to a starter home and working part time at Mercury Travel she comes up with a business idea: specialised group holidays such as 80s themed cruises.  Not exactly over the hill at 53, she's certainly feeling like she needs new challenges in life and desperately wants it to work out.
I thought Helen Bridgett had some wonderful ideas for The Mercury Travel Club – she ought to set it up herself as it sounds like so much fun. Angie's best friend, Patty, is an absolute hoot, as is her mum, a champion food blagger amongst other things. I did wonder if the Granny-okes might turn out to be a bit naff but somehow the author hit just the right note with everything and found the right balance between a light and chaotic read and one which was ultimately about a woman finding her way in life again after being let down badly.
There's such a human element to the writing. I don't know if it's because it's in the first person and so we see everything from Angie's point of view, or if it's just the author's style, but I found the characters so endearing. I couldn't even really dislike the ones I was supposed to dislike as without them Angie wouldn't be able to rise like a phoenix from the ashes of her dead marriage. I do love to read about women achieving something in a small business setting and I was willing Angie to do well and make a success of the club. She meets some brilliant characters along the way and I loved the quirkiness of them.
This is a fun, heart-warming read and I really loved it. I'm absolutely over the moon to find out that there are more Mercury Travel Club books on the way. Count me in – I can't wait to get back to Angie, Patty and co.
With thanks to Red Door Publishing for the review copy and the place on the blog tour. The Mercury Travel Club is published on 16th March in paperback.
---
And now why not check out the other blogs on the tour:
---
Helen Bridgett was born in the North-East and now lives in Manchester having stopped off at a few places in between. Following a career in Marketing, Helen took an MA in TV and Radio Scriptwriting and created short films before writing her first novel. She loves nothing more than a glass of wine and witty banter with friends; her love of dialogue feeds into her work and has given her the perfect excuse to eavesdrop on conversations. Helen lives with her husband and their chocolate Labrador, Angus; all three can often be found wandering the Cumbrian hills or in country pubs.
Follow Helen on Twitter @Helen_Bridgett