#blogtour – The Little Church by the Sea by Liz Taylorson @taylorson_liz @BooksManatee #bookreview
I'm thrilled to be on the blog tour today for The Little Church by the Sea by Liz Taylorson. It's a lovely lovely book and struck a bit of a chord with me as I work as a church administrator in a three church parish with a female vicar – a similar set up to the one in the book. Not only am I reviewing the book but I also have a guest post from Liz. First here's what it's all about:
Isolated and unwelcome in the picturesque seaside village of Rawscar, Reverend Cass Fordyce has lost her faith and her home. Christmas is coming, and she isn't looking forward to it. Then she meets attractive local man Hal – twice divorced and with a reputation as a ladies' man he's everything that a celibate vicar like Cass should avoid… especially as Hal is hiding secrets of his own, including his past with the mysterious Anna.

Can Cass ever find her way in Rawscar? What secret does Hal have to hide? And is there ever such a thing as a truly fresh start?
---

The Little Church by the Sea is what I call a great debut novel. The writing is assured, the story is well put together and the characters are interesting and likeable.
Cass is the vicar at the little church by the sea, St Stephen's. In fact she's the vicar of a hefty four churches within the parish. The book is set in one of the busiest times in the church year, the run up to Christmas. Relatively new to the parish, she's holed herself up in the vicarage by the little church by the sea until it falls off the cliff – yes you read that right, and this is where the story begins.
I loved Cass. She's a dedicated vicar, even when her faith is tested. She's feisty and funny and brave. She comes into contact with Hal Thorburn, a local ladies man and finds herself drawn to him. As a leading man Hal pretty much has it all. Looks, charm, strength – I thought he was great. There are also lots of supporting characters who add so much to this story. They're part of a community in which 'incomers' are never accepted, even those who've lived there 20 years.
I was completely drawn into the story. I thought Cass was perfectly portrayed as a vicar, just what I would expect. There's obviously a fair bit about church life and religion but it's not overpowering. The story wins out and whilst it's one of those books where you know things will work out in the end, it was lovely to follow Cass on her journey to get to that point and through her first Christmas in Rawscar.
I could see this becoming the first in a series, either featuring Cass or focusing on different residents of Rawscar. I just loved the author's writing style and I would love to revisit the characters that I grew to like during the couple of days that I spent reading The Little Church by the Sea.
Such a lovely read and what a perfect and gorgeous cover to match.
---
A sense of place by Liz Taylorson
My novel, "The Little Church by the Sea" is set in the fictional village of Rawscar on the coast of North Yorkshire. Though Rawscar doesn't exist, anyone who has visited this beautiful stretch of coastline will immediately recognise some of the elements that make up Rawscar.
The village where the streets are cobbled yards and the houses are packed in together and the river comes down to the sea in a jumble of picturesque red pantiled roofs could be any one of Staithes, Runswick Bay or Robin Hood's Bay.  Maidensbower Yard where my heroine Cass lives is entirely fictional, but it could be any of the twisting little yards in one of these villages.
The sandy beach with beach huts is inspired by Runswick Bay, where the beach sweeps round to the sailing club and the very last of the beach huts built in the early/mid 20th century cling to the fast-eroding muddy cliffs. There is something incredibly poignant about these disappearing reminders of long ago holidays, and I knew I wanted the beach huts in The Little Church by the Sea to be more like these home-made huts and less like the brightly coloured rows you find in most seaside towns.
And then there's the church. Anyone who has been to Whitby will immediately recognise the storm-beaten old church overlooking the harbour, guiding the boats back to port. It's an iconic image, and Cass's church shares its location together with its dark box pews and its startlingly old graffiti.
However St. Mary's Church at Whitby is far too big to be Cass's little old church, and the inside of the church owes more to three other churches which time has left behind  – St. Nicholas's, Roxby, a tiny little church high up overlooking the sea, where electricity has never been installed, St. Helen's Church at Beamish Museum where the box pews bear the names of the families that once used to sit there and most of all, Old St. Stephen's  Church, Fylingdales, just outside Robin Hood's Bay, where the sheep graze in the crowded graveyard and the melancholy maidens garlands hang, rare survivors of an age-old custom.
So if you think that Rawscar sounds like a fascinating spot for a seaside holiday, and you only wish it was real – well, bits of it are!
Thank you, Liz. Having read your book it's fascinating to see some of where it is based. 
---
So if all of this has whetted your appetite and made you want to read this lovely book then the ebook is available now.
And please check out the other blogs taking part in the tour.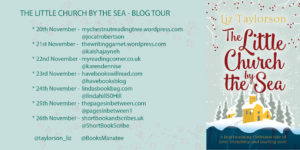 ---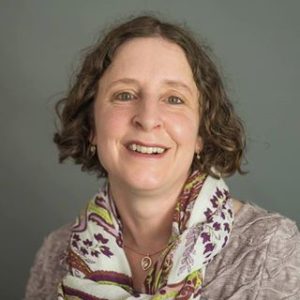 Liz has always surrounded herself with books.
As a child, she was always to be found with her head in one and she still has a bookcase full of her childhood favourites to this day. (As a thirteen-year-old she read The Lord of the Rings twelve times in a row, cover to cover!) All this reading led, unsurprisingly, to a degree in English Literature, (and another book-case full of books) and then a job as a cataloguer of early printed books for a major university library. This meant spending hours sitting in a beautiful, ancient building looking at antique leather-bound tomes – although as so many of them turned out to be rather boring volumes of sermons she wasn't tempted to read them! She went on to train others to catalogue books and her earliest attempts at writing anything as an adult consisted of instructions on how to work out the correct form of an author's name to use in a library catalogue.
Children (and then cats and chickens) interrupted her bibliographic career, and having given up library work Liz found herself doing more reading, and increasingly she found herself enjoying novels by writers like Trisha Ashley, Katie Fforde, Milly Johnson and Lucy Diamond. Inspired by their example, she started writing fiction and hasn't stopped since, joining the Romantic Novelists' Association's wonderful New Writers' Scheme to try to learn how to write novels properly in 2015.  She has also attempted writing some short stories, with one The Second Princess winning a competition in Writing Magazine which led her to think that maybe publication wasn't a pipe dream after all.
Liz owes everything to her tolerant and long-suffering husband Ben and her tolerant and long-suffering children, but very little to the cats who are neither tolerant nor long-suffering and keep sitting on the computer keyboard and messing up her manuscript if she forgets to feed them on time.
When not reading or writing Liz is often to be found on stage (or behind it) with her local amateur dramatic society, drinking tea, or visiting one of the several North Yorkshire seaside villages which were the inspiration for the fictional Rawscar, the setting for her debut novel The Little Church by the Sea.