#blogtour – The Future Can't Wait by Angelena Boden @AngelenaBoden @Urbanepub #bookreview
Welcome to my stop on the blog tour for The Future Can't Wait by Angelina Boden. Thank you to the publishers, Urbane Publications, and Abby Fairbrother, for the review copy and the place on the tour. I'm reviewing the book today but first here's what it's all about:
The Future Can't Wait is a contemporary novel set in multicultural Birmingham against a background of growing radicalisation of young people sympathetic to Islamic State.   Kendra Blackmore's half Iranian daughter Ariana (Rani) undergoes an identity crisis which results in her cutting off all contact with her family. Sick with worry and desperate to understand why her home loving daughter would do this, Kendra becomes increasingly desperate for answers – and to bring her estranged daughter home….
---

The Future Can't Wait is primarily the story of a mother and how she deals with her teenage daughter. Kendra Blackmore is a teacher of psychology, dealing with some fairly tricky students. One of the things teachers have to watch out for is the radicalisation of young people when they're at that most susceptible age. Her daughter, Rani, is hiding things and being surly, particularly with Kendra. Is she one of the young people she needs to look out for?
Added to this, Kendra's husband, David, is not supportive of her but he's clearly somebody who struggles with interaction, has a reliance on routines and prefers his own company. Kendra needs his support when Rani runs away but doesn't get it and I could really feel her utter despair as she spiralled into depression and distress with nobody really taking Rani's disappearance as seriously as she knows it must be.
The Future Can't Wait is set in Birmingham and has some very current themes. The setting is well-portrayed and very much a part of the story. This is a book which certainly enhances the worry of being a parent. What if your child gets mixed up with the wrong people, manipulated, and you have no idea what they are doing, who they are seeing?
This is Kendra's story and I felt so sorry for her. Rani is horrible to her and in a way so is David. But because it's Kendra's story it's hard to see it from the point of view of these other characters – is Kendra smothering Rani? Does she simply have no patience with David?
She turns to psychics and fortune tellers and I thought it was fascinating to see such a  seemingly level-headed character becoming addicted to seeking this so-called help. It's so easy to read a horoscope and make it fit your circumstances but Kendra, in her desperation, wants to believe everything she reads or hears.
I must admit I was expecting something a little different from this book. I was expecting more about Rani and what was happening to her but it is really about Kendra and her all-consuming loss. I did feel that some of the threads could have been more fully explored and the ending left me with more questions than answers, but I did enjoy this story and found the themes thought-provoking and convincing and the characters diverse and true to life.
---
If you like the sound of The Future Can't Wait then it's available now in ebook (just 99p) and paperback.
And do please have a look at the other blogs taking part in the tour.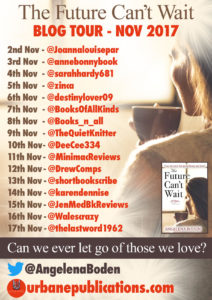 ---

Angelena Boden (M.Soc.Sc PGDE) has spent thirty five years as an international training consultant, specialising in interpersonal skills and conflict resolution. She trained in Transactional Analysis, the psychology of communication and behaviour, her preferred tool for counselling and coaching.
Since retiring from training, she runs a coaching practice in Malvern for people who are going through transition periods in their life; divorce, empty nesting, redundancy or coping with difficult situations at work, home and within the wider family.
Angelena has two half Iranian daughters and has extensive experience of helping mixed nationality couples navigate problems in their marriages.
She is the author of The Cruelty of Lambs, a novel about psychological domestic abuse. Her new book, The Future Can't Wait tackles the breakdown of a mother and daughter relationship within a cross cultural context. It is published by Urbane Publications and is out in November 2017.