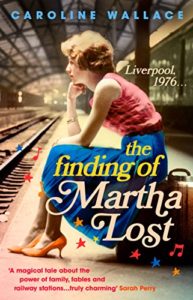 #blogtour – The Finding of Martha Lost by Caroline Wallace @Caroline_S @TransworldBooks @hannahlbright29 #bookreview
I'm so excited to be on the blog tour for this fantastic book. One, because it's fantastic, obviously, and two, because I have read books by the author (writing as Caroline Smailes) before and loved them so I knew I was in for a treat when I started The Finding of Martha Lost.

Liverpool, 1976: Martha is lost.

She's been lost since she was a baby, abandoned in a suitcase on the train from Paris. Ever since, she's waited in lost property for someone to claim her. It's been sixteen years, but she's still hopeful.

Meanwhile, there are lost property mysteries to solve: a suitcase that may have belonged to the Beatles, a stuffed monkey that keeps appearing. But there is one mystery Martha has never been able to solve – and now time is running out. If Martha can't discover who she really is, she will lose everything…
Where to start to describe this wonderful, magical and clever book. Well I could just say it's wonderful, magical and clever I suppose!
First of all we have the setting. Lime Street Station in Liverpool and the Lost Property Office in particular is the perfect backdrop for Martha Lost's story. We have the magic of the tunnels underneath the station, the quirkiness of the things that end up in the Lost Property Office and the interesting people who pass through.
We also have a cast of captivating characters. Martha herself is only 16 but has a wise, yet also naive, head on her shoulders. Her friend Elisabeth runs the coffee bar next door and then there's William and George Harris who Martha meets at the station and who add such colour to the story.
We have a sub-story about Mal Evans, roadie for The Beatles whose ashes have gone missing. Parts of this story are factual. The whole story is set in the steaming hot summer of 1976.
Put all these aspects together and you have a wonderfully original story which I loved to read.
There's a kind of innocence to this book which really is charming. Everybody and everything was so perfectly described that I wanted to be in the book with all the characters. I wanted to have lemon drizzle cake with Martha and Elisabeth, I wanted to see George Harris in his Roman soldier outfit (his uniform for his job as a tour guide), I wanted to see what Martha saw when she first met William. It is all so wonderfully evocative and unique.
The Finding of Martha Lost is just delightful and I was utterly entranced by it.
With thanks to Transworld and Netgalley for the review copy and to Hannah Bright for the place on the blog tour. The Finding of Martha Lost is available now in ebook and paperback.
---
I'm the last stop on the tour but why not go back and visit the other blogs that have taken part.
---

Caroline Wallace worked as a lecturer for several years before turning her hand to fiction. She lives in Liverpool with her husband and their many children. She also writes under Caroline Smailes, and has written such novels as In Search of Adam, her acclaimed debut, and The Drowning of Arthur Braxton, which has been made into a film.