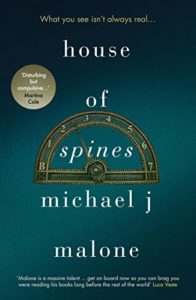 #blogtour – House of Spines by Michael J Malone @michaelJmalone1 @OrendaBooks #bookreview
I'm delighted to be on the blog tour today for House of Spines by Michael J Malone. Thank you to Orenda Books and Anne Cater for the review copy and the place on the blog tour. I loved the book and have my review for you but first of all here's what the book is about:
Ran McGhie's world has been turned upside down. A young, lonely and frustrated writer, and suffering from mental-health problems, he discovers that his long-dead mother was related to one of Glasgow's oldest merchant families. Not only that, but Ran has inherited Newton Hall, a vast mansion that belonged to his great-uncle, who appears to have been watching from afar as his estranged great-nephew has grown up. Entering his new-found home, he finds that Great-Uncle Fitzpatrick has turned it into a temple to the written word – the perfect place for poet Ran. But everything is not as it seems. As he explores the Hall's endless corridors, Ran's grasp on reality appears to be loosening. And then he comes across an ancient lift; and in that lift a mirror. And in the mirror … the reflection of a woman … A terrifying psychological thriller with more than a hint of the Gothic, House of Spines is a love letter to the power of books, and an exploration of how lust and betrayal can be deadly…
---

I read Malone's A Suitable Lie last year and I liked it a lot but House of Spines trumps it in my view. Ranald McGhie is a somewhat unstable person, suffering from mental health issues relating to family events. So when he inherits Newton Hall from a great-uncle he didn't even know about you can imagine it throws him into a bit of a tailspin.
From the off Newton Hall is a major character in the book. With books everywhere this truly is the House of Spines with a life of its own. Ran goes to live in the house but there are certain places he is reluctant to explore. You might think one of these places might be the broken lift with the spooky mirror but no, he's drawn there and to the woman he thinks he sees there.
It's such a well-plotted story. I sometimes struggle with suspending belief when I'm reading but if a story is done well then I can do it and this is one of those times. None of it seemed implausible to me. The various strands intertwined to make a complex and clever tale with a twist that I didn't see coming.
The characters are such intriguing ones. Ran aside, we have his great-uncle, Alexander Fitzpatrick. We never meet him but he's there in the background the whole time. The housekeeper, Mrs Hackett and her husband, Danny, who looks after the gardens and caretaking, Ran's ex-wife, Martie, and neighbour, Donna and the people he meets when he moves to Newton Hall, Suzy, Liz, Ken, Marcus, Rebecca. They all added something to the story, whether it's to help Ran understand more about the house and his uncle or whether it's to help ground him during his major life changes.
Billed as psychological thriller meets gothic, House of Spines is compulsive reading. I loved how the mystery of the house, the woman that Ran sees, the family dramas all unfolded. Ran is a very unreliable protagonist. We don't know if what he is seeing is real or not. This makes it very exciting for the reader. Is it a symptom of his mental health problems or can he really see a woman in the mirror?
This is a chilling book with a thrilling ending.  I thought it was a fabulous read and proves Malone's skill in turning his hand to different genres.
---
House of Spines is available now in ebook and paperback. And there are lots of other reviews by other bloggers on the tour so please do have a look.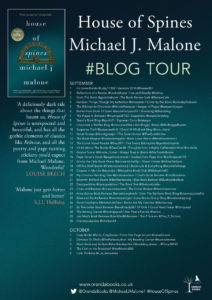 ---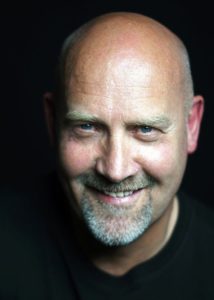 Michael Malone was born and brought up in the heart of Burns' country, just a stone's throw from the great man's cottage in Ayr. Well, a stone thrown by a catapult, maybe.
He has published over 200 poems in literary magazines throughout the UK, including New Writing Scotland, Poetry Scotland and Markings. His career as a poet has also included a (very) brief stint as the Poet-In-Residence for an adult gift shop. Don't ask.
BLOOD TEARS, his debut novel won the Pitlochry Prize (judge:Alex Gray) from the Scottish Association of Writers and when it was published he added a "J" to his name to differentiate it from the work of his talented U.S. namesake.
He is a regular reviewer for the hugely popular crime fiction website www.crimesquad.com and his blog, May Contain Nuts can be found at http://mickmal1.blogspot.com/