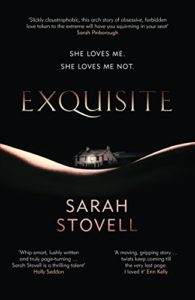 #blogtour – Exquisite by Sarah Stovell @Sarahlovescrime @OrendaBooks #bookreview
This is one of those books I was just dying to read so my grateful thanks to Karen Sullivan at Orenda Books for the review copy and to Anne Cater for the place on the blog tour.

Bo Luxton has it all – a loving family, a beautiful home in the Lake District, and a clutch of bestselling books to her name. Enter Alice Dark, an aspiring writer who is drifting through life, with a series of dead-end jobs and a freeloading boyfriend. When they meet at a writers' retreat, the chemistry is instant, and a sinister relationship develops … Or does it? Breathlessly pacey, taut and terrifying, Exquisite is a startlingly original and unbalancing psychological thriller that will keep you guessing until the very last page.
This book was so highly anticipated by myself and other reviewers. The beautiful cover just captured my imagination and that along with the title made this one of those books I couldn't wait to get my hands on.
So…..did it live up to my expectations? Yes it did! Bo Luxton is the successful author with an easy life. Alice Dark is much younger and just hoping to start out on her writing career. When they meet there is an intense chemistry between them which is beautifully portrayed by Sarah Stovell.  But this is also a book where the words 'collision course' came into my mind.
Twists are mentioned when this book is talked about but I think they were fairly obvious. I suspect this is a side-effect of reading so many of these kinds of books where twists have become almost a pre-requisite and so we're more attuned to what they might be. It didn't spoil anything for me though and I just enjoyed reading the book as a story from start to end without needing huge surprises in the plot. The story itself was more than enough to keep me interested and was certainly twisty-turny from Bo and Alice's points of view.
The setting of the Lake District is fantastic. The backdrop of beauty against this intense and oppressive relationship is perfect and skilfully described.
This is a creepy, freaky and tense thrill of a read. I found I didn't want to put it down and only did so when I really had to. The story is told by Bo and Alice in short chapters which helped me to race through it as I just needed to know how it all ended. And that ending, well yes, it certainly made me think.
Exquisite is a perfect unreliable narrator story – who is telling the truth? The writing is stunning and the story is clever. Truly exquisite!
Exquisite was published by Orenda Books in ebook on 15th May 2017 and will be published in paperback on 15th June 2017.
---
Don't forget to check out some of the other stops on this epic blog tour!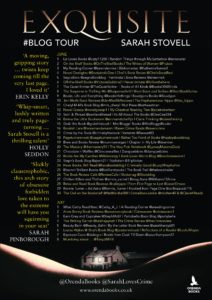 ---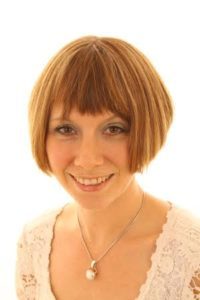 Sarah Stovell was born in 1977 and spent most of her life in the Home Counties before a season working in a remote North Yorkshire youth hostel made her realise she was a northerner at heart. She now lives in Northumberland with her partner and two children and is a lecturer in Creative Writing at Lincoln University. Her debut psychological thriller, Exquisite, is set in the Lake District.