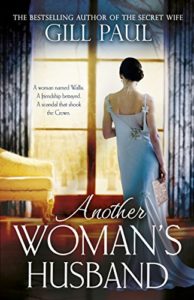 #blogtour – Another Woman's Husband by Gill Paul @GillPaulAUTHOR @Headlinepg #bookreview
I'm so thrilled to be on the blog tour today for this fabulous book. It really was the perfect read for me. Here's what it's about:

Two women who challenged the Crown.
Divided by time. Bound by a secret…

1911
At the age of fifteen, carefree Mary Kirk and indomitable Wallis Warfield meet at summer camp. Their friendship will survive heartbreaks, separation and the demands of the British Crown until it is shattered by one unforgivable betrayal.

1997
Rachel's romantic break in Paris with her fiancé ends in tragedy when the car ahead crashes. Inside was Princess Diana. Back in Brighton, Rachel is haunted by the accident, and intrigued to learn the princess had visited the last home of Wallis, Duchess of Windsor, only hours before the crash. Soon, the discovery of a long-forgotten link to Wallis Simpson leads Rachel to the truth behind a scandal that shook the world…

Richly imagined and beautifully written, ANOTHER WOMAN'S HUSBAND is a gripping, moving novel about two women thrust into the spotlight, followed by scandal, touched by loss.
---
When I read the synopsis of this book I knew it was a book I had to read. From being small I always loved the Royal Family. I still find them fascinating even now when there's very little mystery surrounding them. So a book that combines the life of Wallis Simpson and the aftermath of the tragic death of Diana, Princess of Wales, was always going to appeal to me.
The obvious link between the two women is that they both, in their own way, caused a massive earthquake within the Royal Family. Wallis Simpson famously made Edward VIII so smitten with her that he abdicated the throne for her. And we all know about Diana's incredible effect on the world. But in this book there is another link which I'm not going to tell you about (read the book!).
The Wallis side of the story is all about her and her school friend, Mary Kirk. The story is about their friendship which lasts for many years but Wallis's story is told from Mary's viewpoint so we see Wallis through an observer's eyes. Wallis is portrayed exactly as I expected her to be: selfish and flirtatious. I knew nothing about Mary but she definitely came out of the story in the best of lights and was the perfect antidote to Wallis really. The Diana part of the book, however, does not focus on her but is about Rachel and her partner, Alex, who find themselves behind Diana's car in the Alma Tunnel on that fateful night. Alex is a documentary maker and immediately turns to the obvious subject for a programme but Rachel has reservations about his motivation. Meanwhile, Rachel is running her vintage clothing shop and I loved that that was how she made her living. There's quite a bit of detail about the items she's selling there and I found this really interesting, especially when it helped to link other threads (excuse the pun) of the story.
I do love a book that combines fact and fiction. It's clear that the author has done a lot of research for this book, but she also weaves fictional elements in seamlessly and I was pleased to see there were author's notes at the back of the book, explaining what was true and what wasn't as I could well have believed that it was all based on fact. It was so well done.
I thought this was a really fabulous read. Right up my street with the dual time frame, the Royal connection and the history. The characters are well portrayed, both the real ones and the fictional ones. I was interested in all of their stories. The two sides of the story are told a couple of chapters at a time before we swap over and I love books that drip feed a story to the reader in that way. All in all this was a delight to read and although it's my first Gill Paul novel I just happen to have all of her others waiting to be read and I think her writing is something I will enjoy again in the future.
Another Woman's Husband is published by Headline and is available now in ebook and hardback.
---
With thanks to the publishers and Netgalley for the review copy and to Phoebe Swinburn for the place on the blog tour. I hope you will check out the other blogs taking part.
---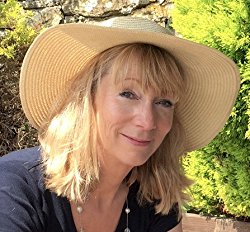 Gill Paul is an author of historical fiction, specialising in relatively recent history. Her new novel, Another Woman's Husband, is about links you might not have been aware of between Wallis, Duchess of Windsor, and Diana, Princess of Wales.
Gill's other novels include The Secret Wife, published in 2016, about the romance between cavalry officer Dmitri Malama and Grand Duchess Tatiana, the second daughter of Russia's last tsar, who first met in 1914. Women and Children First is about a young steward who works on the Titanic. The Affair was set in Rome in 1961–62 as Elizabeth Taylor and Richard Burton fell in love while making Cleopatra. And No Place for a Lady is about two Victorian sisters who travel out to the Crimean War of 1854–56 and face challenges beyond anything they could have imagined.
Gill also writes historical non-fiction, including A History of Medicine in 50 Objects, and a series of Love Stories, each containing fourteen tales of real-life couples: how they met, why they fell for each other, and what happened in the end. Published around the world, this series includes Royal Love Stories, World War I Love Stories and Titanic Love Stories.
Gill was born in Glasgow and grew up there, apart from an eventful year at school in the US when she was ten. She studied Medicine at Glasgow University, then English Literature and History (she was a student for a long time), before moving to London to work in publishing. She started her own company producing books for publishers, along the way editing such luminaries as Griff Rhys Jones, John Suchet, John Julius Norwich, Ray Mears and Eartha Kitt. She also writes on health, nutrition and relationships.
Gill swims year-round in an open-air pond – "It's good for you so long as it doesn't kill you"– and is a devotee of Pilates. She also particularly enjoys travelling on what she calls "research trips" and attempting to match-make for friends.
Author bio and photo taken from the author's Amazon page.