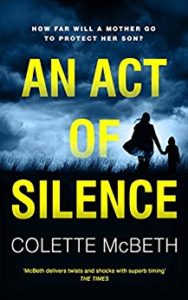 #blogtour – An Act of Silence by Colette McBeth @colettemcbeth @headlinepg @wildfirebks #bookreview
I'm thrilled to be on the blog tour today for An Act of Silence. I loved Colette McBeth's last book, The Life I Left Behind and so I was eager to get my hands on this, her latest book.
So what's An Act of Silence all about?

These are the facts I collect.

My son Gabriel met a woman called Mariela in a bar. She went home with him. They next morning she was found in an allotment.

Mariela is dead.

Gabriel has been asked to report to Camden Police station in six hours for questioning

Linda Moscow loves her son; it's her biological instinct to keep him safe. But if she's not sure of his innocence, how can she stand by him? Should she go against everything she believes in to protect him?

She's done it before, and the guilt nearly killed her.

Now, the past is catching up with them. As old secrets resurface, Lind is faced with another impossible choice. Only this time, it's her life on the line…
I very much enjoyed Colette McBeth's last book, The Life I Left Behind but I have to say that An Act of Silence is on another level. It's nail-bitingly exciting and has more layers than an onion!
We have disgraced ex-MP, Linda Moscow and we have her son, Gabriel Miller, who is a comedian. We know from the very beginning that their relationship is a difficult one and throughout the course of the book we start to understand why. What I liked about McBeth's writing is that she makes us feel alternately sorry for each party as they put across their stories.
The tagline is "If your son was accused of murder, what would you do?" and yes, Linda is forced to consider whether her son is capable of such an act after a young woman's body is found. But…..this is essentially a book about corruption within government and takes a lot from the recent spate of celebrities turning out to be not the much loved family oriented people we thought they were.
The plotting is amazing. I found myself turning back several times to reread parts that suddenly came across so differently upon reading another section. There are sections written from the perspective of many different characters and it really was just like watching a scandal unfold.
The storyline is unlike any other psychological thriller I have read. It really felt quite unique to me. It's full of suspense and intrigue and not at all what I was expecting.
An Act of Silence gripped me from start to finish and I found it very hard to put down. It's a superb thriller of a book.
With thanks to the publishers and Amazon Vine for the review copy. An Act of Silence is available now in ebook and hardback.
---
With thanks to Millie Seaward from Headline for the spot on the blog tour. Don't forget to check out the other blogs taking part.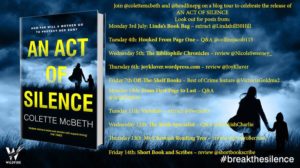 ---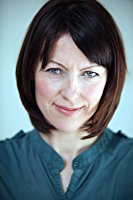 Colette McBeth had the idea for her first novel Precious Thing in 1998. Instead of writing it she went to work for the BBC where she spent 10 years as TV reporter. In 2011 she enrolled on the Faber Academy Novel Writing course and completed Precious Thing in 2012. She lives in West London with her husband and three children.