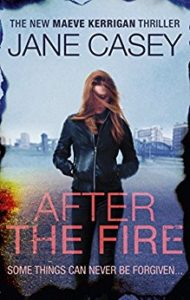 After the Fire by Jane Casey @JaneCaseyAuthor #bookreview #suspense
Arson, accident or murder?

After a fire rips through a North London tower block, two bodies are found locked in an 11th floor flat. But is the third victim that ensures the presence of detective Maeve Kerrigan and the murder squad. It appears that controversial MP Geoff Armstrong, trapped by the fire, chose to jump to his death rather than wait for rescue. But what was such a right wing politician doing in the deprived, culturally diverse Maudling Estate?

As Maeve and her senior colleague, Derwent, pick through the wreckage, they uncover the secret world of the 11th floor, where everyone seems to have something to hide…
I'm not very good at reading books in a series. I tend to read the first one and then never get round to the others. However, this series featuring DC Maeve Kerrigan is one that I have stuck with right from the beginning because it is just superb. Jane Casey has a new book out this week, Let the Dead Speak, but I wanted to catch up first and so have just finished the fantastic After the Fire, the 6th book in the series.
Once again we meet Maeve and her arrogant, chauvinistic, but incredibly likeable boss, DI Josh Derwent. This time they are investigating a fatal fire in a tower block. One of the victims is a well-known and controversial politician. Was he the target or not?
Maeve is also dealing, once again, with her stalker, Chris Swain. This is a storyline that has been a feature of the series and is a fascinating extra strand. In this book it provides Derwent with an opportunity to be Maeve's protector and I loved seeing his (very slightly) softer side.
This is such a fantastic series. It's written from Maeve's point of view in the first person and is done so brilliantly. The author is adept at getting across every side using only Maeve's narrative.  She's a fantastic creation but I have to say that once again Derwent stole the show for me. He's easily one of my all time favourite characters in a book.
There is so much going on in this action-packed novel. Once I had got through the first few chapters and fully immersed myself back into the lives of these characters I just couldn't wait to pick it up again and carry on reading. A story about police officers investigating a fire doesn't necessarily sound all that different or thrilling but I promise you this book and this series has a real kick to it, that bit of extra oomph that makes it into an outstanding read.
You could read this book as a standalone although I think, as with any series, you would miss out if you did so. Mind you, I'd had a sleep since I read the previous book and so couldn't quite remember all that went before. I do wish there could be a little recap at the beginning of books in a series.
After the fire is another triumph for Jane Casey and I have no doubt this series will go from strength to strength. I can't wait to meet up with the characters again.
After the Fire is available now in paperback and ebook.