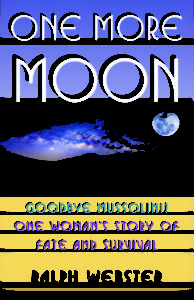 #QandA with Ralph Webster, author of One More Moon @Ralph_Webster
I'd like to welcome Ralph Webster to Short Book and Scribes. Ralph is the author of One More Moon and, as with so many fabulous sounding books, I just couldn't fit it in, but he's very kindly agreed to answer my questions today. First, let's have a look at what One More Moon is all about.

Goodreads Choice Nominee Ralph Webster tells the true story of his grandmother's desperate journey from her life at the Pensione Alexandra in Naples to America – after Mussolini and the Fascists join with Hitler – and as countries across the world close their doors to Jewish refugees fleeing the spread of Nazi evil.

In 1934, at age fifty-one, Elsa's comfortable life in Mussolini's Fascist Italy changes remarkably when she and her husband, Paul, purchase the Pensione Alexandria overlooking the Mediterranean in Naples. Though German Jews, they are embraced by their Italian neighbors, and for the next several years, the pensione flourishes and becomes their perch to observe the world's events. Travelers from across Europe and America come to the door, each with their own story, mystery, or surprise. Nearly all have been touched in some way by the ominous changes occurring to the north, in Nazi-controlled Germany.

When war breaks out in Europe and Italy sides with Germany, Elsa and her family's fears are quickly realized. The growing sense that the atrocities in German-occupied lands will soon occur in Italy forces them to give up their pensione and attempt a desperate journey to safety in America. The way seems impossible. Day by day, war makes travel increasingly difficult as countries begin closing their doors to refugees.

Told in Elsa's words and written by her grandson, One More Moon is the extraordinary story of a woman and her family's often harrowing experiences in the years before and during World War II.
It's available to pre-order in ebook on Amazon UK.
It's also available from February 28 in soft cover and Kindle formats from Amazon US.  ARC copies are available for reviewers at NetGalley.
---

1. Can you tell me about your book, One More Moon, and where the idea came from for the story?
One More Moon is the true story of my grandmother's desperate journey from her comfortable life at the Pensione Alexandra in Naples, Italy to America – after Mussolini and the Fascists joined with Hitler – and as countries across the world closed their doors to Jewish refugees fleeing the spread of Nazi evil.
I am really glad that you asked me where the idea came from because it really goes to the heart of what I am trying to do with my writing.  A little more than two years ago my wife Ginger and I took an extended trip backpacking, hiking, and biking across Europe.  It just so happened that our trip coincided with the escalating refugee crisis.  Refugees in large numbers were searching for safety, security, and economic opportunity.  They were fleeing Syria and other areas under siege with literally the clothes on their backs.  At night we watched news reports on CNN and BBC.  And, by day, we encountered groups on trains, at train stations, in cities, in small towns, and at border crossings.  Right in front of our eyes we watched mothers, fathers, children, and groups of young men literally struggling to survive.  Many had left their successful lives in the past.  All were penniless because they had no choice but to leave everything they owned behind.  We saw conversations and confrontations with authorities – some civil, some heated.  We recognized the difficulty and frustration in trying to communicate across the medium of different languages.  It was easy to see that these were people simply looking for a hand up, not a hand out.
This touched our hearts and brought tears to our eyes.  I hope we all feel compassion for those forced to leave the lands of their mothers and fathers through no fault of their own.  Watching this first-hand helped me understand that this is what my family must have experienced when they were given no choice but to leave their homelands.  That's where the idea came from.  I wanted to add my contribution to the world's understanding – particularly in this time when political leaders are using refugee and immigration issues to divide us and create the politics of fear.
My family may have come to America in a different time.  I know it was a different circumstance and a different generation.  But, I am certain that the feeling was much the same – the anguish, the loss, the confusion, the uncertainty, the isolation, the fears, the unknown, the way others reacted.
This inspired me to write.  I had never written before but I suddenly was convinced that this is the story I wanted to tell.  I hope to do my part to shine a light on this issue.  I want others to understand the personal depth of this humanitarian crisis.  Mine is not a plea for money.  It is a plea for compassion, respect, and dignity.  I want us all to recognize that refugees, those forced to leave the lands of their mothers and fathers, are the victims.  We should never think of them as the enemy.
That's so interesting, Ralph, and so sad.
2. Where did the title come from?
Titles are difficult.  They have to be catchy.  They have to be visual.  They have to be evocative.  They have to be unique.  My wife Ginger suggested the title.  She felt One More Moon represented the book well.  It is easy for me to picture my grandparents sitting on the balcony of the Pensione Alexandra watching the moon over the Bay of Naples and the Mediterranean.  I think the title conveys the idea of hope – going forward – putting one foot in front of the other – which is really what the book is all about.  Subtitles are important too.  Goodbye Mussolini!  One Woman's Story of Fate and Survival is intended to give the reader a good sense of what the book is all about.
3. It's fascinating that One More Moon is based upon your grandmother's own story.  What do you think she would have thought about you writing a book about her and her experiences around the time of the Second World War?
She would have been amazed.  Perhaps she would have been embarrassed.  She would have been fascinated with my impressions.  I know she would have corrected my mistakes and asked me many questions.  She would have been very helpful, encouraging, and proud of me.  Mostly she would have laughed.  She was that kind of person – opinionated and interested in the world around her – well informed – positive – looking forward but always wanting us to learn from our past.  Values were very important to her.  She thought before she spoke.  She would have told me that I talk too much and don't listen enough.
4. What kind of research do you do, and how long do you spend researching before beginning a book?
I wish I could give you a very organized answer but the truth is I am not altogether disciplined and organized when it comes to research.  It is something I struggle with – particularly with the internet.  For me getting to the end of the internet and back is a very tortuous path filled with too many dangerous distractions.  As for the two books I have written, I did not start with the research.  I started with thinking through the story I wanted to write.  I needed to know where the story would begin and when it would end.  I focused on the storyline.  That's how I identified the questions that needed answers.  And, that's what guided my research – usually very specific issues.  I researched as I wrote.  If I had done too much research before I began writing I am not sure I would have ever finished my books.  I would have gathered too much information that may have not pertained to the story.  I think the danger might have been to feel the responsibility of putting too much extraneous material into the story.  Cutting would have been difficult.  For my books, staying with the story is what is most important.  Details add color and texture and make it authentic to the reader.  Getting lost in the weeds is always the danger.
5. And, related to that, do you plot your book meticulously before you start or wing it and see how it comes together?
Meticulous would not be the word I would choose but winging it would not describe the process either.  I always try to know where I am going before I start.  Someone once told me "don't ask a question when you don't know the answer."  I think that is true when writing a book.  I always try to be conscious of the beginning and the end.  That is true for the overall book and it is particularly true when it comes to chapters.  The individual chapters really drive my writing.  I prepare for the chapter, know where I am going, and then write it.  That keeps me disciplined and focused – and it gives me a certain sense of satisfaction.  It becomes a goal I can reach.
Nothing is more frustrating for me than working for days and days on something only to decide to cut it from the book.  I try to avoid that at all costs.  Equally, if something does not belong I cut it.  Just because I wrote it doesn't make it wonderful and important.  I just try to be efficient and have a pretty good idea of what I am trying to accomplish.  That doesn't mean I don't rewrite what I have written.  I rewrite and edit things over and over again until I am satisfied.  Of course, editing can be a distraction too.  Sometimes, for me, it is much easier and comfortable to edit than it is to write new passages.  Then, I find myself stuck.
6. If you weren't a writer what do you think you would be doing now?
That is a really good question because writing – becoming an author – was never part of my life's plan.  It was never a career choice.  In school I was the kid sent to wood shop class and never advanced English.  My aptitude was always numbers and never words.  I was a lobbyist in Washington DC for ten years.  Then I started a software company which I later sold to my employees.  Writing books became a hobby after I retired and only after trying on a variety of other retirement hats – becoming an emergency medical technician and driving the fire trucks and ambulances, spending hours on the beach with my metal detector, guiding a historical preservation project, raising funds for our local hospice organization, trying to learn how to speak Spanish, understanding how to write apps for Androids, taking calculus courses on-line.  I have settled on writing.  It makes me believe I am leaving something small and noteworthy for  future generations.  Apart from spending time with family and friends, traveling, playing tennis, fishing, mowing the lawn, and growing tomatoes, I can't think of much else I would rather be doing.
7. Tell me about your writing day.  Where do you write and do you have a daily routine?
By nature I am a rather intense, tunnel vision, sort of person.  It has always been that way no matter the endeavor.  When I write, I work at my desk in my home office.  I like to shut the door and shut the world completely out.  I try to avoid distractions because I know that I am easily tempted by distractions.  For example, I am unable to listen to music while I work.  The only tapping I want to hear is the tapping of my fingers on the keyboard.  I start very early in the morning and usually don't stop until it is time for happy hour and a game of Scrabble with Ginger.  At my stage in life, concentration becomes very important!
8. Do you have time to read yourself and if so what kinds of books do you enjoy?
I do have time to read and I do enjoy reading.  However, I have learned that I lose all interest in reading when I am working on a book.  I am not sure why but I find it difficult to keep my concentration on what I am reading – probably because I don't want to compare my style of writing with the way others write.  I guess I am afraid that I will see my weaknesses.  As far as reading goes, I tend to enjoy serious books that have a well written story.  My interests are wide – biographies, historical, colorful, political.  One author who always comes to mind is Carlos Ruiz Zafrόn.  I thought the Shadow of the Wind was an absolutely wonderful book.  I like authors who make the story authentic and write to entertain, inform, and excite the reader.
9. Do you have any interesting writing quirks or rituals?
I am sure I do.  I am not so sure that I want to recognize them.  My wife claims that I become deaf when I am writing and that I don't hear (or listen) to a word that she says.  Perhaps that is a quirk.  I am sure she would call it something else.  One very quirky thing I do (and do not recommend) is have the word processor count my words.  Google once told me to strive for 90,000 words for my books.  This is a bad habit and I do not recommend it.  I remain afraid that I will either finish with not enough words (which would mean having to find additional things to say) – or, that I will end with too many words (which would mean cutting things out.)  DON'T DO THIS.  IT WILL DRIVE YOU CRAZY!
Ha ha, that's absolutely something I would do!
10. Your first book, A Smile in One Eye, told the story of your father's flight from the Holocaust.  What are you planning to write next and will it also be based around family/true life events?
That is a very interesting question – one that I am often asked by friends, by family members, and especially by my wife!  The thing of it is that it is often easier to write about real people when they are no longer alive – and I am running out of dead relatives to write about.  This whole writing thing has been quite an education for me.  One lesson I have learned is that it is a significant challenge to get a work noticed and sold.  Marketing is not the best part of this business but it is certainly critical.  I think that is where I will devote my energies until the next great idea comes to mind – or, until I unearth other relatives and their stories.
Thank you so much for such wonderful and fascinating answers, Ralph.
---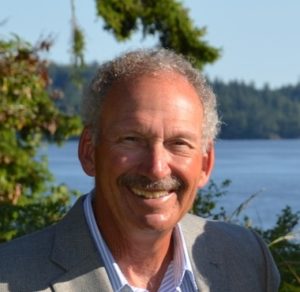 Award winning author Ralph Webster received worldwide acclaim for his first book, A Smile in One Eye: A Tear in the Other, which tells the story of his father's flight from the Holocaust.  Voted by readers as a Goodreads 2016 Choice Awards Nominee for Best Memoir/ Autobiography, A Smile in One Eye: A Tear in the Other and this second book, One More Moon, are proven book club selections for thought-provoking and engaging discussions.
Whether in person or online, Ralph welcomes and values his exchanges with readers and makes every effort to participate in conversations about his books.  Now retired, he lives with his wife, Ginger, on the Outer Banks of North Carolina.  In addition to writing, he enjoys spending his time with family, playing tennis, hiking, and traveling the world.  Ralph can be reached through his website.