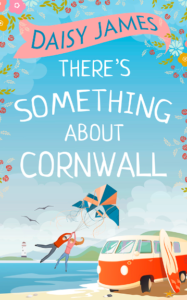 There's Something About Cornwall by Daisy James @daisyjamesbooks @HQDigitalUK #guestpost #giveaway
Daisy James has recently published her latest book, There's Something About Cornwall. First let's all take a moment to appreciate that lovely cover……………. Now what's it about?
A knight in a shining camper van!

Life is far from picture perfect for food photographer, Emilie Roberts. Not only has her ex-boyfriend cheated on her, he's also stolen her dream assignment to beautiful Venice! Instead, Emilie is heading to the wind-swept Cornish coast…

Emilie doesn't think it can get any worse – until disaster strikes on the very first day! And there's only one man to rescue this damsel in distress: extremely hunky surfing instructor, Matt Ashby.

Racing from shoot to shoot in a bright orange vintage camper van, Matt isn't the conventional knight in shining armour – but can he make all of Emilie's fairy tale dreams come true?
Daisy very kindly agreed to answer some questions for me:
DJ: First of all, can I say a huge thank you for having me on your blog today. I'm thrilled to be here.
1. Where did your inspiration come from for There's Something About Cornwall? Why a food photographer and why Cornwall?
I've always wanted to go on a road trip in a vintage camper van. There's just something about the freedom of being able to go wherever you like and stop off to camp overnight in the most wonderful place you've found that day. It was whilst I was researching one of these 'Bucket List' trips that I decided that, until I could fulfil my dream, I would get my 'fix' by writing about it. I loved the research into which towns and villages I wanted to visit – some of which appeared in the book – but I especially enjoyed the research of the artisan food and drink that Cornwall is famous for. Not only did I discover that Cornwall produces fabulous wine, but it is the only place in Britain to grow tea – a particular favourite of mine. I'm not a great photographer, but I do love taking photographs of the places my family and I travel to to record our memories. Even after the research I did into the profession for my main character Emilie, I doubt my skills are much improved!
2. I absolutely love the cover. Do you get any say in how it looks?
Thank you ever so much. I'm so pleased you like it. All my covers are designed by the team at
HQ, my publishers, but this one just had to have a picture of the Satsuma Splittie, the nickname given to the camper van by Emilie's companion, on the cover!
3. Can you tell us a bit about how and why you started writing and your journey to publication?
I've been writing, on and off, since I was a teenager. I started by scribbling short stories that I would share with my best friend – and vice versa. I later moved on to writing longer pieces and I wrote my first book twenty years ago in long-hand – which is still in a shoe box on top of my wardrobe! My first published book with HQ, The Runaway Bridesmaid, was born out of a trip for a milestone birthday. New York was hit by Hurricane Sandy and we were stranded for an additional six days. Everything was closed down and we were confined to the hotel, so I started scribbling. It was also written in long hand which seems to be the way I have to write all my novels. I don't seem to be able to write creatively straight onto the computer screen.
4. I have read that you enjoy baking. What is your favourite recipe?
Yes, I do love baking! Gosh, my favourite recipe? That's really difficult – there's so many fabulous recipes. I'm easy to buy for when it comes to birthday or Christmas presents. Cookery books! If pushed, I think it would have to be Victoria sponge cake with oodles of fresh cream, jam and strawberries – with a cup of Earl Grey tea. Or, no, I have a great recipe for banana cake – which I'm sure counts as one of your five-a-day! Then there's marmalade cake…
SBS: I love baking too and you can't beat a good Victoria sponge.
5.Who is your favourite character out of all of your books? Can you describe them using only 10 words?
It's really difficult to pick just one. I've loved creating all my characters, but I suppose if I had to pick one it would have to be Rosie from The Runaway Bridesmaid as she was my first heroine in my first book so she holds a special place in my heart. I also love how she was dealt several huge blows, but she still managed to keep a smile on her face and turn her life around, even reconciling with her sister, Freya.
I'd say she is a character who is 'fun, feisty, with a streak of loyalty and infectious mischief'.
6. You're originally from Yorkshire, just like me, but you live now in the north east. What do you miss most about Yorkshire?
 I'm a hugely proud Yorkshire girl. Despite living in the North East for thirty years, I'm regularly told that I still retain my Yorkshire accent! Every time I go back, even if it's just for a day trip, it feels like going home. I get this feeling of comfort, of warmth and belonging. Invariably, my accent comes back with a vengeance too which my family love to tease me about (being Geordies!). I think what I miss most is the wonderful people. Most of my childhood friends are scattered far and wide, around the country and around the world, but there is talk of a reunion later on this year which I'm excited about.
7. What is your writing day like? And where do you write?
I am at my most productive in the mornings, so I try to get started as soon as the school day begins. Some days I write all day, others I spend doing research for a new project – which I love! In the warmer months I write in my peppermint-and-cream writer's retreat (garden shed), but at the moment, especially in the north east, it's far too cold, even with fingerless gloves and a fleecy blanket wrapped around my knees. I've decamped to the kitchen table which isn't ideal with all the interruption. But spring is on its way, I'm told! I have to admit to being a summer baby, so the sunshine is one of my favourite things!
8. What kind of books do you like to read and are there any books on the horizon that you are really looking forward to reading?
 My favourite genre to read is travel autobiographies. Whenever I find a new one, I devour
it. I just love to read about the stories of people who have ditched the nine-to-five and taken the courageous decision to move to a new country and make a new life. I loved Driving over Lemons by Chris Stewart and Snowball Oranges by Peter Kerr. I've just read a great book called Tuk-Tuk to the Road by Antonia Bolingbroke-Kent and Jo Huxster which is the story of two girls who bought a pink Tuk-Tuk in Thailand and drove it (by themselves) all the way home to London! Absolutely amazing! I also thoroughly enjoyed the series of memoirs by Karen Wheeler, the first of which is called Tout Sweet which is her story of moving from the bright lights of London to a tiny rural village in France. My next read is It's All Greek To Me by John Mole, a story about buying a dilapidated house in Evia.
SBS: I love travel autobiographies too. In fact, Tuk-Tuk to the Road has been languishing on my TBR pile for quite some time.
9. What are you planning to write next?
I'm busy editing my summer novel at the moment, so my next writing project will be a Christmas book. I'm really excited to start the research. Like lots of people I love Christmas, so I think I might get the mixing bowl out and whip up a few home-made mince pies just to get me in the mood! Any excuse, eh?
SBS: That sounds like perfect research to me!
I've loved answering your questions. Thanks so much for having me.
Daisy
---
What a lovely Q&A. Many thanks to Daisy for being a guest on my blog. She has a fabulous competition running on Twitter so for a chance to win a book on the history of the much-loved, iconic camper van, a mug and a coaster, just follow Daisy James and retweet the pinned tweet. The prize will be drawn on 31st March 2017 (UK only).
Also on Instagram.
There's Something About Cornwall is available to buy now.
---
About the Author
Daisy James is a Yorkshire girl transplanted to the north east of England. She loves writing stories with strong heroines and swift-flowing plotlines. When not scribbling away in her peppermint-and-green summerhouse (garden shed), she spends her time sifting flour and sprinkling sugar and edible glitter. Her husband and young son were willing samplers of her baking creations which were triple-tested for her debut novel, The Runaway Bridesmaid. She loves gossiping with friends over a glass of something pink and fizzy or indulging in a spot of afternoon tea – china plates and teacups are a must.