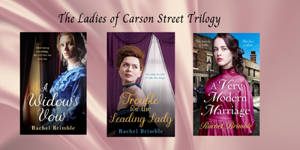 ShortBookandScribes #GuestPost by Rachel Brimble – Presenting the Ladies of Carson Street…
I'm so pleased to welcome Rachel Brimble to Short Book and Scribes today with a guest post about her latest trilogy, The Ladies of Carson Street books. My thanks to Rachel for writing the post.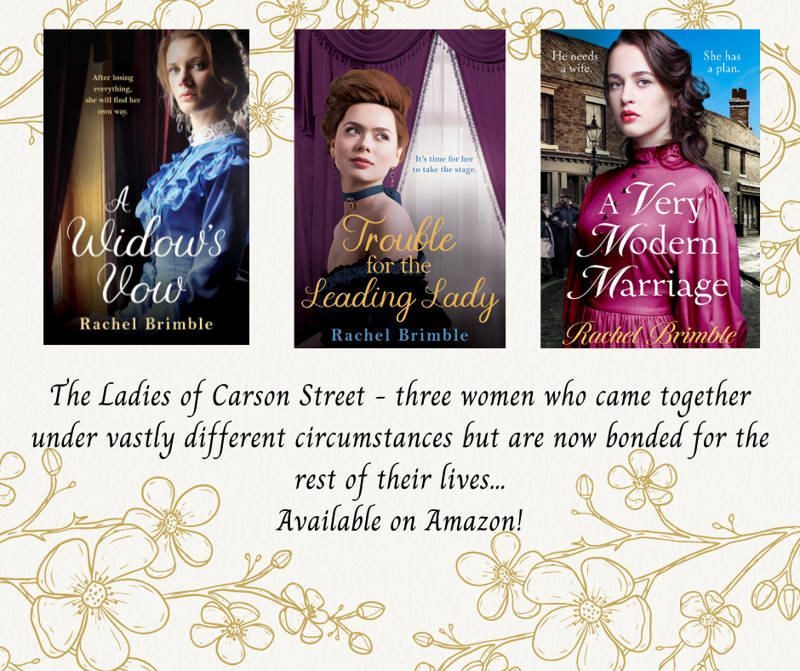 ---

---
A Widow's Vow
From grieving widow…

1851. After her merchant husband saved her from a life of prostitution, Louisa Hill was briefly happy as a housewife in Bristol. But then a constable arrives at her door. Her husband has been found hanged in a Bath hotel room, a note and a key to a property in Bath the only things she has left of him. And now the debt collectors will come calling.

To a new life as a madam.

Forced to leave everything she knows behind, Louisa finds more painful betrayals waiting for her in the house in Bath. Left with no means of income, Louisa knows she has nothing to turn to but her old way of life. But this time, she'll do it on her own terms – by turning her home into a brothel for upper class gentleman. And she's determined to spare the girls she saves from the street the horrors she endured in the past.

Enlisting the help of Jacob Jackson, a quiet but feared boxer, to watch over the house, Louisa is about to embark on a life she never envisaged. Can she find the courage to forge this new path?

A Widow's Vow is the first in a gripping and gritty new Victorian saga series from Rachel Brimble. You won't be able to put it down.
Trouble for the Leading Lady
Bath, 1852.

As a girl, Nancy Blume would go to Bath's Theatre Royal, sit on the hard wooden benches and stare in awe at the actresses playing men as much as the women dressed in finery. She longed to be a part of it all and when a man promised her parents he could find a role for Nancy in the theatre, they believed him.

His lie and betrayal led to her ruin.

Francis Carlyle is a theatre manager, an ambitious man always looking for the next big thing to take the country by storm. A self-made man, Francis has finally shed the skin of his painful past and is now rich, successful and in need of a new female star. Never in a million years did he think he'd find her standing on a table in one of Bath's bawdiest pubs.

Nancy vowed never to trust a man again. Francis will do anything to make her his star. As they engage in a battle of wits and wills, can either survive with their hearts intact?

The second in Rachel Brimble's thrilling new Victorian saga series, Trouble for the Leading Lady will whisk you away to the riotous, thriving underbelly of Victorian Bath.
A Very Modern Marriage
He needs a wife…
Manchester industrialist William Rose was a poor lad from the slums who pulled himself up by his bootstraps, but in order to achieve his greatest ambitions he must become the epitome of Victorian respectability: a family man.

She has a plan…
But the only woman who's caught his eye is sophisticated beauty Octavia Marshall, one of the notorious ladies of Carson Street. Though she was once born to great wealth and privilege, she's hardly respectable, but she's determined to invest her hard-earned fortune in Mr Rose's mills and forge a new life as an entirely proper businesswoman.

They strike a deal that promises them both what they desire the most, but William's a fool if he thinks Octavia will be a conventional married woman, and she's very much mistaken if she thinks the lives they once led won't follow them wherever they go.

In the third instalment of Rachel Brimble's exciting Victorian saga series, The Ladies of Carson Street will open the doors on a thoroughly modern marriage – and William is about to get a lot more than he bargained for…
---

---
Presenting the Ladies of Carson Street… by Rachel Brimble
The Ladies of Carson Street came to life in my imagination after reading Hallie Rubenhold's fantastic, award-winning book about the victims of Jack the Ripper, The Five. Just as Hallie intended for all that read this work, the content affected me so much that these five individual women have remained in my mind ever since. It seems it was the press that assumed all these women prostitutes and made sure the public assumed it too. However, it could be that not all of them were – each came from a different background, had trod a different path, and met different people along the way that eventually led them to Whitechapel.
It was these differences that made me want to create three women – three prostitutes – of my own. To tell their stories, show how circumstances beyond their control changed them and led them to making decisions founded in survival rather than morality.
Louisa Hill was my initial heroine and I quickly knew she had escaped a life of vice, and something would happen to catapult her back into the life she had left behind. A Widow's Vow is book 1 in what would become a trilogy. The backstreets of Bath are in no way inviting or forgiving and all too soon Louisa's path crosses with that of boxer, Jacob Jackson. A no-nonsense man who reluctantly agrees to be the protector of the Carson Street house and all who live there.
Book 2, Trouble For The Leading Lady is Nancy's story – she is Louisa's best friend and her loyalty is to her above any other. When the friends move from Bristol to Bath to start again, Nancy is Louisa's strength, the one who tells her that can do anything and be anything. Somewhat of a dreamer, Nancy is an undiscovered star of the stage and when she meets theatre manager Francis Carlyle, it's possible her dreams could come true…albeit not in the way she imagined.
The final book (and my latest release), A Very Modern Marriage is Octavia's story. Octavia joins Louisa and Nancy at the house after it is already open for business. Having worked on the streets, Octavia is the most serious, untrusting, and most certainly has the coolest head of the three women. She is someone Louisa and Nancy rely on and soon come to love – but Octavia's past mean she is unsettled, always waiting for the next thing to go wrong. So, when she feels it's time to move on from Carson Street, she looks for a way out…and believes she finds her route to pastures new through Manchester cotton mill owner William Rose. The trouble is, William has ideas of his own, ones that Octavia might not like the sound of…
All three books are available on Amazon! Happy Reading…
A Widow's Vow – https://geni.us/sHuF
Trouble For The Leading Lady – https://geni.us/Wh7M4O
A Very Modern Marriage – https://geni.us/xa9ln5
---
---
Rachel lives in a small town near Bath, England. She is the author of over 25 published novels including the Ladies of Carson Street trilogy, the Shop Girl series (Aria Fiction) and the Templeton Cove Stories (Harlequin). In January 2022, she signed a contract with the Wild Rose Press for the first book in a brand new series set in past British Royal courts.
Rachel is a member of the Romantic Novelists Association as well as the Historical Novel Society and has thousands of social media followers all over the world.
To sign up for her newsletter (a guaranteed giveaway every month!), click here: https://bit.ly/3zyH7dt
Website: https://bit.ly/3wH7HQs
Twitter: https://bit.ly/3AQvK0A
Facebook: https://bit.ly/3i49GZ3
Instagram: https://bit.ly/3lTQZbF