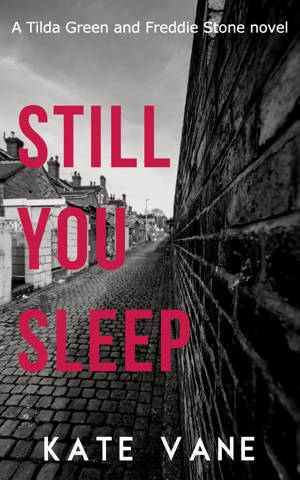 ShortBookandScribes #GuestPost about Starting a Series by Kate Vane, Author of Still You Sleep @k8vane
I'm delighted to welcome Kate Vane to Short Book and Scribes today with a guest post about starting a series. Her latest book, Still You Sleep, is the first in a new crime fiction series featuring online journalist Tilda Green and veteran crime reporter Freddie Stone, and is out now in ebook and paperback.
---
Why wasn't she safe at home?

Vikki Smith was a young woman with a learning disability, living independently for the first time, when she died of a drug overdose.

The police think it could have been an accident, but messages on social media suggest someone was exploiting her death for their own ends – before it was even announced. Her mother is convinced it was murder.

Redundant crime reporter Freddie Stone is a family friend. He wants to help them – and his failing career – but he's a people person. He asks online journalist Tilda Green to work with him.

Tilda is curious, passionate and runs her own campaigning news site. She's open to everything except compromise. But she's intrigued by what Freddie tells her and agrees to work with him – for now.

Tilda thinks the trolls are organised and have links to hate groups. A charismatic local politician is determined to take them on. Some question his motives but Tilda trusts him, maybe too much.

Freddie believes the answer to Vikki's death lies on the estate where she lived, if he could only get someone to speak out. He wants to know who was bringing drugs into Vikki's home. He chases old contacts while struggling with his new life.

Beyond the virtual hate and her neighbours' silence, someone knows who killed Vikki. Tilda and Freddie are determined to find the truth and tell her story.
---
I've always liked the idea of writing a crime fiction series. I love to read them, following the journey through the years of characters like Stuart McBride's Logan McRae, Val McDermid's Jordan and Hill, or Harry Bingham's Fiona Griffiths. However it's a bit like saying you want a long-term relationship. Just because you're looking for someone, it doesn't mean they'll come along.
It's quite a challenge to find characters who will hold your interest over a long period and have the qualities that make you want to find out ever more about them. They also need to be in the right line of work. It might be okay in a cosy if an inquisitive neighbour or cat-loving baker or jobbing actor can't help tripping over bodies. If you write darker, more realistic fiction, your protagonists have to be in a job where they are plausibly going to come into contact with murder on a recurring basis, as opposed to one shocking or random event.
I've never been drawn to writing about the police, although I love to read police procedurals. This is partly because of the procedure itself (too much like the day job), but also because police work is very much a team undertaking and I'm more interested in writing about people who strike out on their own.
For a long time I've toyed with different set-ups. In my first novel, Recognition, my protagonists were a couple, a therapist and a lawyer. I once wrote a TV script, Offending Behaviour, about a team of probation officers that got me a couple of meetings with agents and producers. (I was very excited about this at the time, not realising that for writers, being invited to meetings is just the next step up in the hierarchy of rejection.) Nothing quite stuck.
In the end I stumbled on my protagonists by mistake. In my last novel, Brand New Friend, there are two journalists who appear as secondary characters. Tilda Green is the campaigning journalist who breaks the story that a former activist linked to two deaths was actually an undercover cop. Freddie Stone is a recently redundant crime reporter who learns vital information from his police contacts. They both work with the protagonist, Paolo Bennett, another journalist and friend of the former cop, but they don't ever meet.
It was only after Brand New Friend was published and I was considering my next project that it occurred to me that these two characters would work brilliantly together in a series. Tilda is committed, independent-minded, at home with new media but can be awkward outside her comfort zone. Freddie is gregarious, a great networker and passionate about his work but struggling to keep up in a fast-changing industry.
Once I had my characters I could see that there was almost unlimited potential in their contrasting backgrounds, interests and of course personal lives. I can think of all kinds of ways they can work together – and come into conflict.
In Still You Sleep, they are brought together when they investigate the death of Vikki Smith, a young woman with a learning disability who died of an overdose. While Tilda investigates the social media trolls using Vikki's death for their own ends, Freddie focuses on the people who knew her. Their skills are complementary but they disagree on who to blame and who to trust, both wrestling with issues of their own as they move closer to the truth about her death.
One of the frustrations when working on a novel is that you often come up with ideas that are interesting but don't fit the story. In a standalone they have to be cut but with a series there is always scope to develop them into another novel.
Now I have my characters and their world, I have ideas for the second and third books and even beyond. I realise that I don't have to reveal everything about them but can show different aspects of them over time. I have also become unexpectedly enamoured of some of my secondary characters. A couple who were only intended to appear briefly have insinuated themselves into my affections and may be reappear in later novels.
There's nothing wrong with a fling that only lasts one book, but in Tilda and Freddie I think I have found the ones for me.
Thank you, Kate. I love that Tilda and Freddie were characters in another book and you felt they had more to give.
---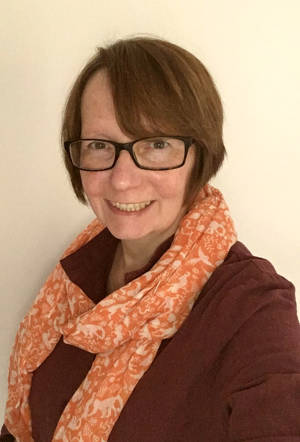 Kate Vane worked for a number of years as a probation officer. She started writing crime fiction because she thought made-up criminals would be easier to manage (she was wrong). Still You Sleep is her fifth novel.
She has always loved the sea, and now lives on the south Devon coast. If she's not reading or writing, she's probably in the garden.
Contact Kate