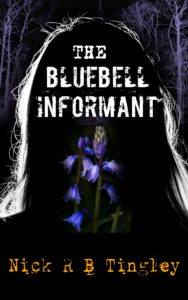 #guestpost – The Bluebell Informant by Nick Tingley @NickRBTingley #suspense
I'm delighted today to have a guest post from Nick Tingley, the author of The Bluebell Informant. First of all, here's the lowdown on what it's all about.
How do you catch a killer who is already dead?

One year ago, the Bluebell Killer killed his last victim. He was shot and killed, leaving behind a legacy of twenty corpses and a name that people will fear for years to come…

A year later, a man is shot in the back of the head and left in a field of bluebells. Is it a mugging gone wrong? A copycat killer? Or is the Bluebell Killer still out there, waiting to pounce on his next victim?

For DS Evelyn Giles the solution is simple – it's just another dirty politician caught committing an unforgiveable crime. But with the evidence stacking up against him, Giles' suspect has one more surprise in store for her… And his words will throw everything she knows into question…

'It's not over yet.'

The past is coming back to haunt DS Giles. She's already sacrificed much for the lie. The only question is how much more will she suffer for the truth?

An ingeniously, gripping thriller, The Bluebell Informant is a dark, unexpected and emotionally charged debut.
Nick has written a brilliant post about why he used bluebells as a signature for his serial killer. Over to Nick.
The Bluebell Killer is a new type of murderer. His MO is never the same – the weapons used and cause of death are always different, his victims don't seem to be linked together and – whenever DS Evelyn Giles thinks she is close to catching him – her prime suspect always has an irrefutable alibi.

The only thing that intrinsically links each murder to all the others is one tiny little signature that the murderer leaves on each body…

Harken shot a knowing look and bent down next to the body. Carefully, she placed her fingers under the dead man's clothing and began to lift it up.

            'I called you as soon as I saw it.'

            As she brought the shirt past the centre of the man's back, Giles could see the blue-violet flowers strapped to his skin using duct tape. She didn't react at first, aware that Harken was staring intently up at her, but Scutter was not so veiled.

            'Oh my God,' he whispered. 'Not another one.

Why Bluebells?

I've always loved bluebell season. Between late March and early June, they appear like some sort of intricately woven purple carpet. Growing only in the shadows of nearby trees, they seem to bring a certain light quality to what should be very dark, shaded and twisted places. You never find one bluebell out on its own. There are always hundreds of them scattered around your feet, swaying gently in the spring breeze.

When I first came up with the idea of The Bluebell Informant in May 2015, we were just reaching the tail-end of bluebell season. I was walking along the River Eden, where the first portion of the story is set, moving in amongst the bluebells when I started to formulate a story – and I drew inspiration from what I saw and experienced around me: an old, abandoned Second World War pillbox, the dog walkers that I passed along the riverbank, the results of a recent General Election, the sound of gunshots from a local farmer a few fields away…

And, of course, the bluebells.

To start with, it just seemed right that there should be some reference to them in my story. But as the story began to grow and develop, the presence of the bluebells became more and more important until – finally – I started to develop the backstory of The Bluebell Killer to fit in with everything else. The bluebells weren't just a neat little addition to my story – they'd become an essential part of it.

And by that point, it was hard to imagine how I could ever have written the story without mentioning them.

Bluebells and Folklore

Throughout The Bluebell Informant, this purple-blue plant acts as a very large, thematic – and yet subtle – backbone for the whole story. This is particularly so when we look at how bluebells fit into English folklore.

According to these old tales, hearing the sound of a bluebell ringing indicates that somebody is about to die. The Bluebell Killer of my story tapes the flower to the bodies of his victims in an unspoken gesture, almost like Death swooping down and plucking his victims no matter where they are or what they are doing. For the Bluebell Killer, the presence of the bluebell is a statement – that these people's times had come and there is nothing that the police can do to stop him from taking their lives…

But then, strangely enough, there is another piece of folklore associated with bluebells. Allegedly, if you were to hang a wreath of bluebells around your neck, you would be compelled to only speak the truth.

The chief suspect in The Bluebell Informant, Daniel Barker, is a politician and is first met by Giles at the crime scene, which just happens to be in a field of bluebells. Although he protests his innocence, Giles isn't sure that Barker's version of events is accurate. In fact, throughout the rest of the story, the two of them consistently lie to each other in order to get the upper hand and finally reveal the truth of the matter. If I'd been writing a short story, perhaps I should have simply had Giles place a wreath of bluebells around Barker's neck at the beginning to save time…

Although part of me thinks politicians should do that anyway…

Bluebells and Ethnicity

One key factor that brews quietly in the background of The Bluebell Informant is this question of ethnicity. Despite being brought up in the UK, DS Giles has found herself on the wrong side of everyone's hatred and discrimination simply by being an Asian-born detective. In the world that Giles inhabits, a large, extreme right-wing political party has surprisingly won a General Election and now forms the government of Britain. As a result of this, Giles has experienced a lot more suspicion from her colleagues and general members of the public, who dismiss her as nothing more than an immigrant stealing jobs of hard-working natives.

Once again, there is a somewhat surprising link to bluebells in this section of backstory. There are two types of bluebells in Britain: the native bluebells and a Spanish bluebell. Whilst the native bluebell is growing strong in the country, there is a wide-spread concern amongst conservationists that the presence of the Spanish Bluebell will lead to cross-breeding and – eventually – to the extinction of the native species. Under UK law, native bluebells are therefore protected and cannot be uprooted to help prevent this feared extinction. Moreover, gardeners have to take special care not to plant the Spanish variety near to the native species to prevent interbreeding.

In The Bluebell Informant, Giles is the Spanish Bluebell of the story. She is intelligent, ruthless and strong – and people fear her for that. People would like nothing more than to just eradicate her to allow the native British people (the native bluebells) to flourish. But, in the absence of that, they instead do their best to keep her from mingling with the rest of them. Her ideas fall on deaf ears, she isn't taken seriously and her mistakes are blown out of all proportion…

She is the ultimate outsider and, like the Spanish bluebell, she is forced to go down her own path to find the truth – even if it means risking everything to do so.

Other Facts about Bluebells 

Beyond the direct references in The Bluebell Informant, bluebells have other facts and legends about them that are quite interesting in their own right.

In the Victorian era, bluebells were crushed to make starch, which was then used to help stiffen the ruffs of prominent people's collars and sleeves.

In folk medicine, the bulbs of bluebells were used to cure various ailments and, in more modern times, extracts of the plant have similar compositions to compounds tested for use in battling cancer and HIV.

And finally, bluebells make excellent glue. During the Bronze Age, bluebell glue was used to attach feathers to arrows and, a little bit more significantly, to bind pages to the spines of books.

But I don't think I'll be doing that for my book. Although I will be releasing paperback versions of it shortly, so you never know…
Doesn't that all sound fab? If you agree then pop on over to Amazon and download The Bluebell Informant for just 99p! Thank you so much, Nick, for such a fascinating post. I love bluebells so I found it particularly interesting.
---
About the Author
Nick R B Tingley is the author of the DS Evelyn Giles series. Having worked as a ghostwriter for some time, Nick is starting to produce work in his own right. His short story, Dressed to Deceive – a tale about a man who tries cover up a murder in the time of Jack the Ripper – won the 2015 Inkitt Fated Paradox Competition and continues to gather considerable acclaim.
The Bluebell Informant is his debut novel, which he is releasing for free. The second book, The Court of Obsessions will be released later this year.
---
All photos except the cover image: Gemma Tingley