#GuestPost – Losing the Plot by Louise Dean @KritikMe #nanowrimo17
I'm delighted to welcome Louise Dean to Short Book and Scribes today. Louise is an award-winning, Man Booker nominated author but she is also the founder of Kritikme.com which is an online creative writing course which teaches people how to write a novel in ninety days. If you're taking part in NaNoWriMo or just fancy turning your hand to writing then these tips might just help you get started.
---

Losing the plot! by Louise Dean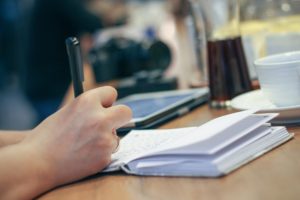 All stories are tragedies. The theory in Aristotle's Poetics underpins the works of almost all great novels. It's a virtuous plot pathway which delivers the reader and the writer to facing it – where 'facing it' is the end of the self.
As a writer I am known for my frank and darkly comic novels, being published by Penguin and Simon & Schuster as well as being nominated for The Guardian First Book Prize, and longlisted for the Man Booker Prize.
The story of a novel is propelled by a major moral crisis. The idea for a great novel can best be phrased in a paradox. Try noting one down one today. It's easy; the rub between two opposing ideas will give you the spark of a novel. Dying man learns to live. That was mine for my first novel Becoming Strangers which won a couple of prizes The Betty Trask and Le Prince Maurice and found itself on the Dublin International Literary and the Man Booker longlist too.
So, put the kettle and grab a pen and write your paradox down on the back of an envelope.
'Now listen carefully; except in emergencies, when you are trying to manufacture a quick trick and make some easy money, you don't really need a plot….' Katherine Ann Porter.
As they won't be happy until they've done one, I ask my Kritikme.com writers to prepare a plot and then I suggest they throw it away. Tools for plotting, spreadsheets and charts become an alternative to writing. You think you're 'writing', but you're not writing.
I don't think I could bring myself to the white page every day if I knew for sure what would happen next. As I explain to my writers at the very outset, and no doubt they find it either rash or reprehensible – prepare yourself for something like a love affair. As you may know, these are finest when brief and intense. Stephen King recommends a season, or ninety days, as the perfect timing for an affair of the heart, which a novel most certainly is. He's right. You need to change your ways and hunker down.
The structure of a novel is important, but it's not as important as creating work that's driven by the main character's compulsion to avoid facing what he or she must face to grow and become a hero or heroine. So the structure must be relegated to the creation of material, ruthlessly. That's the gambit, that's the game changer.
'The structure of a piece is often something that happens quite late. Normally you can only decide what to do with what you've got when you can see what it is that's there.' Hanif Kureishi
It's the secret to novel success, but it's terribly hard to stop yourself biting the nails of your writing hand, which is where the routine, rigour and group mentality come into their own. You're being encouraged held to account and a word count.
Once your material has started to take life, the structure can be applied to it. Helping you make sense of what you have to classic novel format.
Even though my novels are comic, they are underpinned by tragedy as the plot is driven by the inner-conflict of the characters. Despite there being no rules to writing, I follow the five 'f's based on Artistotle's Poetics that underpin every great novel – and tell my tutees on Kritikme.com to do the same.
The Five F's I suggest my writers use are based on the elements of tragedy which unfold sequentially in this order in any long form story:
Flaw. The situation which accommodates his or her fatal flaw or moral problem shows signs of no longer being tenable… it is shifting.
False hope. Your hero or heroine's remedy seems to succeed… but fails terribly causing them serious damage or a reversal of fortune
Flight. He or she runs from the situation and gets insight into their flaw, recognising their failing.
Fury. In deep, he or she rages against the hell around them.
Facing it. They emerge from the fight with deep acceptance of their mortal condition and reconciliation with their true universal nature, either in life or death.
A novel lives and dies on whether your hero or heroine lives or dies – the five 'f's are the oxygen to breathe into your characters.
The enormous possibility of each and every adventure on this earth is one which begs each us to be able to take leave.
'My novel took up the sweetest part of my mind and the rarest part of my imagination; it was like being in love and better. All day long when I was busy … I had my unfinished novel personified almost as a secret companion and accomplice following me like a shadow wherever I went, whatever I did.' Muriel Spark.
We tell ourselves we can't write, more than we tell ourselves we can. Working alone in a dusty garret with a sulking cat telling yourself that you've lost the plot is not the way to produce the material you need for a novel.
Anyone with a yearn to write a book can write a novel, so long as they read books. And despite popular belief, you can write a novel and hold down a day job. You can write a novel in ninety days and you should – it's more likely you'll succeed that way.  You don't need to bother with a plot, in fact, I would rather you did not.
---
Thank you, Louise, for such an interesting and informative post.
You can get a 10% discount on the online creative writing course at Kritikme.com by using the code MYNOVEL10 at the check-out. There's also a seven day trial available via the website.
---

Louise Dean began writing in 1996 – but it wasn't until 2000 that she decided to start writing full-time. Having already written two unpublished novels, she put herself into an intensive period of study, talking to writers including Seamus Heaney, Gore Vidal and Ian McEwan and reading widely in order to understand the writing techniques and habits of successful novelists. This period of research paid off, and her first novel Becoming
Strangers was published to critical acclaim and named one of The Observer's top four books of 2004.
Thirteen years and four books later, Louise has won the Society of Authors Betty Trask Prize, the Le Prince Maurice Award, been nominated for The Guardian First Book Prize, and longlisted for the Man Booker and IMPAC. Her most recent book The Old
Romantic was an Oprah Book of the Week, and she was subsequently described by The Observer as "a significant voice in British fiction."
Louise is testament to the fact her writing methods works, and she is now sharing the techniques and insights she has learned with other aspiring authors.