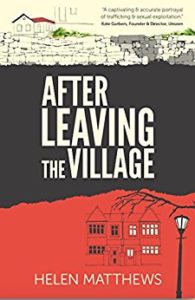 #guestpost – Ladies Who Launch (and Men, too) by Helen Matthews @HelenMK7 @hashtag_press
I'm very pleased to welcome Helen Matthews to Short Book and Scribes today. She's the author of After Leaving the Village, published on 15th October this year by Hashtag Press. I'm really looking forward to reading it in the very near future but in the meantime I have a guest post from Helen for you. First, let's see what the book is about:
Two women. Two villages. Different destinies. Odeta's life has shrunk to a daily round of drudgery, running her father's grocery store in a remote Albanian village. One day a stranger from Tirana walks into the shop and promises her a new career in London. Odeta's life is about to change, but not in the way she expected.
Journalist Kate lives on a quiet London street and seems to have a perfect life but she worries about her son Ben, who struggles to make friends. Kate blames the internet and disconnects her family from the online world so they can get to know their neighbours. On a visit to her home village in Wales, Kate is forced to confront a secret from her past. But greater danger lies closer to home. Perhaps Kate's neighbours are not the friendly community they seem.
Like the sound of it? It's available now in ebook and paperback from Amazon and all good booksellers.
---
Ladies who Launch (and Men, too) by Helen Matthews
Bringing a book into the world is often compared to giving birth. For me, the gestation period was a fair bit longer than nine months. Mine was a designer baby – conceived, incubated, pulled apart and adapted with help from the surgical pen of my editor.
Publication day was a chance to relax after the labour pangs. Champagne flowed and I sent out birth announcements to friends and the Twitterati:
Yes, it does have a name 'After Leaving the Village' and it weighed in at 329 pages.
A book launch party is a bit like a Christening.  I've heard that, except for celebrity superstars of the literary world, even leading publishers are cutting back on launch parties. Budgets are tight, costs are squeezed, and is there even a connection between a glittering launch and book sales?
But we all love a party, right? Recently I've been to some brilliant launches. I'll give them a shout out here – Abi Oliver's launch for 'A New Map of Love' (Pan Macmillan) was held in a village hall, with a field attached, on a hot summer's afternoon. After the thrill of fizz, cake, book chat and Abi's signing, we went outside and played Rounders.
Justin David and Nathan Evans launched 'Threads' (Inkandescent) at Gay's the Word bookshop in London. Those guys really know how to throw a party. The atmosphere was buzzing and, with so many interesting people to talk to, the crowds spilled out of the shop and spread out along the pavements of bookish Bloomsbury.
Back in July, I attended Sarah Franklin's launch for 'Shelter' (Bonnier Zaffre) at Blackwell's bookshop, Oxford. She had an amazing celebration cake, shaped like a tree trunk, evoking the Forest of Dean setting of her novel. Many guests were writers and people from publishing, so it was a great evening for networking.
As my own publication date approached, I pondered on what kind of event to hold. Nowhere is more fitting for a book launch than an actual bookshop but, sadly, there are no independent bookshops near to me. I approached Waterstones, opening negotiations in July for an event close to my publication date in October. After a little gentle persuasion, the manager agreed. It was useful for me to look at issues from his point of view. If a book store is going to stay open for an extra two hours in the evening, they need to be reassured book sales will cover costs, such as staff wages and overtime. My local Waterstones also has an in-store branch of Caffé Nero and its manager was keen to be on hand to capture trade but wanted me to confirm that my guests would spend at least fifty pounds! How could I possibly know?
That branch of Waterstones could accommodate 70 people for a launch party without breaching health and safety rules. I told the manager I expected around 40 guests and we agreed to promote the extra places to Waterstones customers and the general public. How wrong can you be? I started sending out 'save the dates' in July and was overwhelmed with acceptances! All 70 places were eagerly snatched up. I had to start a waiting list and tell people they couldn't bring partners. I simply didn't realise most people were book launch virgins and, for them, it was something special and thrilling. I'm based in Hampshire; my local friends turned out in droves and guests travelled from London, Wiltshire and the Midlands to attend.
We writers can be a solitary bunch, but here's a handy tip – if you're planning to launch a book one year from now, there's still time to make lots of new friends to come to your party. Join a choir, sports team or walking group. I was expecting around six friends from the choir I sing in to come to my launch, but more than 20 accepted. Not only did they buy multiple copies of 'After Leaving the Village' on the night, they told everyone else, so sales of my book to choir members continued over the next few rehearsals.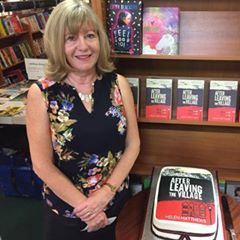 Keep it simple on the night. If you invite 70 people, the drink is going to be expensive. I planned ahead and bought Prosecco in France, back in the summer, at under six euros a bottle. I served sparkling elderflower for drivers and my friend, Pam made an amazing cake, iced with a perfect replica of my book's cover. Another friend, multi-award winning novelist Kit de Waal, author of 'My Name is Leon' (Viking Penguin) introduced me and I gave a ten-minute talk,  followed by a short reading from 'After Leaving the Village'. We then cut the cake and I settled at a table to sign copies and chat to my guests as the long signing line snaked towards me.
Waterstones have a formula for calculating how many of those who've accepted will turn up on the night, and how many guests will buy a book. As result, they ordered in only 40 copies of 'After Leaving the Village' from the stockists, Gardners. I suspected this was over-cautious and took along another 20 (bearing in mind several friends had already pre-ordered or bought from – shh – Amazon) but even 60 books was an underestimate. Copies flew off the shelves. There was huge demand for extra signed copies for gifts and stocks ran out long before the evening ended. People then placed orders with Waterstones and direct with me.
It was such a brilliant evening that, far from being burnt out by partying, I've decided to do it all over again at a different branch. Launch party number two will be held on Wednesday 29th November at 7.00pm at Waterstones Farnham.  It's a free, but ticketed, event and is guest list only. Currently there are a few spare places available for local readers and the general public. So, if you live in the Farnham area of Surrey or in North Hampshire and fancy a glass of fizz and a chat about books, it's not too late to apply. Email me at  helenmwriter@gmail.com to be added to the guest list.
Thank you so much, Helen. What an interesting post and how lovely that your first launch went so well. Good luck with the second one – I wish I lived close enough to come!
---

Helen Matthews is the author of debut novel `After Leaving the Village', winner of the Winchester Writers' Festival prize for opening pages of a novel. Born in Cardiff, she read English at the University of Liverpool. After travelling, she worked in international development, consultancy, human resources and pensions management but fled corporate life to pursue her dream of becoming a writer. She holds an MA in Creative Writing from Oxford Brookes University. Helen has won prizes for short stories and has been published in literary journal Artificium. As a freelancer, she writes content for websites and business magazines and has, in the past, been published in The Guardian and had columns broadcast on BBC radio. She is married with two grown-up children and lives in Hampshire.