#GuestPost – @kerry_postle on her inspiration and research for The Artist's Muse
I'm delighted to welcome Kerry Postle to Short Book and Scribes. Kerry is the author of The Artist's Muse, which sounds like a fascinating read. Here's what it's about:

Vienna 1907

Wally Neuzil must find a way to feed her family. Having failed in many vocations, Wally has one last shot: esteemed artist Gustav Klimt needs a muse, and Wally could be the girl he's been waiting for. But Wally soon discovers that there is much more to her role than just sitting looking pretty. And while she had hoped to establish herself as an emerging lady, the upper classes see her as no more than a prostitute.

With her society dreams dashed Wally finds herself at rock bottom. So when young artist, Egon Schiele, shows her how different life can be Wally grabs hold of the new start she's been desperately seeking. As a passionate love affair ensues will he be the making of her or her undoing?
And if you like the sound of it then you can buy the ebook now.
Kerry has very kindly written a guest post about her inspiration and her research for the book.
---

The Artist's Muse by Kerry Postle – Inspiration and Research
The  Artist's Muse tells the story of Wally Neuzil, model to first Gustav Klimt then Egon Schiele. Narrated by Wally herself, the main story describes her intense relationship with Schiele in Vienna at the beginning of the 1900s, but the novel also encompasses art and inspiration,  the double standards of bourgeois society towards women and its hypocrisy regarding sex, and the precarious existence of the poor.  The novel seeks to instruct and entertain by revealing a glittering world that is beguiling and corrupt.
Yet what compelled me to write it? The initial inspiration came from the most unlikely of quarters several years ago. One moment I was teaching teenagers, the next I wasn't. What happened? I was  attacked by a male student. It was shocking. Brutal. A complete surprise. And that was the spark that made me want to write. Expelled from another school for having beaten female teachers and students, from a home where slapping women around was the norm, the boy didn't really stand much of a chance. But then neither did I. My pity for him, though great, was as nothing compared to my own fury. Anger is an energy, so the song goes, and it lit up my mind. I saw misogyny everywhere –  in society, in the novels I was reading, in the art I liked.
Stories of abuse hit the headlines. Had they always been there? Celebrities who had exploited their own positions for sexual gain, using their power to manipulate mainly young girls, shifted the kaleidoscope in my mind and added a new though related strand to the growing web of my novel.
Then I found the thread that would pull everything together – the Egon Schiele exhibition at the Leopold Museum, Vienna  2015,  that focused on his life with the model Wally Neuzil.   It offered the perfect frame on which to weave the most compelling of stories, working into it the most pressing of themes.
I looked around the exhibition, saw images of Wally everywhere. Brutal, beautiful, challenging, erotic, tender, pornographic. 'To restrict the artist is a crime.' These words of Schiele's reverberated around the walls. He'd pushed boundaries. Wally had enabled him to do so. The five years they were together were the most artistically productive years of Schiele's career. She'd been everything to him.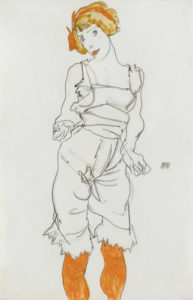 So when I came across a letter written by Schiele to his friend Roessler admitting that he intended to marry 'most advantageously….not Wally,' I walked around the exhibition once more. That phrase of the moment, 'hidden in full sight', filled my head as the paintings and the story they told of Schiele and Neuzil's life together now looked quite different. No longer rebels together, I saw many of the more provocative works as evidence of the sacrifices she'd made.
I left wanting to give Wally a voice.
In search of authenticity I looked into the stories behind the paintings. Death and the Maiden, a painting heavy with sadness at their inevitable separation, hid a particularly chilling truth. Schiele had initially painted Wally robed with buttocks exposed. Why? Because he could. It was only when a friend said that he shouldn't humiliate her more than he already had, that he covered her up.
I devoured Otto Weininger's Sex and Character (1903), a work of unrivalled misogyny, the influence of which I had seen in Schiele's work, and, according to whom 'woman is soulless and possesses neither ego nor individuality, personality nor freedom, character nor will.'
It left a nasty taste in my mouth and so, to add balance, I delved into The Autobiography of a Working Woman by the Austrian feminist Adelheid Popp. She herself worked from the age of 8 to help support her family and so I used details from her book to fill any gaps in Wally's early story.
The rise of women's movements in Vienna, and the development of women's place in society brought about by WWI, provided me with the perfect backdrop.
When I pulled all the strands together I had written a novel that celebrates the art but challenges the right of one person to use another as a possession. It breathes life into the artist's muse and shows her for the inspiration she really was. The work Schiele completed with Wally is his most original. He failed to reach the same artistic heights after he had abandoned her. 'The Artist's Muse', therefore,  is my acknowledgement, one woman to another, of  the contribution she made to his 'oeuvre'  and recognition of the sacrifices she had to make.
Thank you so much, Kerry. What an interesting post about your inspiration.
---

My name is Kerry Postle and I live in Bristol. I studied French Literature at King's College, University of London (MA distinction). I've taught French, German, Spanish and Art. I've written articles for newspapers and magazines. My first novel was published 25th August, 2017,  by HQDigital (an imprint of HarperCollins) and it is called The Artist's Muse. I am currently working on a novel set during the Spanish Civil War. To find out more about my novel go to my website.