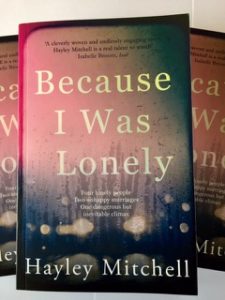 #guestpost – Hayley Mitchell-Author? @HayleyMitchellc @RedDoorBooks
I loved Hayley Mitchell's book, Because I Was Lonely, which I reviewed here. It's a fantastic read and yet Hayley still doesn't quite believe in herself. She's written a fab guest post for my blog about being an author. Read on…….
---
Hayley Mitchell –Author?
What really, me an author? Nope, you must be talking about someone else.  Being an author and a published one, well yes that's my dream.  My life long dream but people rarely achieve their dream.
When I say life long, I mean since I was about nine years old and my English teacher left a comment and an A± in my exercise book that made me think…YES…I did make that story up and so the seed was sown.
That's the thing about Authors we make stuff up and nobody minds! In fact according to the reviews I've been getting they rather like it.
I make stories up in my head all the time always have, I worry that at times I'm saying them out loud as well.  My most productive times are just as I wake. The words and ideas flow.  The characters form in intimate perfection but then I have to wake up properly, go to the loo, clean my teeth, exercise, shower, dress and see to the kids and the words… have gone…
I've written for years; I wrote my first full book about fifteen or more years ago and when I finished it and read it back I realised it was awful, I mean BAD!!!  I trashed it.  Which now seems like a positive action but at the time I didn't deal with the emotional trauma well and sulked for about five years.  Then I started again, five thousand words here, twenty thousand words there but the characters just died and not as part of the storyline!!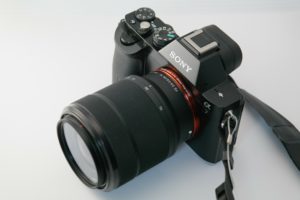 I can't stop writing, I've tried. I've been an extremely miserable civil servant working in the Court Service for years, I happily took various roles working for charities, I even did a course in photography to try and channel my creative side elsewhere because I kept telling myself I couldn't write. I was a stay at home mum for several years, which I loved (in fact as I write this the school holidays have just ended and I am feeling a little bereft) and most recently I had my own very small business running arts and crafts classes for children.
It was during the at home years that the writing thing took hold again.  Because I Was Lonely was an idea that has been knocking around for about seven years but it, like the first book, had been trashed several times, yet it wouldn't go away. I had the characters, they just kept appearing in the wrong story. A chance conversation on a train set the direction of the final storyline and once I started writing the version that is now published I couldn't stop.
I still don't think I can write. Despite the fact that Because I was Lonely is published, receiving fantastic reviews and has also been chosen as part of the WHSmith Travel Fresh Talent For Spring promotion, I am still deeply insecure about my writing.  I sometimes put a post on Facebook and wish I had access to an editor!  I can't stop though, no matter how hard I try and the first draft of the second book is well under way.  I'm terrified because I know that at some point I am going to have to give it to someone to read.  I know that's the point of writing books, I also know I need the reviews to help the sales and I need the sales so I can keep writing but excuse me if I'm coming over a little bit queasy at this point.  It scares me!
Hayley Mitchell Author still sounds funny, I've tried saying it out loud to make it familiar, real but Nah it can't be true, can it?
---
Thanks Hayley, that was great. And you really should stop doubting yourself. You can definitely write and I can't wait for that second book. In the meantime, here's the blurb for Because I Was Lonely which is available now in paperback and ebook.
Meet Rachel. She is caught in a spiral of endless crying, dirty nappies, and sleepless nights. She fears for her sanity and the safety of her children. 

She's lonely. 

Meet Adam. Suffering from the pain and trauma of a terrible accident that he blames himself for, he stays at home, unable to bring himself to leave the house. 

He's lonely. 

So when Rachel and Adam rekindle their long lost friendship online, what starts as a little harmless flirtation, soon becomes an unhealthy obsession, and slowly the threads of their lives unravel before them. 

Four lonely people . Two unhappy marriages . One dangerous, but inevitable climax.
---
About the Author
Hayley Mitchell spends most of the time writing books in her head and was finally able to put finger to keyboard and capture some of the words in the form of her debut novel Because I Was Lonely. A Law graduate she has spent most of her life working with people and much of her career as an advice worker for charities.  Always fascinated by people and their relationships she began to write fiction. She is very lucky to live in Wiltshire with her husband, whose support has been invaluable and their two children who amuse, inspire and exhaust her everyday. She is now writing her second novel.
RedDoor Publishing author page