#shortbookscribe #BlogTour – The Development by Jackie Kabler @jackiekabler @NeverlandBT #GuestPost #giveaway
I'm delighted to be posting today as part of the blog tour for Jackie Kabler's latest in the Cora Baxter stories, The Development. Thank you to Jenny from Neverland Blog Tours for the place on the tour and to Jackie for writing a guest post for me. I also have a fabulous giveaway – you could win a copy of each of the Cora Baxter books!
After a stressful week, TV reporter Cora Baxter is ready for a quiet weekend. But what she hadn't counted on was witnessing the shocking death of a young woman on her way home. She discovers seventeen-year- old Leanne had been protesting against a new housing development, angering the powerful establishment. Leanne's death is ruled a suicide, but when puzzling information comes to light, Cora decides to investigate further.
She doesn't know what an unscrupulous businessman, a suspended police officer and hate-mail sending neighbours have to do with the case – but she knows there is a news story there.
With her eccentric camera crew on hand to help, can Cora tie the strands of Leanne's case together – or will other forces interfere?
The Development is the third in the Cora Baxter Mysteries series.
---
I was chatting to a friend the other day about writing, and about my books, when she suddenly said: "I've always wanted to write a book. But I'm in my fifties now, so I suppose it's too late to start." WHAT? I was astounded. No, no no! It's never too late to start, I told her. Look at the fabulous Dinah Jefferies, for example, who became a best-selling author in her sixties. I sent my friend away with a promise to start that book she's always wanted to write, and I really hope she does.
I too left it late to start writing. As a child I was an avid reader and adored my English lessons at school, often producing essays that were many pages longer than the teacher had asked for, simply because I couldn't stop writing. But I didn't really think of writing seriously until decades later. My career as a TV news reporter was all-consuming – I was travelling the world, working long, long hours, and the job took all of my concentration and energy. It wasn't until I started to get very unhappy with my lifestyle and realised I needed some escape from it – a break from the constant stress – that I decided to start writing some of my experiences down, almost as a form of therapy. And so I put pen to paper, writing a novel (set in a TV newsroom, naturally!) while on trains and planes, or in hotel rooms in foreign countries. I realised I was really enjoying the process, and for the first time wondered if this was something I could actually do properly.
Nevertheless, it took another six years before I did anything with that first novel, and another few after that before I finally got a publishing deal. By then I had given up the TV news business, having decided that twenty years on the road was enough, and was working as a presenter for shopping channel QVC, where I still work now. It's a job I absolutely love, and the other bonus is that it's a four-day week, which gives me three days off to write. When I finally signed a three-book deal with Accent Press, for a series of murder mysteries set in a TV newsroom, I was 48 years old, and my first novel was published when I was 49. I was thrilled to have made it as a published author before my fiftieth birthday, and it shows that it really is never too late to dream a new dream or to try something new.
It's something I seem to have made a bit of a habit of – I also took up long distance running and walking in my late forties and did my first ultramarathon distance (100km) last year. Fifties are the new thirties in my view, and there are many, many things I still want to do and to achieve. So if you think you'd like to write, but feel you may have left it too late – RUBBISH! Sit down, grab a pen or a laptop, and just start. You never know where it might lead…
Thanks so much, Jackie. I agree, it's never too late to have a go!
---

---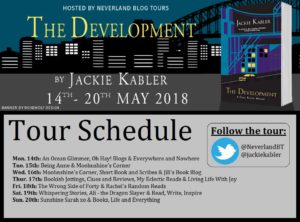 ---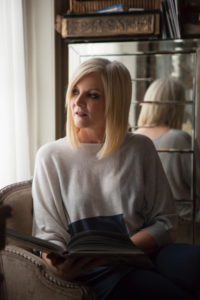 Jackie Kabler is a journalist, TV presenter and author. She spent twenty years as
a TV news reporter for GMTV, ITV and BBC news, and now works as a presenter for
shopping channel QVC and is author of the Cora Baxter Mysteries, a series of  murder
mysteries set in a television newsroom. The Development is her third novel. Jackie lives in
Gloucestershire with her husband, who is a GP.