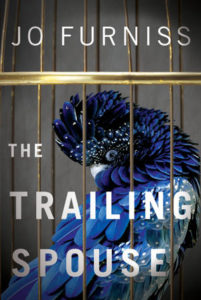 #CoverReveal – The Trailing Spouse by Jo Furniss @Jo_Furniss @rararesources
It's cover reveal time! I'm very pleased to be one of the blogs helping to reveal the cover of The Trailing Spouse by Jo Furniss, which sounds like a great read and is due to be published on 14th August. Thank you to Rachel Gilbey from Rachel's Random Resources for asking me to take part.
Amanda Bonham moved halfway around the world to be with the man she loves. Although expat life in Singapore can be difficult, Edward Bonham is a dream husband and a doting father to his teenage daughter, Josie.

But when their maid dies in an apparent suicide—and Amanda discovers the woman was pregnant and hiding a stash of drugs prescribed to Edward—she can't help but wonder if her perfect husband has a fatal flaw. And if he can't resist temptation under their own roof, what does he get up to when he travels?

Camille Kemble also has questions for Edward. Recently returned to Singapore, Camille is determined to resolve a family mystery. Amid a jumble of faded childhood memories, she keeps seeing Edward's handsome face. And she wants to know why.

For one woman, the search for answers threatens everything she has. For another, it's the key to all she lost. Both will follow his trail of secrets into the darkness to find the truth.
Pre-order Links –
---

So now it's time to have a look at the cover. It's really rather lovely.
And here it is……
Wow! Quite something, isn't it?
---

After spending a decade as a broadcast journalist for the BBC, Jo Furniss gave up the glamour of night shifts to become a freelance writer and serial expatriate. Originally from the United Kingdom, she spent seven years in Singapore and also lived in Switzerland and Cameroon.
As a journalist, Jo worked for numerous online outlets and magazines, including Monocle and the Economist. She has edited books for a Nobel laureate and the palace of the Sultan of Brunei. She has a Distinction in MA Professional Writing from Falmouth University.
Jo's debut novel, All the Little Children, was an Amazon Charts bestseller.
Connect with her via Facebook (/JoFurnissAuthor) and Twitter (@Jo_Furniss) or on her website, www.jofurniss.com.