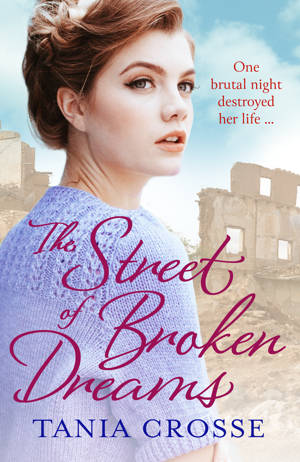 ShortBookandScribes #BlogTour #GuestPost by Tania Crosse, Author of The Street of Broken Dreams @TaniaCrosse @Aria_Fiction
Welcome to my stop on the blog tour for The Street of Broken Dreams by Tania Crosse. I have a lovely guest post about dance by Tania to share with you today. My thanks to Vicky Joss from Aria for the place on the tour.
---
A poignant story which will tear at your heart strings. Perfect for the fans of Elaine Everest and Daisy Styles.

Summer 1945. The nation rejoices as the Second World War comes to an end but Banbury Street matriarch, Eva Parker, foresees trouble ahead. Whilst her daughter, Mildred, awaits the return of her fiancé from overseas duty, doubts begin to seep into her mind about how little she knows of the man she has promised to marry. Or are her affections being drawn elsewhere?

Meanwhile, new neighbour, dancer Cissie Cresswell, hides a terrible secret. The end of the conflict will bring her no release from the horrific night that destroyed her life. Can she ever find her way back? Under Eva's stalwart care, can the two young women unite to face the doubt and uncertainty of the future?
Buy Links:
---
Dance by Tania Crosse
Dance has been one of my life-long passions, so I suppose it was inevitable that one day I would write a book in which the main character is a dancer.
It all began when I was four years old and my family was living in Banbury Street, the very same as in  the novel. I vaguely remember ballet lessons in a church hall. A year later, we moved out to Surrey,  and I took classes in a large room in a nearby old house. I mainly remember doing shows with Miss Belle –until the house was demolished and Miss Belle disappeared. (Another story there for me, perhaps?)
My next teacher was Miss Kaye, a couple of miles away. But by good fortune, immediately opposite my house was built a new church hall to which Miss Kaye transferred her school. At this point, there was nothing I yearned for more – except perhaps for a pony – than to attend tap and modern classes as well. Just like Cissie, though, my parents couldn't afford it. Once again, I mainly remember doing shows. I don't think I ever took an exam.
When I was eleven, we moved again. My mother considered I was too old for ballet and sent me to Saturday morning ballroom school. Well, Strictly it wasn't. In a few weeks, I'd learnt all that was on offer and was thoroughly bored. I stuck it for a year and refused to go back. It had to be ballet for me.
That dance school did me a favour. Had it been more like Strictly, I might have wanted to stay on. As it was, my mother took me along to Miss Doris Knight's to assess which ballet grade to start me in. In later years, my mother admitted to astonishment at how much I knew, and to realising that this was really serious for me. As for myself, I recognised what a brilliant teacher Miss Knight was, little realising this was to become a life-long friendship.
I was lucky enough to do three shows with Miss Knight. I was seventeen at the final one, and danced the role of The Wicked Witch of the West in The Wizard of Oz. Miss Knight choreographed a wonderful solo for me. I remember leaping across the stage to a dramatic score, black cloak swirling around me. I felt as if I was flying, putting everything I had into that dance, and received a roaring applause. That moment, together with being one of three soloists in the traditional ballet at the end of the show, was the pinnacle of my dance career, so I know exactly how Cissie feels when she performs to Tristan and Isolde in the book. Unlike her, though, my career did not continue, and I never suffered anything like the horrific event that destroys her.
After university, I returned to Miss Knight's for three years, during which time she came to my  wedding. Then my husband's job took us sixty odd miles away to live in the country, which was a  dream come true. My one and only regret was having to leave Miss Knight's. However we corresponded regularly for over thirty years. When I began writing, she was a huge fan and bought every one of my books.
The last time I saw her was in 2010, when she was in her late eighties and sadly had been diagnosed with Parkinsons. She knew I hoped one day to write a novel about a dancer set possibly in the 1940s, and told me all about her war-time experiences in a repertory company which inspired Cissie's career in my story. Three years later, she left a message on my answerphone. She'd moved into a  care home but had a private telephone number. At the time, I was juggling finishing my Devonshire series and caring for my elderly mother, and it was a fortnight before I rang back. The number was unobtainable, and Miss Knight had left no other contact details. I can only assume one thing, but Miss Knight, her friendship and all that she taught me will remain in my heart forever, and I feel privileged to have dedicated this book to her.
My own ballet days are long over, although peek through the window and you might catch me spinning a few posé turns across the kitchen floor. I love watching anything to do with dance, and like millions, am a huge Strictly fan. In the unlikely event that I was asked to participate, would I agree? Well, I don't think my old bones are up to much nowadays and I'd be the first to be voted off, but given the chance –you bet!
Thank you so much, Tania, for such a lovely post.
---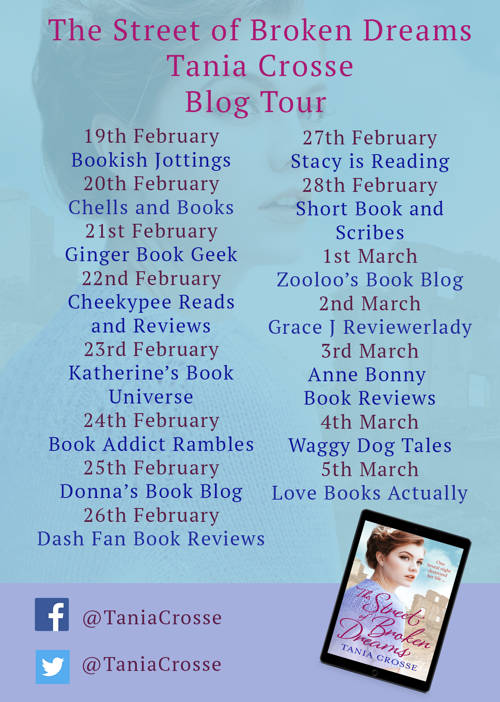 ---

Delaying her childhood dream of writing historical novels until her family had grown up, Tania eventually completed a series of published stories based on her beloved Dartmoor. She is now setting her future sagas in London and the south east.
Follow Aria