ShortBookandScribes #BlogTour #GuestPost by Sherryl Clark, Author of Dead and Gone @Verve_Books @sherrylwriter
I'm so pleased to be taking part in the blog tour for Dead and Gone by Sherryl Clark today. I have a guest post by Sherryl about the search for the perfect pub food. My thanks to Clare Quinlivan of Verve Books for asking me to be a part of the tour.
---

---
There's nothing more dangerous than revenge.

Judi Westerholme has been through it. Brave and strong-willed, she's just about coping in her new role as foster parent to her orphaned niece, taking a job at the local pub to help make ends meet. Then the pub's landlord and Judi's friend, army veteran Pete 'Macca' Maccasfield, is murdered, and her world is suddenly turned upside down.

Despite warnings from the city police to keep out of it, Judi can't help but get involved in the search for Macca's killer. But she soon becomes deeply entangled with some ruthlessly dangerous men. She must act fast and think smart to work out what they want – before anyone else gets hurt…

Long buried secrets resurface in Sherryl Clark's pacy crime novel that pushes Judi Westerholme to her limits to protect the people she loves most.
Dead and Gone is available now in ebook and from 27th August in paperback.
---

---
The search for the perfect pub food by Sherryl Clark
The state of Victoria is not very large (by Australian standards of area) so good country food is never far away. While country pub restaurants are winning awards and hats from the judges, for all kinds of gourmet dishes and menus sourced from local ingredients, the average traveller is on the lookout for "real pub food".
What does this comprise in Victoria? Well, we have some classics, and these specialities have their own competitions and awards.
The first is the chicken parma (our traditional name) which is a crumbed chicken breast, usually deep fried to a crispy finish, and then covered in a tomato sauce and melted cheese. As you can imagine, the results of this recipe range from the barely edible fat-soaked brick, tinned tomatoes and cheddar cheese, to brilliant crispy chicken with a delicious spicy home-made sauce and glorious melted cheese combinations. And everything in between.
A group of chicken parma fans, with a blog called ParmaDaze, set out ten years ago to find the best Victoria had to offer, travelling far and wide, and rating each one they found. Some came with additions such as bacon, some used different cheeses, some had the kind of tomato sauce that wouldn't be out of place in Italy. Every year they listed their winners and you can see 2019's with photos here – https://www.parmadaze.com/blog/parmaoftheyear2019
The other Aussie classic is the meat pie (I know). It's most famous for being eaten at the footy (football) where it's usually so darned hot that it burns your mouth, but after a fair bit of shouting at your team you won't notice. The classic pie is beef, usually mince or steak, with a soft/slightly crispy pastry and a nice toasted lid. They can be round or square, but round seems to be preferred (no idea why).
No-nos in the pie are meat gristle, and too much gravy, which then dribbles down your front (possibly causing further burns). This, too, has an awards system, and the latest winner is from country Victoria – https://www.ellaslist.com.au/articles/australia-s-best-meat-pie-is-found-in-country-victoria  There are always variations – pork, poultry, seafood, lamb, vegetarian – but in classic terms, these are "trendies". For a real meat pie, it has to be beef.
What about dessert, you ask? You can't go past a vanilla slice. This is made from layers of flakey pastry top and bottom, a thick middle of creamy vanilla custard, topped with vanilla icing. The best vanilla slice is reminiscent of French mille-feuille, but the focus is on the custard. The worst vanilla slice has tough pastry, custard set like rubber, and thick gluey icing. Yuck.
Every year, bakeries from all around Victoria compete in the best vanilla slice awards, and truly the winners are so delicious that you really would drive all the way from Melbourne to eat one. The most recent award winners are here (with mouthwatering photos) – https://www.bendigoadvertiser.com.au/story/6335250/central-victorian-bakeries-win-big-at-the-australian-vanilla-slice-triumph/
In my second crime novel, Dead and Gone, the Candlebark Hotel has been in the food doldrums for a while. Chef Andre is about to launch the bistro anew, after the murder has been solved of course. But he knows the locals will demand that chicken parma stays on the menu, and he'd better make sure it's a good one!
Thank you, Sherryl. I love a good pub meal myself and I can't go past a vanilla slice either!
---

---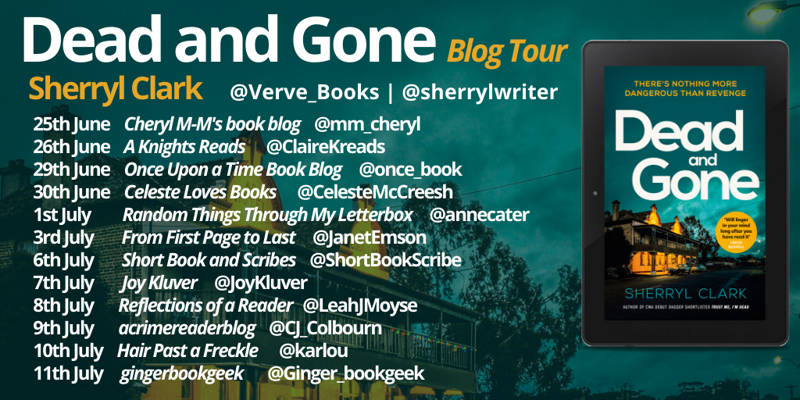 ---

---
Sherryl Clark has had 40 children's and YA books published in Australia, and several in the
US and UK, plus collections of poetry and four verse novels. She has taught writing at Holmesglen TAFE and Victoria University. She recently completed a Master of Fine Arts
program at Hamline University, Minnesota, and is now studying for a PhD in creative writing.
Sherryl's debut novel, Trust Me, I'm Dead, was shortlisted for the CWA Debut Dagger. It is the first novel in the Judi Westerholme series, followed by Dead and Gone.