ShortBookandScribes #BlogTour #GuestPost by Melanie Blake, Author of The Thunder Girls @MelanieBlakeUK @panmacmillan @ed_pr #TheThunderGirls
Welcome to my stop on the blog tour for The Thunder Girls by Melanie Blake. I have a guest post by the author to share with you today and you can find out a bit more about the research and the characters. My thanks to ED PR for the place on the tour and for sending me a copy of the book which I am looking forward to reading.
---

It's the 1980s. Chrissie, Roxanne, Carly and Anita are ordinary girls with extraordinary lives. They are better known as eighties pop sensation The Thunder Girls. This girl group is dominating the pop scene, their faces on every magazine cover, millions of fans worldwide, constantly at the top of the charts.

Until one of them brings the band's dream run to an abrupt end. Three of their careers are over – and so is their friendship.

Fast forward thirty years. Their old record label lands a bombshell by asking them to reunite for a series of huge concerts. These would be the gigs of a lifetime with a pay check to match – some need it more than others – and old wounds leave deep scars. A lot has happened since The Thunder Girls were ruling the charts. Addiction, breakdowns, bankruptcy and divorce have led them far from the lives they once lived.

If they are to move forward, the past needs to be laid to rest – but there is more to this reunion than meets the eye. Each Thunder Girl is hungry to revive their past success, but what they don't know is that someone is watching their every move – and is determined to stop them succeeding – in the deadliest way possible.

The Thunder Girls is a page-turning tale of friendship, betrayal, revenge and murder. It's the perfect read for readers who miss the bestselling blockbusters of Jackie Collins and Shirley Conran and will take you on a thrilling ride back to the days of shoulder pads, glamour and original girl power.

These four girls have been to hell and back – and some of them are still there.
The Thunder Girls by Melanie Blake is out now, published by Pan Macmillan, priced £7.99 in paperback original.
---

by Melanie Blake
Spotlight on Chrissie Martin
Chrissie Martin, The Thunder Girls' former lead singer initially appears to be the book's main character but as the story flows you realise that just like when she was in the former chart topping band, she can't do this alone. Chrissie is a delicious mix of arrogance and insecurity, greed and desperation. Once from a poor area of Salford, Manchester, but now living in a multi million pound mansion in London with what appears to be the world at her feet, until the rug is pulled from under her in the most spectacular way and she finds herself needing the former friends she ditched three decades ago to save her skin. Writing Chrissie was such a treat because she does and says things most people would only dream of and at the same time she appears to relish them. She's genuinely a one off. Out of the four Thunder Girls it's hard to pick a favourite, because each one of them has an amazing back story and when we find them in the modern day, still have cores made of steel, they'd have to be made of strong stuff to deal with what gets thrown at them along the way. Chrissie stands out in that way a classic bitch character of the 80's did, the one you loved to hate and didn't want them to get punished or get their comeuppance because that would mean we would have to lose them. I won't spoil the ending but let's just say the Chrissie we meet at the beginning of the book and the Chrissie we leave at the end of the book are two very different women – but whether that's a good or bad thing I'll leave up to the reader to decide!
My research
My research came from working on Top Of The Pops in the late 90's early 2000's and then a decade managing music stars before I returned to writing. I've been inside the pop and rock world, I know what I write is authentic, to the reader it may seem like so outrageous it couldn't possibly happen – but trust me I've seen it all. My writing is always steeped in what I know to be believable. I think that's possibly why The Thunder Girls has had such good critical reviews from publications which wouldn't usually be so positive for a 'blockbuster' – I think it's because of my credentials that people have realised that this tale I've told could well be a true one. It isn't, because The Thunder Girls only existed in my mind and now the page and later this year the stage in the theatre adaptation. But the journey they go on, especially the corruption and manipulation they suffer at the hands of the men in their working and personal lives is definitely true.
Where the idea came from
The idea came from when I first started my writing career I went on one of the 80's bands reunion tours to cover the event. They were called Here and Now and they had bands like Boy George, Bananarama, Five Star, The Human League, The Three Degrees, Curiosity Killed The Cat, Belinda Carlisle, Tpau and Toyah etc. I was up close and personal watching bands who hadn't worked together, or seen each other in decades suddenly trapped in confined spaces and forced to 'make nice' for the pay check From there the idea of 'what price can heal old wounds' stuck in my head and that later became The Thunder Girls backdrop. I then had fun finding out where they'd been for thirty years and what it would be like to reunite them….
The Thunder Girls is a very modern tale of bitterness, revenge and jealously that is very much set in the now but it's steeped in the rich history of the classic blockbuster. I really think that in these political nightmarish times that epic tales like this, which take you away from the worries and realities of our own miserable times are just the tonic for a bit of escapism. Most people read the book in two sittings and say they wanted more and if the appetite is there maybe I'll revisit them for my third book. I've spent twenty years with Chrissie, Roxanne, Anita and Carly in my head and even I'm not bored of them yet – so I'm hoping that this is not the last we see of them. They are all in their 50's when we leave them in this one, it would be fascinating to see what their future holds – their past and present was certainly a white knuckle ride to write!
Sounds fabulous, Melanie. I can't wait to meet these characters.
---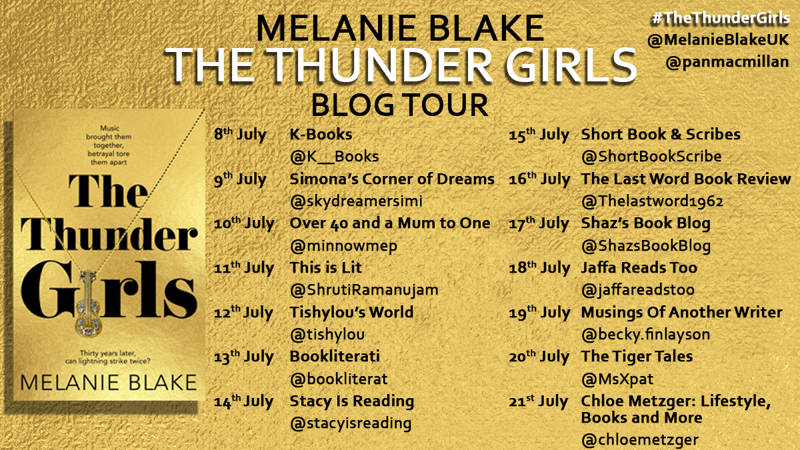 ---

Melanie Blake was born in Manchester (the only survivor of twins). Up to the age of 6 she had a relatively 'normal' childhood. Then everything changed.
Melanie's father got involved with an extreme religious group which meant family life would never be the same again. Almost overnight, most TV programmes were banned and music posters and toys, which were considered false idols, were destroyed in front of her young eyes.
Melanie's mother was a cleaner who worked all hours for little pay. She'd take Melanie with her on her cleaning round, letting her read library books while she worked. This is how she discovered the woman who inspired Melanie to change her life – Jackie Collins.
Melanie found other ways to escape by sneaking over to neighbours houses and immersing herself in 80s TV classics such as Dallas, Dynasty, Knots Landing and her absolute favourite – Top Of The Pops. Little did she know, one day she would be working on that show, which would open so many doors for her future career as a top music manager.
Now a multi-millionairess, Melanie is living her dream – from living off food bank handouts, wearing second hand clothes, being told by her teachers she'd never amount to anything and being homeless – to living in her own mansion. It's the ultimate rags-to-bitches story – they say write what you know, and The Thunder Girls is a tale Melanie has lived and breathed from the ground up. She hopes that somehow, the late, great Jackie Collins knows that she inspired Melanie to follow her dreams. She also hopes that Jackie would have enjoyed reading The Thunder Girls as much as Melanie enjoyed writing it.