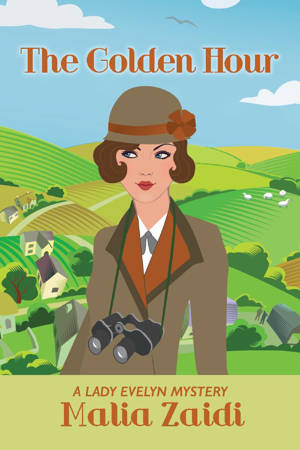 ShortBookandScribes #BlogTour #GuestPost by Malia Zaidi, Author of The Golden Hour @MaliaZaidi #TheGoldenHour #LadyEvelynMysteries #damppebblesblogtours
I'm so pleased to be taking part in the blog tour for The Golden Hour by Malia Zaidi and I have a fabulous guest post by Malia to share with you today. My thanks to Emma Welton of Damppebbles Blog Tours for the place on the tour.
---
London 1927

Lady Evelyn Carlisle has barely arrived in London when familial duty calls her away again. Her cousin Gemma is desperate for help with her ailing mother before her imminent wedding, which Evelyn knew nothing about! Aunt Agnes in tow, she journeys to Scotland, expecting to find Malmo Manor in turmoil. To her surprise, her Scottish family has been keeping far more secrets than the troubled state of their matriarch. Adding to the tension in the house a neighbour has opened his home, Elderbrooke Park, as a retreat for artistic veterans of the Great War. This development does not sit well with everyone in the community. Is the suspicion towards the residents a catalyst for murder? A tragedy at Elderbrooke Park's May Day celebration awakens Evelyn's sleuthing instinct, which is strengthened when the story of another unsolved death emerges, connected to her own family. What she uncovers on her quest to expose the truth will change several lives forever, including her own.

With the shadow of history looming over her, Evelyn must trust in her instinct and ability to comb through the past to understand the present, before the murderer can stop her and tragedy strikes again.
Published in paperback and ebook formats on 26th March 2019.
Purchase Links:
---
My Five Favorite Books and Why by Malia Zaidi
Deciding on my favorite books is a near impossible task, as any bookworm will know, but there are, undeniably, a handful that have meant more to me than most others. Oddly enough, my favorite books are not in the genre in which I myself write, even though I would say most of the books I read these days are. I write historical mysteries and while this remains a favourite genre to read for me, when I think about books that have meant the most to me, books I've actually re-read (something I hardly ever do), I come up with rather unexpected list.
1. Pride and Prejudice by Jane Austen
Though this will come as no surprise and I'm sorry if it's unoriginal, but there's a reason this book is so beloved. The story is lively, the characters engaging, and the writing sparkles with wit. There's not much I can say about the virtues of Pride and Prejudice that hasn't already been said, but I would be remiss to omit it from this list simply on that account.
2. Shantaram by Gregory David Roberts
Shantaram is a doorstop of a book, and while I skeptically held it in my hands a few times before finally buying it, I am so glad I did! This is such an utterly immersive novel set in Mumbai about adventure, love, personal development, friendship, and the list goes on. It's length may be daunting, but I was never bored and in the end felt slightly bereft to say goodbye to these characters with whom I had spent so many rapt hours.
3. The Power of One by Bryce Courtenay
The Power of One is a book I recommend to people more than any other book, and so far, the people who have taken up this recommendation have agreed with me that it is brilliant. The story focused on a young boy in apartheid South Africa and ends when he is eighteen years old. Courtenay has a way of making his characters seem very real and the setting was like a character in itself. This book deserves much more attention and I'm shocked that it's the only one by this author in print in the US.
4. The Tenant of Wildfell Hall by Anne Brontë
Though the better known Jane Eyre by Anne's sister Charlotte would go on a list of my top ten books, it is The Tenant of Wildfell Hall which makes it to my top five. It tells the story of headstrong Helen Graham through the voice of Gilbert Markham, her would-be paramour. But before you dismiss this book as just another love story, let me tell you, it's so much more than that. It's been called one of the first feminist books and focuses on themes like the role of women in a patriarchal world, independence, societal rules and traditions and the consequences of flouting them. It's a brilliant book and one I feel is absolutely on par with Anne Brontë's more famous sisters' books Jane Eyre and Wuthering Heights.
5. The Harry Potter books by J.K. Rowling
I know, I know, this isn't one book, nor is it unexpected, but how could I neglect to mention a series of books with such magic they awakened my love for reading in English when I moved from Germany to the US as a child? These books are filled with magic, friendship, love and adventure and I hope they remain as well loved as they are by me and millions of people across the world forever.
Thank you, Malia. This is an interesting list. I agree with you about the Harry Potter books.
---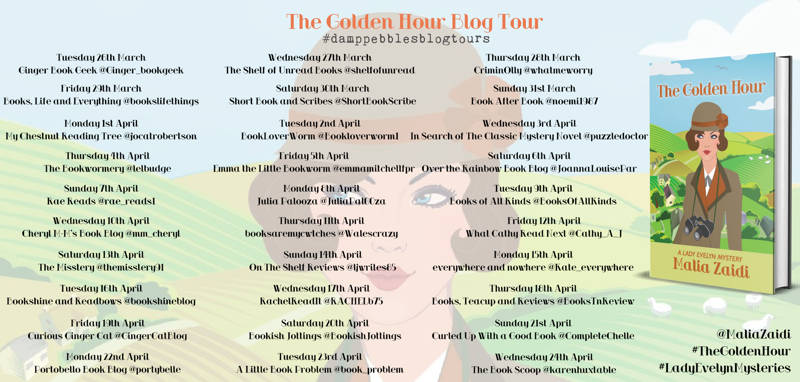 ---

Malia Zaidi is the author of the Lady Evelyn Mysteries. She studied at the University of Pittsburgh and at the University of Oxford. Having grown up in Germany, she currently lives in Washington DC, though through her love of reading, she resides vicariously (if temporarily) in countries around the world.