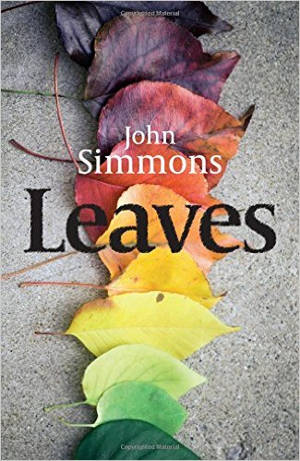 ShortBookandScribes #BlogTour #GuestPost by John Simmons @JNSim @UrbaneBooks #LoveBooksTours
I'm delighted to be sharing a guest post all about Time to Write by John Simmons today as part of the blog tour for Leaves. My thanks to Kelly Lacey from Love Books Tours for the place on the tour.
---

Ophelia Street, 1970. A street like any other, a community that lives and breathes together as people struggle with their commitments and pursue their dreams. It is a world we recognise, a world where class and gender divide, where set roles are acknowledged. But what happens when individuals step outside those roles, when they secretly covet, express desire, pursue ambitions even harm and destroy? An observer in the midst of Ophelia Street watches, writes, imagines, remembers, charting the lives and loves of his neighbours over the course of four seasons. And we see the flimsily disguised underbelly of urban life revealed in all its challenging glory. As the leaves turn from vibrant green to vivid gold, so lives turn and change too, laying bare the truth of the community. Perhaps, ultimately, we all exist on Ophelia Street.
---

Time to write by John Simmons
So how long did it take you to write Leaves? About 45 years I reply, and I'm not joking. The truth is that I wrote the first version of the novel in 1970 (when it is set) and it eventually saw the light of day in 2015 when it was published by Urbane. Am I really such a slow writer?
Actually, once I have the idea for a novel, I can be a fast writer. But Leaves was special in many ways, my first novel, a labour of love. When I wrote the first version I tried, as a 21-year-old, to get it published. It came so close a few times, with one publisher sending an ecstatic reader's report with his rejection letter. I decided that I could do without this confusing rejection – I had a life to live, and soon a family to support, and I created a career for myself that took me as close as I could get to being a full-time writer. I became a writer in the business world, working for design and brand consultancies, finding it creatively fulfilling. And I wrote books on the subject of writing, including Dark Angels that took me into training other writers.
There was still a nagging desire to write fiction at the back of my head. Forty or more years after the first version of Leaves I returned to it. It was a strange experience, reading these words of a young man, wondering 'did I really write that?' On the whole I was pleased by what I read. But now I could see a way to revisit the story, using that experience of an older man looking back on the words of a younger man.
That was the breakthrough for me. I realised that I could add a new character, a narrator looking back on this life-changing year in 1970; and that character would change everything. In particular it would change the tone. There's no doubt that we become more reflective as we become older, we have experienced more and we have those experiences to look back on – not always with greater wisdom or maturity, but you hope.
That last word was important for me – hope. I'm an optimist and I didn't want the book to be that of a grumpy old man. Leaves is melancholic at times, but my overriding wish was to convey a sense of optimism about life. We get older, we understand some things better, we still have hopes for the future of those who follow after us and there remains a wonder in being alive. Writing is living.
John Simmons' novels Leaves, Spanish Crossings and The Good Messenger are published by Urbane.
Thank you, John. You got there in the end and I love that you started writing it in the year it was set and then published it so long after. Definitely hope for us all!
---

---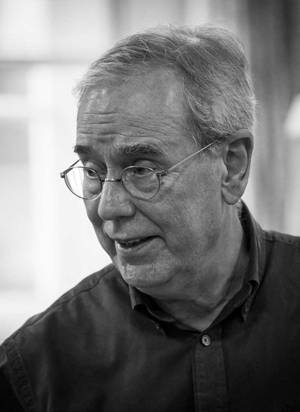 John Simmons is an independent writer and consultant. He runs Writing for design workshops for D&AD and the School of Life as well as Dark Angels workshops. He has written a number of books on the relationship between language and identity, including The Writer's Trilogy We, me, them & it, The invisible grail and Dark angels. He's a founder director of 26, the not-for-profit group that champions the cause of better language in business, and has been writer-in-residence for Unilever and Kings Cross tube station. In 2011 he was awarded an Honorary Fellowship by the University of Falmouth in recognition of outstanding contribution to the creative sector. He initiated and participated in the writing of a Dark Angels collective novel Keeping Mum with fifteen writers. It was published by Unbound in 2014. He is on the Campaign Council for Writers Centre Norwich as Norwich becomes the first English City of Literature. John also wrote the compelling novel Leaves, which was published by Urbane in 2015.
Spanish Crossings was published in March 2018 and The Good Messenger in September 2018.
Author photo by Stuart Keegan, Bloomsbury Festival