ShortBookandScribes #BlogTour #GuestPost by Joanna Stephen-Ward, Author of Searching for Sylvia @OperaLover12 @Bloodhoundbook
Welcome to my stop on the blog tour for Searching for Sylvia by Joanna Stephen-Ward. I have a guest post by the author to share with you today and would like to thank Heather from Bloodhound Books for the place on the tour.
---
Sylvia has been missing for thirty years. Will her daughters ever find her?

Tordorrach is 70,000 acres of drought stricken land in the Australian outback. Why do a group of wealthy people from London want to buy it?

Shamus, the owner of Tordorrach, lives in poverty. His homestead is derelict and he is heavily in debt. The new owners run Outback Experience holidays on Tordorrach. Shamus becomes one of the gardeners, and he and his wife Mary move to a comfortable cabin on the property. Why does he hate the new owners so much that he plans to murder one of them?

The idyllic life of the new owners is shattered when the body of a woman is found buried on Tordorrach. Forensics find a bullet in her body. Who was she? And who murdered her?
---
by Joanna Stephen-Ward
The time in which a novel is set is important, as morals, politics and attitudes change. Putting a year at the beginning of a chapter or section is helpful, but indicators such as important events in Queen Victoria' reign, Margaret Thatcher's time as Prime Minister or more recently Brexit help to show, rather than tell, the reader what the period is. In Searching for Sylvia as well telling the reader the month and year, I've referred to Trump and how certain characters regard him, and Brexit. Both are issues that concern people, divide friends and communities, and are the cause of dramatic real events and change.
Although I am fortunate not to have suffered from postnatal depression, I had a colleague who was severely depressed for many years after giving birth. Anne was a gentle and kind woman, who in spite of her depression was able to have a full-time job in the NHS as a clerk in medical records. Most of her colleagues were compassionate and understanding, but some, including our manager, were scathing and cruel. Her school days had been an academic and sporting triumph. Our manager, thinking she was a fantasist, challenged her to prove it. She did so by bringing into work old school magazines, which showed that she was head prefect, house captain and captain of the school tennis, basketball and hockey teams.
The depression in Searching for Sylvia was unconsciously inspired by her, as were the tragedies experienced by Noël. When Anne was ten her father was killed in a plane crash. When she was sixteen her mother was killed in a car accident. Thinking she had found joy when she married, post natal depression blighted her life. Sadly she died shortly after she retired. Depression in all its forms is a tragedy for the sufferer and their families. When I lived in London I was a member of an excellent writers group. One a of young men was a brilliant writer, but suffered from debilitating depression and was a high suicide risk. When he didn't attend a meeting everyone panicked, and rang him to make sure he was okay.
Other issues that concern me have found their way into my novels via my characters. Free range organic farming is one, as is animal cruelty. Both play a part in Searching for Sylvia. I am a vegetarian, but it's important not to rant or preach at people. If they ask why, I say that killing animals so I can eat them, makes me unhappy. I do have vegetarians in some of my novels, but not all, as I don't want to labour the point.
Thank you very much, Joanna. It's so interesting to know where some of your ideas come from.
---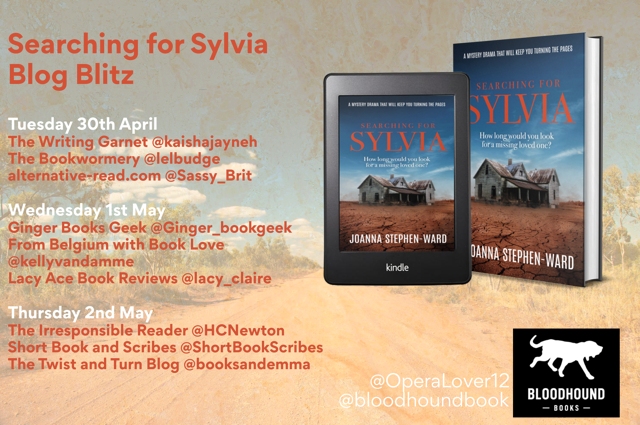 ---


Joanna Stephen-Ward was born in the Australian outback, and grew up in Melbourne. Her school days were spent dreaming about being an opera singer or a writer. To the exasperation of her parents and teachers she spent her final year sitting at the back of the classroom writing a novel set in WW2.
When she left school she went to an opera school where she was taught drama, movement and language pronunciation and had small roles in the workshop productions. She was not good enough to become a professional opera singer, but the seeds of her novel Vissi d'arte were sown.
She left Australia and spent a year travelling around Europe and the UK. While working in outpatients for the NHS she met Peter and they married in 1985. They lived in Richmond Surrey and she worked at The National Archives, an enthralling place for anyone interested in history or crime.
Having been brought up as a lonely only child, she was astonished to discover in 2010 that she was one of eight children. She and her sister had last been together on a verandah in the outback when they were babies. They had a joyous reunion in Cornwall in 2012.
Joanna has written seven novels and is working on her eighth.