ShortBookandScribes #BlogTour #GuestPost by Jenny O'Brien, Author of Missing in Wales @ScribblerJB @rararesources + #Giveaway
I'm really pleased today to be sharing a post by Jenny O'Brien, author of Missing in Wales as part of the blog tour along with a chance to win a signed copy of the book and to have the chance to be a character in Jenny's next book! Wow! My thanks to Rachel Gilbey from Rachel's Random Resources for the place on the tour.

---

Missing in Wales, the first in an exciting new Welsh-set crime series by Jenny O'Brien, author of The Stepsister. The next in series, Stabbed in Wales, will be available soon. 

Alys is fine – don't try to find us

Izzy Grant is haunted by the abduction of her newborn daughter five-years ago. When a postcard arrives from her missing partner, the man she believes is responsible, saying they're fine and asking her not to try to find them, she knows she can't give up hoping. Then she sees a face from her past. Grace Madden. Just where did she disappear to all those years ago? And is there a connection between her disappearance and that of her child?

DC Gabriella Darin, recently transferred from Swansea, is brash, bolshie and dedicated. Something doesn't fit with the case and she's determined to find out just what happened all those years ago.
Purchase Links
I also need to let you know that The Stepsister, Jenny O'Brien's first thriller, will be free worldwide from  22 to 26th July,
---

Wales: Past and Present by Jenny O'Brien
I first visited Wales as a toddler in the 1960's. Each summer my parents would pack the car up with buckets and spades and take us for our annual holiday in Llandudno. The days were long and, looking back through the rose-coloured glasses that filters time, filled from dusk to dawn with sunshine and smiles. In those days we didn't need much, our time was spent on the beach building sandcastles and, when we were older, ambitious waterways that included tunnels and bridges. I don't know why they chose Llandudno or even Wales for that matter and the time is long since past where I'd be able to ask. It might be something to do with my great grandmother hailing from Pembrokeshire but who knows…
I remember day trips to Betws-y-Coed and Swallow Falls and lovely strolls around Rhos-on-Sea not forgetting our annual walk up the Great Orme with views over the pier and promenade. Our days were filled with a hundred and one activities with I'm sure the sole intention of wearing out my sister and two brothers.
Whilst I always understood Wales to be this magical place, I'd stored it up as somewhere we went once a year. So, no one could have been more surprised when my parents decided to leave Dublin and retire there when I was 17. They put the house on the market and again packed up the car with all their worldly goods to set out on a new adventure.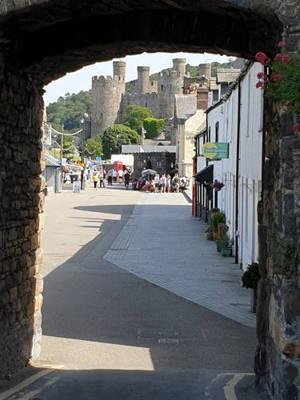 I still spend time in Wales but now it's not so much a holiday destination as a second home. My sister, brother and mum still live there in addition to a smattering of Welsh-speaking nieces and nephews. And funnily enough I still get pleasure from doing the same things that I did all those years ago. Taking my own children for a walk down the end of the pier to check out what the fishermen are up to with their rods dangling into the Irish Sea. Walking along the prom in Rhos-on-Sea with my sister's two dogs and stopping in one of the cafes along the way. I even get to pick my nephew up from school and take him for ice-cream, sitting under the shadow of Conwy castle. What more could an aunty ask for!
Whilst I have changed in more ways than I'd care to admit, Wales stays the same in my memory, imagination and heart. When I was looking around for a setting for the first in a new series of detective novels featuring feisty DC Gabriella Darin what better tribute to a great grandmother, I never got to meet… So, my Welsh series starts in Pembrokeshire but swiftly moves to Llandudno as it continues to follow Gaby's career in STABBED IN WALES, which will be launched straight after MISSING IN WALES.
There will be one more book to complete the trilogy but that's for another time.
Thank you so much, Jenny. I love the sound of Missing in Wales and I really enjoyed reading about the inspiration for your setting.
---

 Giveaway to Win a signed copy of Missing In Wales and the chance to be a character in the next book STABBED IN WALES. (UK only)
*Terms and Conditions –UK entries welcome. Please enter using the Rafflecopter box below. The winner will be selected at random via Rafflecopter from all valid entries and will be notified by Twitter and/or email. If no response is received within 7 days then Rachel's Random Resources reserves the right to select an alternative winner. Open to all entrants aged 18 or over. Any personal data given as part of the competition entry is used for this purpose only and will not be shared with third parties, with the exception of the winners' information. This will passed to the giveaway organiser and used only for fulfilment of the prize, after which time Rachel's Random Resources will delete the data. I am not responsible for despatch or delivery of the prize.
---

Jenny O'Brien was abandoned in Dublin at the tender age of 17 by her parents when they decided to move to Wales. It was only on the completion of her studies that she was finally able to join them.
She's an avid reader and book blogger in addition to being a RoNA book judge.
She writes for both children and adults with a new book coming out every six months or so.
In her spare time she can be found frowning at her wonky cakes and even wonkier breads. You'll be pleased to note she won't be entering Bake-Off. She's also an all-year-round sea swimmer.
Jenny currently resides on the island of Guernsey with her husband, children and cats. She works as a nurse and writes in her spare time.
Readers can find out more about Jenny from her blog.