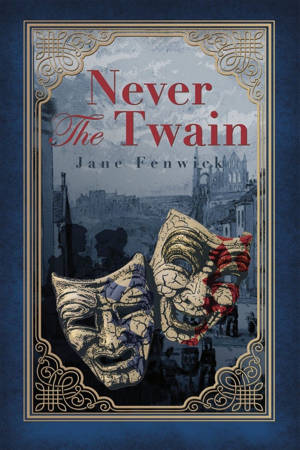 ShortBookandScribes #BlogTour #GuestPost by Jane Fenwick, Author of Never the Twain @jane_fenwick60 @cw1985 #giveaway #neverthetwain #historicalcrimenovels #romance #victorianwhitby
I'm delighted to welcome Jane Fenwick to Short Book and Scribes today as part of the blog tour for Never the Twain. There's also a giveaway to win a box of luxury violet cream chocolates – yum! My thanks to Lucy Felthouse of Writer Marketing for the place on the tour.
---

Never the Twain: A twin tale of jealousy and betrayal, love and murder.

The year is 1890. The port of Whitby is heaving with sailors and where there are sailors there are brothels doing a roaring trade. Beautiful identical twins April and May are in desperate straits. They have been abandoned by their actress mother and are about to have their virginity auctioned off to the highest bidder by a notorious brothel madam.

Their fate is hanging in the balance when Captain Edward Driscoll a handsome, wealthy shipping tycoon from Glasgow saves them before they can be deflowered.

But have they exchanged one form of slavery for another?

April, reluctantly swept up in her twin's secrets and lies unwittingly becomes embroiled in a murderous conspiracy. Is May's jealousy stronger than the twin bond which has always connected them?
Available from:
Amazon UK
Amazon US
---

Whitby is a seaside resort on the beautiful North Yorkshire Coast. My book Never the Twain is set between Victorian Whitby and Glasgow when Whitby was famous as a spa town. Whitby grew into a tourist resort when the railways made it possible for the masses to travel and it became fashionable for ladies and gentlemen to 'take the cure'.
Whitby with its imposing 11th century Abbey high up on the East cliff was sustained by herring fishing for centuries. The small fishing boats called cobles would set out every season to land the herring catch which was then exported or smoked and sold as kippers.
In the eighteenth century Whitby began to get a reputation for ship building. The growing trade of whaling saw the need to build bigger, stronger ships and families like the Scorsby's became prominent as major ship builders. Between 1753 and 1833, 55 boats hunted whales out of the coastal town, bringing the carcasses back for processing. The industry made Whitby rich. However, the impact of commercial whaling like this had a huge impact on the numbers of whales in the North Atlantic and by 1833 the viability of the activity became commercially untenable and whaling activities stopped.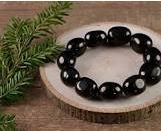 When whaling declined another industry began to prosper; the production of Whitby Jet, a beautiful, black gemstone. The Jet found in Whitby is of early Jurassic age and is approximately 182 million years old. Whitby Jet is fossilised wood from species similar to the extanct Chile pine or Monkey puzzle tree.
It was in the mid 1800's that the popularity of Whitby Jet began to grow. In 1851 the stunning, black gemstones were displayed at The Great Exhibition in London where it became admired by a number of high ranking royals. Then in 1861 when Queen Victoria's husband Prince Albert died, the monarch took to wearing Jet jewellery in remembrance of him. With the Queen as a patron the seaside town of Whitby gained popularity as a holiday destination and Whitby Jet became fashionable and highly desired.
It is still sought after today and shops selling all manner of Jet jewellery can be found on the cobbled streets of the harbour town. Recently a Jet museum has opened in the old Methodist chapel on Church Street and is well worth a visit.
In late Victorian times with the growth of the railways Whitby became popular for the middle and upper classes to 'take the waters'. Whitby is built on several springs, its most famous one being where the Spa Pavilion now stands. Every summer steam trains would bring tourists to visit the spas. This in turn meant a spurt in building as hotels and guest houses shot up to lodge the holiday makers. Nowadays Whitby has a year round thriving tourist industry and attracts visitors from all over the world.
A highlight of the Whitby calendar is the Goth music festival which began in 1994. The resort was chosen because of its connections with Bram Stoker's Dracula. The festival takes place twice yearly in April and October. The festival used to be held yearly until 1997 but its popularity saw it grow into one of the worlds largest Goth music events and now thousands of attendees from across the UK and beyond swell the towns' numbers.
I go most years, not to dress up, but to watch the amazing costumes as people promenade around the town. Even children and dogs wear costumes. Some dress in typical black Goth clothes while others are more creative and dress in flamboyant, edgy creations. Last year I watched in awe as a young woman stood in a car pack and had her corset tied by her partner with the aid of his foot in her lower back! That's what I call suffering for your art!
Thank you so much, Jane. Whitby is a gorgeous place.
---

---

Click here to find the other posts on the tour.
---

Never the Twain: A dark blend of Gothic romance and murder.
Jane Fenwick lives in the market town of Settle in Yorkshire, England. She studied education at Sheffield University gaining a B.Ed (Hons) in 1989 and going on to teach primary age range children. Jane decided to try her hand at penning a novel rather than writing school reports as she has always been an avid reader, especially enjoying historical and crime fiction. She decided to combine her love of both genres to write her first historical crime novel Never the Twain. Jane has always been a lover of antiques, particularly art nouveau and art deco ceramics and turned this hobby into a business opening an antiques and collectables shop in Settle. However her time as a dealer was short lived; she spent far too much time in the sale rooms buying items that ended up in her home rather than the shop! Animal welfare is a cause close to Jane's heart and she has been vegetarian since the age of fourteen. For the last twenty years she has been trustee of an animal charity which rescues and rehomes cats, dogs and all manner of creatures looking for a forever home. Of course several of these have been "adopted" by Jane!
Jane has always loved the sea and although she lives in the Yorkshire Dales she is particularly drawn to the North East coast of Yorkshire and Northumberland. This coastline is where she gets her inspiration for the historical crime and romance novels she writes. She can imagine how the North East ports would have looked long ago with a forest of tall masted ships crammed together in the harbours, the bustling streets congested with sailors, whalers, chandlers and sail makers. These imaginings provide the backdrop and inspire her to create the central characters and themes of her novels. As she has always loved history she finds the research particularly satisfying.
When she isn't walking on Sandsend beach with her dog Scout, a Patterdale "Terrorist" she is to be found in her favourite coffee shop gazing out to sea and dreaming up her next plot. Jane is currently writing a historical saga series again set on the North East coast beginning in 1765. The first two books are being edited at the moment; My Constant Lady and The Turning Tides. Look out for My Constant Lady in 2020.
Find her on Twitter , Instagram , Facebook , Pinterest or Web.