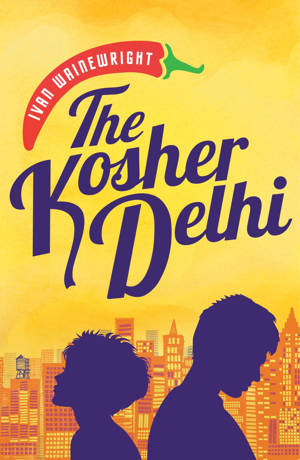 ShortBookandScribes #BlogTour #GuestPost by Ivan Wainewright, Author of The Kosher Delhi @ivanwainewright @RedDoorBooks
I'm so pleased to welcome you to my stop on the blog tour for The Kosher Delhi by Ivan Wainewright. I have a guest post by the author to share with you all about the books and people that influenced him when he wrote the book. My thanks to Anna from Red Door for the place on the tour.
---
Considering all the things we did during our brief spell in Somerset that should have got us into trouble, it's ironic that the act which did cause the police to come looking for us was an accident.

It's the early 1990s.

Vic is twenty, naive and drifting grappling with his mixed Indian-Jewish heritage.

When he meets Yvonne – activist, hedonist, social justice warrior – his life changes in ways he could never have imagined.

They travel together from Leeds to London to New York. While Vic navigates fast-paced restaurant scenes, Yvonne ventures into the world of underground political music and tensions begin to rise. What begins as hedonistic travelling and young romance soon takes a darker turn as the racist underbelly of society is exposed with violent and fatal outcomes.

For fans of Nick Hornby, David Nicholls and William Boyd, this vibrant and unforgettable 'coming-of-awareness' novel will fill you with nostalgia as you re transported back to the heady days of the nineties.
---
What Books and People Influenced Me When I Wrote The Kosher Delhi?
by Ivan Wainewright
Vik and Yvonne's relationship is at the core of The Kosher Delhi. (One early reader said she felt it was a "wild love story"!) It is fascinating seeing how authors write about and develop relationships in their novels, and there are some writers who do this so well.
David Nicholls' Us is a perfect example. It's such an engrossing story, but still tackles adult issues of relationships, love, life, fights, disappointment, what to do next when things in life don't go as you planned… In a different way, Geoff Dyer's Colour of Memory captures the relationships we develop in our youths, what it is like to be young, hanging out, all in the heartland of South London. Dyer invokes such a deep-rooted atmosphere of 1980s' London in his novel, you can see it all. I read it years ago and I still feel it now.
Equally, the politics of the nineties and our society of the time was a key theme for me. In The Kosher Delhi, I have tried to incorporate the challenges Vik faces with his mixed heritage, but the best – the seminal – novel about growing up as a mixed-race teenager, is Hanif Kureishi's Buddha of Suburbia: the music, fashion, sex, theatre and a fantastic cast of characters.
In terms of food, Anthony Bourdain's Kitchen Confidential opened my eyes to the life (and challenges) of developing a career as a chef. Compelling and occasionally shocking. And for culinary novels, The Mistress of Spices, by Chitra Banerjee Divakaruni showed me how to use food as the core, the structure, the surround of a captivating, magical, beautifully written novel. Fascinating and magical.
There are so many individual people who influenced my writing. At the core must be Harvey Milk, the visionary American civil and human rights leader. His election to office in the seventies gave hope to LGBT people who hadn't experienced that before. How can that not be inspiring? On the same lines, Rosa Parks and Martin Luther King.
In terms of our contemporaries, England footballer Raheem Sterling has become an influence on me and so many people. He has shown us how to respond to racism with dignity yet force. Footballers should be better role models than many are, Sterling is possibly the best.
Not all influences are people I like, but they undeniably influenced my writing. Margaret Thatcher, and the Conservative Party, stand for everything I don't. It drove much of Yvonne's narrative. And more recently, Tommy Robinson and the rise of the far right across much of Europe is frightening and one of the central reasons I wrote the book. We should all stand up to bigots and the hatred they orate.
Thank you, Ivan, for such an interesting guest post.
---

---

Ivan Wainewright studied computing at Leeds Polytechnic before travelling around Australia and South East Asia. After returning to Leeds, he then lived in Singapore for four years, before coming back to North London. He now lives in Kent with his partner, Sarah and their slightly neurotic rescue dog, Remi. He has been an independent IT consultant for many years, working solely with charities and not-for-profit organisations.