ShortBookandScribes #BlogTour #GuestPost by Fenella J Miller, Author of A Wedding for the Spitfire Girl @aria_fiction
I'm so pleased to be sharing a guest post by Fenella J Miller, author of A Wedding for the Spitfire Girl, today as part of the blog tour. My thanks to Vicky Joss from Aria for the place on the tour.
---
1942 – The war rages on and Ellie must do her bit!

Ellie Simpson isn't your usual Spitfire pilot, but then with the world at war nothing is quite as it used to be! The ATA is calling upon its most expert and trusted pilots to deliver the precious bombers wherever they're needed, and Ellie, who can fly a Spitfire as well as the boys on the frontline, is their newest recruit.

Giving her all to a job she loves leaves Ellie precious little time for Squadron Leader Jack Reynolds. And while Ellie is brave enough to take the controls of a Spitfire, it takes a different kind of courage to open her heart to love once again. With her friends and family in constant danger she realises that their love is strong enough to stand the test of all the hardship the war can throw at them.

An emotional historical fiction that tells the story of friendship, camaraderie and triumph over adversity.
---
Myself and My Writing Journey by Fenella J Miller
Firstly, I'd like to thank you for inviting me here. I'll just tell you a little about myself and my writing journey.
I've always scribbled in notebooks and on rough paper but never had time to do anything publishable until I stopped teaching. My goal had been to be a published author by the time I reached my sixtieth birthday and I made that by three weeks.
In the fourteen years since I started writing I've written around seventy books. All my books are produced in large print by a traditional publisher but I am an author-publisher for my Regency books. Aria now publishes my World War II sagas.
I write between six and seven books a year – two World War II for Aria. The others are Regency which I author-publish on Amazon. I am a full-time writer and spend around six or seven hours every day at my desk doing something writing related.
I was my husband's full-time carer for eight years as he has vascular dementia. Sadly, he broke his hip last December as well as having sepsis and uncontrolled diabetes. He almost died and I still can't believe he's still with us. He broke his other hip at the first care home he was in and, after several months of stress and drama, I finally found him a wonderful care home where he's been for the past six months.
Strangely, I find I have less time now I'm on my own than I did before. I visit him five days a week and this takes up an entire morning. I've just moved to be nearer to him and I'm very happy in my brand-new home.
My Spitfire Girl series is about Ellie Simpson and how she deals with the war and the romance, tragedies and upsets that this inevitably brings. She is a pilot for the ATA (Air Transport Auxiliary) and spends her days flying back and forth across Great Britain delivering and collecting aircraft for the RAF.
A Wedding for the Spitfire Girl is the third book in a four book series. In this one Ellie finally marries Jack Reynolds but things don't go as smoothly as she'd hoped.
The final book in the series will be out next April. The first book in my next series of World War II sagas will come out next September. I've not written this yet so I'd better get on with it.
Thank you for inviting me to your blog. I hope if you download my book that you enjoy reading it as much as I did writing it.
Thanks for such an interesting post, Fenella. I'm impressed by your output!
---

---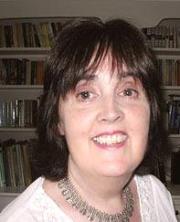 Fenella J Miller was born in the Isle of Man. Her father was a Yorkshire man and her mother the daughter of a Rajah. She has worked as a nanny, cleaner, field worker, hotelier, chef, secondary and primary teacher and is now a full time writer. She has over thirty eight Regency romantic adventures published plus four Jane Austen variations, three Victorian sagas and seven WW2 family sagas. She lives in a pretty, riverside village in Essex with her husband and British Shorthair cat. She has two adult children and three grandchildren.