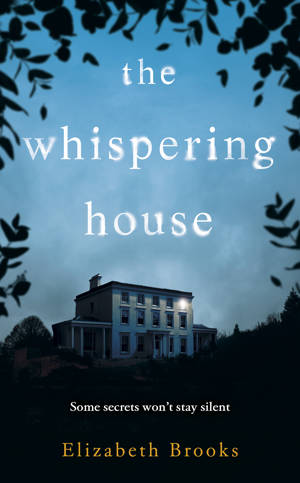 ShortBookandScribes #BlogTour #GuestPost by Elizabeth Brooks, Author of The Whispering House
Welcome to my stop on the blog tour for The Whispering House by Elizabeth Brooks. I'm so disappointed I couldn't fit a read of this one in as it sounds brilliant, but I do have a fabulous guest post by Elizabeth to share with you today. My thanks to Izzie Ghaffari of Doubleday for the place on the tour.
---

---
Freya Lyell is struggling to move on from her sister Stella's suicide five years ago. Visiting the bewitching Byrne Hall, only a few miles from the scene of the tragedy, she discovers a portrait of Stella – a portrait she had no idea existed, in a house Stella never set foot in. Or so she thought.

Driven to find out more about her sister's secrets, Freya is drawn into the world of Byrne Hall and its owners: charismatic artist Cory and his sinister, watchful mother. But as Freya's relationship with Cory crosses the line into obsession, the darkness behind the locked doors of Byrne Hall threatens to spill out.
---

---
A Ghost Story? by Elizabeth Brooks
The other day I was describing my new novel, The Whispering House, to a friend. I'd got as far as, "There's a young woman who visits this strange house and stumbles on a portrait of her dead sister…" when my friend interrupted.
"Is it a ghost story then? It sounds like a ghost story."
At first I replied, "No," then I changed my mind and said, "Yes." I thought for a moment and settled for "Maybe…."
It got me thinking about what makes a proper ghost story. My initial answer was "No" because there aren't any supernatural happenings in The Whispering House: no headless corpses stalking the corridors at night, or unseen hands shoving people into the paths of moving trains. My second answer was "Yes," because the story is about the troubling traces that the deceased leave behind. All my main characters are haunted, in the sense that they are not at peace with their dead; all of them are menaced, one way or another, by guilt, anger and unresolved grief.
I love a classic ghost story: my favourites are Michelle Paver's Dark Matter and Susan Hill's The Woman in Black. My first full novel was an attempt at a 'real' ghost story, set in Victorian Yorkshire, complete with a veiled lady who walks her childhood home at night, tapping on doors and writing creepy messages on bedroom walls. I had some fun with it, but I'm not unduly surprised that it never found a publisher.
It was so difficult! How do you inject originality into those well-worn ghost story tropes? How do you make it scary? How do you avoid being unintentionally funny? A zero-tolerance approach to cliché doesn't work, because there has to be darkness and a place (yes, it's usually going to be an old, large house) where bad things have happened, and there has to be a protagonist who starts out as an innocent rationalist and ends up changed (i.e. a complete nervous wreck, or dead). There have to be bumps in the night and things half-seen and half-heard…otherwise it's not a proper ghost story. It's incredibly difficult, though, to stop these fundamentals tipping over into pastiche.
Daphne Du Maurier's Rebecca showed me a way out. In Rebecca, all the essential components of the ghost story are present and correct, but they're given a twist – for example, the 'haunted house' is not some grim, gothic pile, but beautiful Manderley, and what makes it sinister is its constant allusion to the first, and apparently most desirable, incarnation of Mrs de Winter. The 'ghost' is present in Manderley's day to day rituals, in the way the place looks and feels, and in the minds of the people who live there.
This is how I should have answered my friend's question, instead of fobbing her off with that lame 'Maybe…': The Whispering House is my tribute to Daphne du Maurier. What I have tried to do – what I hope I have done – is to weave a story where the 'ghosts' are not eccentric apparitions wandering around saying 'boo' for their own amusement, but facets of the surviving characters and their setting.
After all, how far does the distinction between supernatural and non-supernatural make any sense?
Is it rational or irrational to fear solitude?
Is it rational or irrational to fear the dark?
Thank you so much, Elizabeth. I'm even more intrigued by The Whispering House now.
---

---
---
---
ELIZABETH BROOKS grew up in Chester, and read Classics at Cambridge.
Her debut novel CALL OF THE CURLEW was shortlisted for the Waverton Good Reads award. The setting for her new novel, THE WHISPERING HOUSE, is a manor house named Byrne Hall and is inspired by the home of Agatha Christie. It is full of dark corners and old portraits that carry untold stories of their subjects.
Elizabeth Brooks lives on the Isle of Man with her husband and children.