ShortBookandScribes #BlogTour #GuestPost by Christine Trent, Author of A Murderous Malady @crookedlanebks @hfvbt #AMurderousMalady #ChristineTrent #HFVBTBlogTours
Welcome to my stop on the blog tour for A Murderous Malady by Christine Trent. I have a guest post by the author to share with you today, all about why she loves Florence Nightingale. My thanks to Amy Bruno from Historical Fiction Virtual Book Tours for the place on the tour.
---

For fans of Charles Todd and Deanna Raybourn comes Christine Trent's second Florence Nightingale mystery.

Cholera has broken out in London, but Florence Nightingale has bigger problems when people begin dying of a far more intentional cause—murder.

The London summer of 1854 is drawing to a close when a deadly outbreak of cholera grips the city. Florence Nightingale is back on the scene marshaling her nurses to help treat countless suffering patients at Middlesex Hospital as the disease tears through the Soho slums. But beyond the dangers of the disease, something even more evil is seeping through the ailing streets of London.

It begins with an attack on the carriage of Florence's friend, Elizabeth Herbert, wife to Secretary at War Sidney Herbert. Florence survives, but her coachman does not. Within hours, Sidney's valet stumbles into the hospital, mutters a few cryptic words about the attack, and promptly dies from cholera. Frantic that an assassin is stalking his wife, Sidney enlists Florence's help, who accepts but has little to go on save for the valet's last words and a curious set of dice in his jacket pocket. Soon, the suspects are piling up faster than cholera victims, as there seems to be no end to the number of people who bear a grudge against the Herbert household.

Now, Florence is in a race against time—not only to save the victims of a lethal disease, but to foil a murderer with a disturbingly sinister goal—in A Murderous Malady.
---

Why I Love Florence Nightingale by Christine Trent
Almost everyone has heard of Florence Nightingale:  not only an extraordinary nursing reformer but an icon of the Victorian age, second only to Queen Victoria herself.
Florence is rightfully renowned for so many accomplishments—elevating nursing to a respectable profession when it had long been considered the profession of drunkards and thieves; completely transforming the way hospitals were designed and constructed; bringing notice to the plight of British troops at war; and even assisting other countries (notably the U.S. and India) revamp their approaches to medical care.
All of this is well-known, yet what I find most interesting about Florence is who she was as a person.  In particular, I love the lesser-known details of her life.  It is in those details that we can more sharply focus a person in our mind's eye.
Here are three facts about Florence that I hope will give you some insight into her personality and character.
Florence's Pet Owl
Florence did a fair amount of traveling in her youth, often chaperoned by friends of the family.  While in Greece, she rescued an owlet being abused by some boys near the Parthenon and named it Athena.  Athena would happily travel around in Florence's dress pocket.  Also in her travels, Florence picked up a cicada she named Plato, as well as a pair of tortoises.
I can only imagine her parents' reaction when she showed up back home with this unusual menagerie.
It should be noted that Athena did eventually eat Plato, so that was the end of the poor little philosopher insect.
Athena also had a rather sad end.  After having Athena as her beloved companion for five years, Florence was called to go to the Crimea and employ her nursing skills.  She arranged for Athena to have a living space in her family's attic during her absence.
Alas, Florence's family members failed to check on the poor owl, who promptly expired.
Florence arranged for Athena to be stuffed, and her beloved pet stayed in her family home the rest of her days.  Athena is now on loan to the Florence Nightingale Museum in London.
Florence and Athena the owl, sketched by Florence's sister, Parthenope
Her Sacrifice of the Heart
Florence was considered the beauty between her and her sister, Parthenope.  It was hoped that Florence would "rescue the family fortunes," so to speak, because her father's property was entailed—meaning it had to be passed down through male heirs—and he only had two daughters.  If Florence married well and had children, the property would be retained by the Nightingales instead of being handed off to a cousin.
Not only was she a very attractive young woman, she could dance, spoke multiple languages, and was highly educated.  She had no lack of offers, much to the delight of her family.
Florence, however, was positively determined to enter the nursing profession and had no trouble saying no to any gentleman her mother placed before her.
Until she met Richard Monckton Milnes.
More than a decade older than Florence, he was strikingly handsome, well-read, witty, and delighted in discussing theology with the younger Miss Nightingale.
Milnes offered for her hand.  For the first time, Florence hesitated.  She knew that Milnes would never bore her and she would have a very happy, comfortable life with him.  Plus her family would be very pleased with the decision.
Moreover, Milnes told her that if she wanted to pursue nursing, her was perfectly fine with the idea, and Florence believed him.  What she did not believe, however, was that society at large would be perfectly fine with her pursuing such a course of action as a married woman.
It took her nine years and multiple proposals, but she finally said no to her ardent admirer.
Milnes would go on to marry another woman, but he remained friends with Florence for the rest of his days.  He did what he could to support her various plans and proposals surrounding nursing and hospitals, as well as naming his daughter for Florence.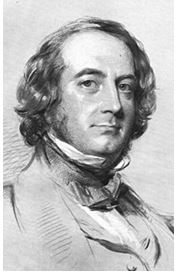 Richard Monckton Milnes
A member of Parliament, handsome, wealthy, and a great intellectual match for Florence.
A Spine of Steel
Many people know that Florence was willing to stand up to everyone who was against her medical reforms:  the British government, the medical establishment, as well as the British army.
She learned how to stand up to them by standing up to her mother and sister.
Florence had a fairly difficult and complicated relationship with her mother, Frances "Fanny" Nightingale, as well as her sister, Parthenope.  It was Fanny who really drove the notion that Florence should marry well.  Her disappointment in Florence's choices led to great histrionics.
Parthenope, who was devoted to Florence in a clingy manner, tended to adopt her mother's hysterical responses to Florence's actions.  Parthenope was frequently ill and during those times would tolerate no company but Florence's.  Between mother and sister, Florence was often mentally exhausted.
Florence was quite close to her father, William Edward Nightingale, who personally took his daughters' education in hand and ensure that Florence was as well-read and knowledgeable as possible.  He also supported Florence's desires to go into nursing.  Alas, together they were no match for Fanny and Parthenope!
Yet, despite the great hurricane-force winds blown by her mother and sister, Florence stood like an oak, refusing to back down on her life's goals no matter how much they tried to push her over.
It was only later in life—when Florence became famous—that Fanny and Parthenope realized that Florence had brought great esteem and respect to the family, even if was not accompanied by any sort of fortune.  They were all reconciled to one another, and Florence nursed both her mother and her sister at the end of their days.
Florence Nightingale, ca. 1860
You can sense the determination and no-nonsense attitude in this photo, as Florence would successfully stand up to every member of government bureaucracy and military establishment who dared get in her way.
Florence Nightingale is one of the great icons of the Victorian age, and deservedly so.  Over the course of her 90-year life, she single-handedly changed nearly everything about nursing and hospitals, nearly breaking her own health and many personal relationships in order to do so.
Florence's 199th birthday occurs on May 12, 2019, known as International Nurses Day.
Thank you, Christine. She was certainly a fascinating woman. 
---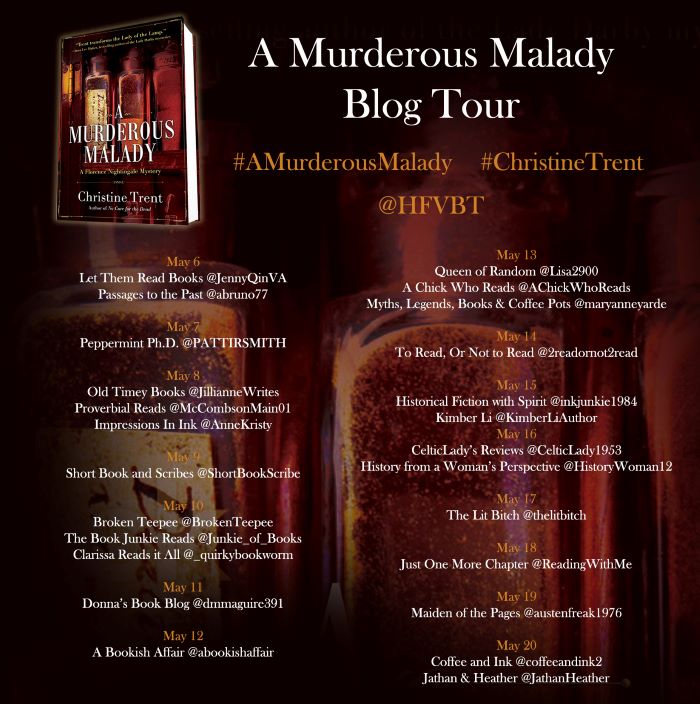 ---

Christine Trent is the author of the Florence Nightingale Mysteries, the Lady of Ashes historical mystery series, about a Victorian-era undertaker, and three other historical novels. Christine's novels have been translated into Turkish, Polish, and Czech. She writes from her two-story home library, where she lives with her husband, four precocious cats, a large doll collection, entirely too many fountain pens, and over 4,000 catalogued books.
Learn more about Christine at www.christinetrent.com. You can also follow her on Facebook and Goodreads.