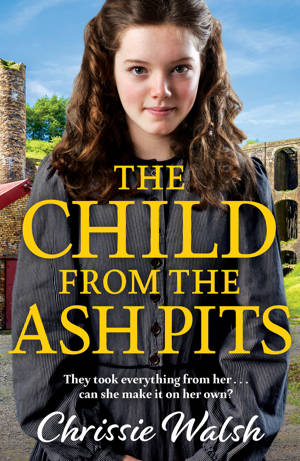 ShortBookandScribes #BlogTour #GuestPost by Chrissie Walsh, Author of The Child From the Ash Pits @WalshChrissie @aria_fiction
Welcome to my stop on the blog tour for The Child From the Ash Pits by Chrissie Walsh. I have a guest post by Chrissie to share with you today. My thanks to Vicky Joss from Aria for the place on the tour.
---

In the aftermath of the General Strike, times are tough for coal miners and their families. Can little Cally break free from poverty, and forge a successful life for herself?

When Cally loses her beloved mum, she hopes her father will comfort and protect her. But instead she soon acquires a cruel and vengeful stepmother, and Cally begins to fear that she is on her own.

Through uncomfortable years in service, to a terrifying brush with the streets, through hard work and determination, Cally finally finds a place for herself. She even trusts enough in the future to create her own family, despite being so cruelly abandoned by her own.

At last in a place of peace and contentment, Cally has all she ever hoped for, but with World War 2 looming, how long can she hold on to the people she loves?

Taking us from 1926 all the way to end of the Second World War, Chrissie Walsh has written a heart-breaking tale of love and survival, perfect for fans of Dilly Court and Lyn Andrews.
Pre-order links:
---

I've always been a writer of some sort or another. I grew up in a mill town in Yorkshire, in a house where reading was valued. My mother, an incredibly strong woman who was brilliant at 'just getting on with things' no matter how tough the circumstances introduced me to the classics at an early stage, and later to some of her favourite authors: Pearl S. Buck, Daphne du Maurier and Mazo De La Roche. I think it was reading about Jalna and the Whiteoak family that inspired me to write my own sagas.
I like writing about ordinary people. They don't move mountains or make earth-shattering discoveries but through small, brave actions they make their own lives and the lives of those around them, all the better for it. Mine was a working class background peopled by men and women who had fought and survived a war. In a changed world, they worked to support their families. And whilst the men played their part, it is the women that most interest me. These tenacious women had no grand aim in view – they didn't hanker for mansions or exotic shores – and in their struggle to survive the everyday hardships, no matter the tragedies or annoyances in their lives, they went out to work each weekday because they saw that as their role in life. As long as they could put food on the table, clothes on backs, and maybe a day trip to Scarborough once a year, they felt that they were winning.
It's these sort of people on which I base my characters. I mould and colour them to my liking; that's the great thing about being a writer. You can make the story go wherever you choose; although sometimes it takes legs and writes itself.
I write all the time – a lot of it in my head. I can create a chapter whilst hanging out the washing, or picking my grandson, Harry, up from school. Long walks on the beach are great for developing plots and characters. In this vast and open space, with the sky above and the sea at my feet, the lapping of waves on the shore, the ripples in the sand and the gull's cries, clears and calms my mind.
Then, between the hours of 10pm and 2am I sit at my computer tapping out the ideas, spilling words on to the screen like confetti.
Thank you, Chrissie, for this insight into your writing.
---

---

Born and raised in West Yorkshire, Chrissie trained to be a singer and cellist before becoming a teacher. When she married her trawler skipper husband, they moved to a little fishing village in N. Ireland. Chrissie is passionate about history and that passion and knowledge shine through in her writing. The Girl from the Mill is her debut novel.
Follow Aria