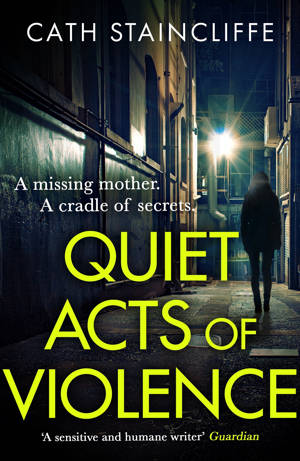 ShortBookandScribes #BlogTour #GuestPost by Cath Staincliffe, Author of Quiet Acts of Violence @CathStaincliffe
I'm so pleased to be taking part in the blog tour for Quiet Acts of Violence by Cath Staincliffe today. I love this author's writing. I'm sharing a guest post by Cath about how she writes and I'd like to thank her for asking me to be a part of her tour.
---

---
Family and betrayal, injustice and poverty, the ties that bind and those that break us…Quiet Acts of Violence is a crime novel for our times.

A dead baby. A missing mother. A cradle of secrets. Has the woman killed her child? Is she at risk to herself? Someone in the neighbourhood of old terraced streets has the answers. But detectives Donna Bell and Jade Bradshaw find lies and obstruction at every turn, in a community living on the edge, ground down by austerity and no hope. A place of broken dreams. Of desperation. And murder.

When a stranger crashes into Jade's life, her past comes hurtling back, threatening to destroy her and the world she has carved out for herself.

Donna struggles to juggle everything: work, marriage, kids. It's a precarious balancing act, and the rug is about to be pulled from under her..
Available now in hardback, ebook and audio.
---

---
How I Write by Cath Staincliffe
It starts with an idea – and with characters. I've found I can't advance the idea much beyond the 'what if?' stage unless I know whose story it is, who these people are – and in quite a lot of detail. I build up a biography. Not just name and appearance and occupation but things like secret ambition, health problems, favourite food and music, pet hates.
The starting point for Quiet Acts of Violence was the image of someone finding the body of a newborn baby and the question of what lead to her being left like that. And what happened to her mother. As for the central characters they were DI Donna Bell and DC Jade Bradshaw, a chalk-and-cheese duo, who I'd first written about in The Girl in the Green Dress. (Though you don't have to have read that book to enjoy this one).
Once I have the characters then there will be some planning and some research but I do as little as I can get away with before I start the writing. (The amount needed varies from book to book). I write longhand – it's the only way that works for me, it feels natural, organic. I start in the morning and write into the afternoon when possible, treating it like a job – because it is. And I feel so very lucky to be able to write for my living.
Every few chapters, I pause to transfer what I've got onto the computer. These days I use voice recognition software to minimise RSI. There are always loads of mistakes as the software struggles with my Northern vowels – a hybrid of Yorkshire and Lancashire. Once that work is corrected I read it through and try to improve it before sending it to my writers' group.
We are all writing novels (in very different genres) and it's a great way to get constructive feedback – and a pleasure to read other people's work in progress. After exchanging our contributions by email we used to meet in person to swap comments but now during lockdown we email tracked changes on the submissions and discuss the main points via Zoom meetings.
That feedback enhances my writing and when I've reached the end of the book, I spend time working through the whole manuscript to create a final draft. A lot of this is polishing, trying to smooth the flow, avoid repetition and iron out inconsistencies.
My agent is the next person to read it and then my editor. We'll discuss any concerns they have and any parts of the book that need re-writing. We'll also decide whether the working title is strong enough – and still fits what I've ended up with. After that, all the elements of production kick in – copy-editing and proof-editing, cover design and agreeing the blurb for publicity and promotion.
In between novels I often turn to writing short stories as a complete change. It's somewhere I can be adventurous and experiment. But before long I'm ready to start on a new book, coming up with that spark of an idea and deciding on the people involved, those characters I'll be spending time with over the next nine months.
Thank you for sharing your writing process with us, Cath. Congratulations on publication yesterday!
---

---
---

---
Cath Staincliffe is an award-winning novelist, radio playwright and creator of ITV's hit series Blue Murder. Cath's books have been shortlisted for the CWA Best First Novel award. She was joint winner of the CWA Short Story Dagger in 2012. Letters To My Daughter's Killer was selected for the Specsavers Crime Thriller Book Club on ITV3 in 2014. Cath also writes the Scott & Bailey books based on the popular ITV series. She lives with her family in Manchester.