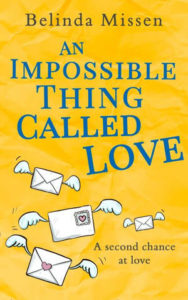 ShortBookandScribes #BlogTour #GuestPost by Belinda Missen, Author of An Impossible Thing Called Love @belinda_missen @rararesources #Giveaway
Welcome to my stop on the blog tour for An Impossible Thing Called Love by Belinda Missen. I have a lovely guest post about bookstores in London to share with you today along with a chance to win a copy of the book. My thanks to Rachel Gilbey from Rachel's Random Resources for the place on the tour.
---
Don't miss the new delightfully uplifting book from the author of A Recipe for Disaster!

A second chance at love…

When globe-trotting Emmy first fell for first-aider William on a freezing New Year's Eve, she really believed that their love would go the distance.

But when she returns to Australia, her letters start to go unanswered and her emails bounce back unread, Emmy decides it's time to pick up the pieces of her broken heart and start afresh in London.

So she's shocked when William walks in on her very first day at her new job! Even worse, he's hotter than ever. But why did he disappear for so long? What has he been hiding? And could this really be their second chance at falling in love…?

Perfect for fans of Carole Mathews, Mhairi McFarlane and Carrie Hope Fletcher.
Purchase Links:
---
Bookstores in London by Belinda Missen
One of my very favourite things about London is her bookstores. I always, always make sure I arrive with a half-empty suitcase, because I know that I will leave with one that's full-to-bursting. And, as anyone who loves books will tell you, those pesky little things can be damn heavy!
Book culture in London feels like it's been embraced a lot more than it has in Australia. Perhaps that's because I live in a very small little town (Inverleigh – as featured in A Recipe for Disaster), and I don't get out enough (also entirely possible). Or, perhaps it's because London is on the fringes of Europe, cosmopolitan, and a melting pot of people and culture. Whichever it is, bookshop hopping is one of my favourite things to do in London.
Without further ado, here are my top places to visit. If I've missed your favourite, let me know below – I'll be back soon enough, and will need more spots to visit.
Waterstone's Piccadilly
Five whole stories of books, café, and good times. I can wander around aimlessly for hours in here. It was the first spot I ventured to in November 2018. I got off my plane, checked into my Airbnb, showered, and back on the Tube to a party at Waterstone's Piccadilly. Possibly the largest bookshop in London, is there anything better than a glass of fizz while surrounded by the voices of history? Yeah, maybe not. But, if cake and tea are more your thing, you can grab that, too.
Persephone Books
In Lambs Conduit Street, Persephone is one of those special finds. Re-issuing out of print books by women writers, I've found so many gems in there. It's a small store with a big catalogue. Get on in there to read some lost voices in women's literature.
Southbank Centre Book Market
I didn't get a chance to get to the book market last time I was in London, but this outdoor book market, just outside the BFI centre, is brimming with books just waiting to be found. Bring a huge canvas bag and some spare change.
Daunt Books
Daunt is where you want to go for super Instagram-able shots. With high windows and plenty of gorgeous oak galleries, Daunt is great find on the Marylebone High Street.
Hatchards
No bookish afternoon is complete without a visit to Hatchards. Open since 1797, Hatchards is home to an incredible range of rare books, with over 100,000 titles on its shelves. It's one of my favourite places to browse and, with three royal warrants under its belt, is it any wonder?
Honorary Mention
Shakespeare & Co
Sure, it's not in London. It's not even in Britain. But, if you're headed across to Paris for a weekend, please stop into Shakespeare and Co. While it's not the original site, once frequented by Hemingway and Ford, it still carries the weight of history behind it. More recently popularise by Before Sunrise, you can grab yourself the most amazing hot chocolate and walk along the Seine while reading your newest purchase.
For more bookshop recommendations, this time from Melbourne, pop on over to Nemesis Book Blog!
Thank you, Belinda. I love this post. I'd love to visit Persephone Books one day.
---

 Giveaway to Win 2 x PB copies of An Impossible Thing Called Love (Open Internationally)
*Terms and Conditions –Worldwide entries welcome. Please enter using the Rafflecopter box below. The winner will be selected at random via Rafflecopter from all valid entries and will be notified by Twitter and/or email. If no response is received within 7 days then Rachel's Random Resources reserves the right to select an alternative winner. Open to all entrants aged 18 or over. Any personal data given as part of the competition entry is used for this purpose only and will not be shared with third parties, with the exception of the winners' information. This will passed to the giveaway organiser and used only for fulfilment of the prize, after which time Rachel's Random Resources will delete the data. I am not responsible for dispatch or delivery of the prize.
---

---

Belinda Missen is an award-winning and best-selling author, screenwriter, and freelance writer from Geelong, Australia. She lives with her car-obsessed, but wonderful husband, two loopy cats, and more books than she cares to count.
In late 2017, Belinda signed a six-book contract with HQDigitalUK (HarperCollins). A Recipe for Disaster was released in August 2018. An Impossible Thing Called Love appeared by magic in November 2018.