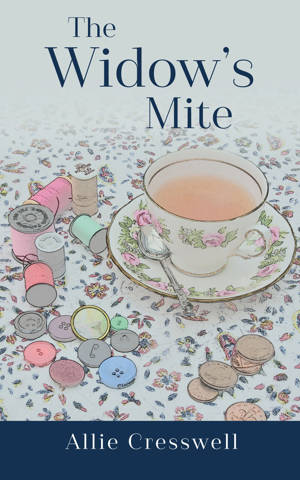 ShortBookandScribes #BlogTour #GuestPost by Allie Cresswell, Author of The Widow's Mite @rararesources
I'm so pleased to be taking part in the blog tour for The Widow's Mite by Allie Cresswell today. Allie has written a fabulous guest post for me to share with you today. My thanks to Rachel Gilbey from Rachel's Random Resources for the place on the tour.
---

Minnie Price married late in life. Now she is widowed. And starving.
No one suspects this respectable church-goer can barely keep body and soul together. Why would they, while she resides in the magnificent home she shared with Peter?

Her friends and neighbours are oblivious to her plight and her adult step-children have their own reasons to make things worse rather than better. But she is thrown a lifeline when an associate of her late husband arrives with news of an investment about which her step-children know nothing.
Can she release the funds before she finds herself homeless and destitute?

Fans of 'The Hoarder's Widow' will enjoy this sequel, but it reads equally well as a standalone.
Purchase Links
---

As a writer and a reader, no situations intrigue me more than the kind of extra-ordinary things that happen to ordinary people. Perhaps I am just plain nosey, but I love to peek behind closed doors into the everyday tragedies, the mundane struggles and commonplace heroism that is all around us. Look through the windows of any passing bus. What momentous meetings are in store for the passengers? Glance round the doctor's waiting room. What pain and private anguish lurks behind the impassive faces? Watch as a police car or ambulance streaks along the road. What awful thing has intervened to ruin someone's perfectly average day?
I am now two books into the Widows series. These books are about a group of women who have their widowhood in common but who in almost all other respects are entirely different. Their friendship is situational rather than organic and I hope this adds a dynamism to the books as they rub along, grouped by their singleness. Their marriages and the circumstances of their bereavements necessarily constitute an important element in the books; it is not possible to understand their relationship with each other, their evolved characters, without comprehending this aspect of their lives. Thus the books are forced to look death – its preamble, its calamity and its aftermath – squarely in the face.
Death! Now there is a closed door for you! Death is not very British. We tend not to speak of it. We use euphemisms. A dead person has 'passed away' or 'is no longer with us'. Organ donation, end-of-life care and what someone's choices might be for their funeral are very tricky topics to broach. It is not polite to ask someone if they have made a Will. Wills are sealed up and left in drawers or at the solicitor's office, their wording and rationale never discussed. It's wrong. It's all wrong. Everyone will die and everyone deserves to have their wishes for and after that eventuality known, understood and respected.
Minnie Price is the protagonist of The Widow's Mite. Her predicament has several causes but one of them is her husband's failure to make very clear in his Will what his intentions were for her. She is left the family home 'for her use and enjoyment' but no funds to upkeep it, making her 'enjoyment' a very moot point. Her bereavement is two-fold; she loses her husband and also her security. Her situation is made even worse by those who prey upon her. Her friends, meanwhile, are oblivious to her plight. Through pride, or shame, or just because it is no one's business, Minnie tells nobody what she is going through and her friends seem unable to read the signs. She struggles alone.
I think this is one of the saddest truths I discover again and again in my reading as well as my writing – how very alone we often feel, and how this does not need to be the case. That's the tragedy of it, tragedy in the real, literary sense. Our suffering is often exacerbated by our refusal to tell anyone about it.
Minnie Price is fortunate. She has friends and her outlook is not entirely bleak as the gaggle of widow-women and her own fortitude rise to the challenge of her situation. We are social animals, never designed or intended to go it alone. Some people might say that reading and writing are solitary occupations. They are solitary in the doing of them but their purpose should be to enhance our sense of being connected with others because they help us see and understand each other better.
Thank you so much, Allie!
---

---

Allie Cresswell was born in Stockport, UK and began writing fiction as soon as she could hold a pencil.
She did a BA in English Literature at Birmingham University and an MA at Queen Mary College, London.
She has been a print-buyer, a pub landlady, a book-keeper, run a B & B and a group of boutique holiday cottages. Nowadays Allie writes full time having retired from teaching literature to lifelong learners.
She has two grown-up children, two granddaughters, two grandsons and two cockapoos but just one husband – Tim. They live in Cumbria, NW England.
The Widow's Mite is her tenth novel.
You can contact her via her website.