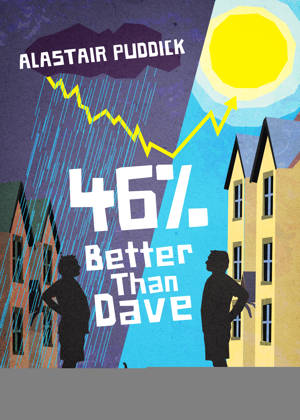 ShortBookandScribes #BlogTour #GuestPost by Alastair Puddick, Author of 46% Better Than Dave @HankShandy @LoveBooksGroup
I'm so pleased to welcome Alastair Puddick to Short Book and Scribes today. He's the author of 46% Better Than Dave, which sounds like a fabulous fun read, and today you can discover the five books that have inspired him. My thanks to Kelly Lacey for the place on the tour.
---

A novel of jealousy, muddy shoes and giant barbecues.

Dave Brookman's new next-door neighbour is ruining his life. Because in a bizarre coincidence, he's also called Dave Brookman, he's the same age and he even grew up in the same town. There is one big difference, though. This new Dave is vastly more successful in every way.

As Dave starts questioning everything about himself, suddenly his perfect life seems a lot less than perfect. And what starts as friendly rivalry soon turns into obsessive jealousy and crazy behaviour that could see Dave lose it all. Can he get a grip before it's too late?
---

5 Books that inspired me by Alastair Puddick
From literary fiction to quirky humour, crime novels and a few great anti-heroes, I've been inspired by so many different books over the years.
There's an old adage that if you want to be a better writer, you need to read more. And, of course, it's absolutely true. You need to read a lot. And you need to read quite widely. The great thing about reading different types of book, from different authors, is that you get to see what other people are doing. It exposes you to lots of different styles, themes and ways of writing. It broadens your horizons. It inspires. And by understanding how stories work, it helps you understand how to tell your own stories.
I try to read as much as possible. And I read quite a varied selection of books. Everything from crime novels to literary fiction, humorous fiction, biographies, and humorous crime fiction. A bit of historical fiction. Even the odd chick-lit, romantic comedy book. It has certainly helped to strengthen my own writing. And here are some of the books that have inspired me the over the years.
1. A Big Boy Did it and Ran Away by Christopher Brookmyre
I was first attracted to this book because of the quirky title. And I loved it. With a clever blend of humour, over-the-top crackpot criminals and an everyman protagonist caught up in the madness, it's a hilarious read with a brilliantly daft plot. I'd read lots of crime fiction before, but this was the first time I'd read a crime book that was also really, really funny. I loved the way the story was told. And I loved the juxtaposition of mystery and intrigue with genuinely laugh-out-loud jokes.
As soon as I'd read it, I knew I wanted to create something equally daft, quirky, outlandish and funny. This book definitely inspired me to write my first book, The Unexpected Vacation of George Thring. I've read many of Brookmyre's other books, and enjoyed the equally zany, funny plots.
2. Mystery Man by Colin Bateman
Mystery Man features one of Bateman's best protagonists – The Bookseller with No Name – a strange, bad-tempered, neurotic bookshop owner who also solves crimes in his spare time. He's a real anti-hero, has a bizarre take on the world and gets himself into lots of trouble. And the book is absolutely hilarious. Bateman has written lots of comedy-crime novels, but for me, this is his sharpest and funniest. I love the fact that his hero is someone who really doesn't want to be a hero. In part, it inspired me to create my own anti-hero, Freddie Winters – the main character in my second book, Killing Dylan.
3. Care of Wooden Floors by Will Wiles
Calamity ensues for one poor man when tasked with taking care of a friend's apartment. One small mishap leads to another, and another, until disastrous events are spiralling completely out of control. This is Will Wiles debut novel – beautifully written literary fiction with a dark, comic edge. It's absolutely hilarious and sad in equal measure. There's another old adage in writing that you have to torture your characters. This is a brilliant example, and the way Wiles mercilessly piles more and more pain upon his central character definitely inspired some of the anguish that Dave feels in 46% Better Than Dave.
4. The Hundred-Year-Old Man Who Climbed Out of the Window and Disappeared by Jonas Jonasson
Another very funny book (I think there might be a pattern here), this novel was an absolute smash success for author Jonas Jonasson. I loved the long title (something a lot of authors were doing at the time, myself included with my first book). I loved the bizarre story and outlandish characters. And I loved the blend of fiction and history, and how Jonasson puts his main character at the heart of some momentous historical events. Most of all, I really like the quirky set-up and the belligerent central character.
5. The Killing Floor by Lee Child
When I read the first of Lee Child's Jack Reacher books, I remember being instantly struck by the impact of his writing style. Short sentences. Perfectly placed and constructed. Machine gun rounds of thoughts. Packing pace and energy. And perfectly matching the brusque, logical, clinical nature of the lead character. Reacher is an incredibly engaging, intriguing and powerful character and Child captures his voice in every sentence. I've read all the Jack Reacher books now, and Child's writing style has certainly made me think more about how I construct my own sentences.
Those are just some of the books that I've loved reading and that have really inspired me. Perhaps not quite the legendary literary tomes that others draw inspiration from, but these books have definitely helped me in my writing. There many others, of course, and I couldn't go without mentioning: Life of Pi by Yann Martel, The Curious Incident of the Dog in the Night-Time by Mark Haddon and The Universe Versus Alex Woods by Gavin Extence.
So, what books have you loved reading? And if you're a writer too, what books have inspired you? Get in touch at alastairpuddick.com and let me know, or check out my books and blog posts.
Thanks so much, Alastair. I'm definitely seeing a theme in your choices! 
---

---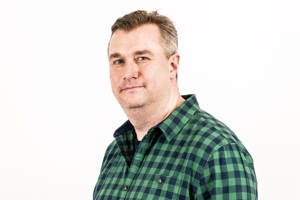 Alastair Puddick is a writer and editor who has spent the past 20 years writing for a variety of magazines and websites. His work has spanned many different paths, from jetting off to exciting cities across the world to writing about dating advice, data centres, facilities management and the exciting world of flooring. He also once wrote an agony advice column posing as Elvis Presley's ghost.
Alastair still works as a copywriter and lives in Sussex with his wife, Laura, and cat, George. He has written three novels: The Unexpected Vacation of George Thring, Killing Dylan and his newest book, 46% Better Than Dave.