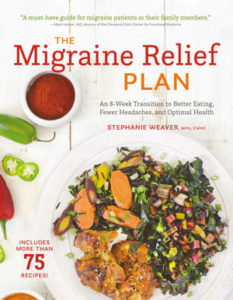 ShortBookandScribes #BlogBlitz #Recipe from The Migraine Relief Plan by Stephanie Weaver @sweavermph @rararesources #Giveaway
Something a bit different for me today as I'm taking part in the birthday blog blitz for The Migraine Relief Plan by Stephanie Weaver. I'm sharing two recipes from the book today and there's also a chance to win a copy of your own so if you're struggling with migraines and want to try the plan for yourself then please do enter below.. My thanks to Rachel Gilbey from Rachel's Random Resources for the place on the tour.

The Migraine Relief Plan: An 8-Week Transition to Better Eating, Fewer Headaches, and Optimal Health

In The Migraine Relief Plan, certified health and wellness coach Stephanie Weaver outlines a new, step-by-step lifestyle approach to reducing migraine frequency and severity.

Using the latest research, her own migraine diagnosis, and extensive testing, Weaver has designed an accessible plan to help those living with migraine, headaches, or Meniere's disease. Over the course of eight weeks, the plan gradually transitions readers into a healthier lifestyle, including key behaviors such as regular sleep, trigger-free eating, gentle exercise, and relaxation techniques. The book also collects resources—shopping lists, meal plans, symptom tracking charts, and kitchen-tested recipes for breakfast, lunch, snacks, and dinner—to provide readers with the tools they need to be successful.

The Migraine Relief Plan encourages readers to eat within the guidelines while still helping them follow personal dietary choices, like vegan or Paleo, and navigate challenges, such as parties, work, and travel. A must-have resource for anyone who lives with head pain, this book will inspire you to rethink your attitude toward health and wellness.
---
CAROB SQUARES
Makes 8 servings
Prep time: 10 minutes
Cooking time: 30-45 minutes
Passive time: N/A
Budget Friendly: Very
Per 1/4 cup serving: (with blueberries):0g protein, 8g carbohydrates, 0g fat, 0g saturated fat, 0mg sodium, 28mg potassium, 0g fiber
1 (14-ounce [425-g]) can no-salt-added black beans, rinsed and drained
¾ cup (175g) mashed cooked sweet potato
¼ cup (25g) carob powder
2 eggs
Stevia to equal 8 teaspoons sugar
2 tablespoons extra virgin olive oil
2 teaspoons sodium-free baking soda (see Cooks' Note)
2 teaspoons best-quality pure vanilla extract
1 recipe Coconut Whipped Cream (follows), for serving (optional)
Preheat the oven to 350°F (180°C). Spray or lightly oil 8 ramekins or an 8-inch (20 cm) square baking dish. Set aside.
Combine all the ingredients, except for the whipped cream, in a food processor or blender and pulse in short pulses 10 to 15 times just until smooth, stopping occasionally to scrape down the sides. You should still see small flecks of black bean but not large pieces. Do not over blend or you will end up with a gluey texture from the beans.
Transfer to the baking dish(es) and bake for 30 to 35 minutes (if using ramekins) or 30 to 40 minutes (if using the baking dish), until the tops are dry and cracked and there is no jiggling in the center when you shake the pan a little. The edges should start to pull away from the sides.
Remove from the oven and transfer to a wire rack to cool for 10 minutes before serving, if you want them warm. Otherwise, cool completely.
Slice into 8 squares, if using the baking dish. Top with a dollop of the Coconut Whipped Cream, if using, and serve. Store in a sealed container on the counter or tightly wrap squares in plastic wrap and freeze in a zip-top bag"
COOKS' NOTE: To reduce extra sodium in my diet, I use EnerG baking soda substitute, a mixture of calcium carbonate and magnesium carbonate. Do not use regular baking powder in this recipe (sodium bicarbonate); trust me, an unfortunate chemical reaction renders the result inedible. You can sub unsweetened applesauce; the result is better with sweet potato.
COCONUT WHIPPED CREAM
Makes about 2 cups, 8 servings
Prep time: 5 minutes
Cooking time: N/A
Passive time: 30 minutes
Budget friendly: Very
Per serving:1g protein, 3g carbohydrates, 10g fat, 9g saturated fat, 6mg sodium, 105mg potassium, 0g fiber
When I first went on the Plan, I made this All. The. Time. It seemed like a necessary treat for me during my transition period: lightly sweet, super creamy, rich, decadent. Now I make it for special occasions or holidays. But, do what you gotta do. It's fantastic on berries or other Plan-approved fruit, it's a key ingredient in the Berry Trifle, you can use it as pretty frosting, top Blueberry–Oat Waffles with it, fill Crepes with it . . . you get the idea.
1 (13.5-ounce [400-mL]) can full-fat Thai Kitchen coconut milk (not light), chilled overnight
Stevia to equal 2–3 teaspoons sugar
1 teaspoon best-quality pure vanilla extract
¼ teaspoon cream of tartar (optional)
Chill your mixer's beaters and bowl for 30 minutes.
Open the chilled can of coconut milk and use a spatula to scrape out all the fat at the top of the can into the chilled mixer bowl. Strain the clear liquid into a jar and reserve it for another use, such as smoothies. Scrape the remaining contents of the can into the bowl, along with any chunks caught in the strainer. Add the rest of the ingredients.
Start beating the coconut cream on low speed, then slowly move the speed up to high, beating for 2 to 4 minutes or until soft peaks form.
Transfer to a lidded container and store in the refrigerator for up to 5 days. It gets firmer as it chills.
COOKS' NOTE: Some coconut milks, although they do not say "light" on the can, do not have enough fat in them to turn into whipped cream. The only brand I have had consistent results with is Thai Kitchen. If you open the can and there is not a heavy layer of thick cream on top, it will not whip. I store my cans in the back of the fridge so I always have some ready to go if I want a treat. I find the cream of tartar helps keep the coconut cream in the whipped emulsion state. Guar gum is frequently added to coconut milk as a thickener and should be OK for the migraine diet. Some people may be sensitive to cream of tartar or guar gum. Do not use canned coconut cream, which has sugar and other ingredients that are not on the Plan. If you are sensitive to coconut or guar gum and not sensitive to dairy, you can make whipped cream using organic heavy whipping cream and the same amounts of stevia and vanilla extract. Omit the cream of tartar. If for some reason your whipped cream fails, don't throw it out. Store it in a glass jar in the refrigerator and use in smoothies. 
Reprinted with permission from The Migraine Relief Plan by Stephanie Weaver,
MPH, CWHC, Agate Surrey, 2017
---

Giveaway to win a signed copy of
The Migraine Relief Plan (US) or an unsigned copy (UK)
*Terms and Conditions –UK and US entries welcome. Please enter using the Gleam box below. The winner will be selected at random via Gleam from all valid entries and will be notified by Twitter and/or email. If no response is received within 7 days then I reserve the right to select an alternative winner. Open to all entrants aged 18 or over. Any personal data given as part of the competition entry is used for this purpose only and will not be shared with third parties, with the exception of the winners' information. This will be passed to the author and used only for fulfilment of the prize, after which time I will delete the data. I am not responsible for dispatch or delivery of the prize.
 The Migraine Relief Plan giveaway

---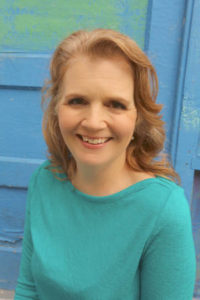 Stephanie Weaver, MPH, CWHC, is an author, blogger, and certified wellness and health coach. Her recipes have been featured in Cosmopolitan, Bon Appetit, Cooking Light, Parade, and more. She lives in San Diego, CA.